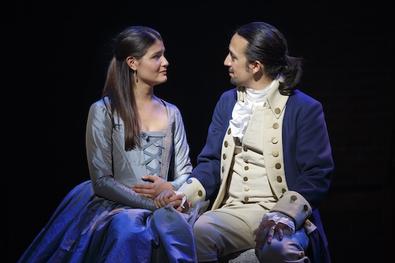 When a Broadway ticket can be scalped for more than $1,000 and the White House arranges a command performance for the president and first lady (who have already seen the production multiple times), there are no clearer signs that a show has attained rarified popular culture phenomenon status.
In the fanfare that greets "Hamilton" for its uniqueness and the praise reserved for its chief architect and star Lin-Manuel Miranda, it is easy to overlook the everyday, very practical lessons that the musical offers theater artists and audiences. Here are three of them.
Theater Takes Time
"Hamilton" did not emerge Athena-like, fully formed from the brain of Miranda. It developed over time, slowly. Back in 2009, Miranda presented an excerpt from an in-progress concept album on the life of Alexander Hamilton at a White House event celebrating poetry and spoken word artistry. The virtuosic artist performed what we now recognize as an early version of the opening number "Alexander Hamilton." Six years later, "Hamilton," as a musical, premiered at the Public Theater. Although considerable buzz preceded its debut and seemingly everyone knew that it was destined for Broadway, "Hamilton" did not develop overnight.
Too often we set unrealistic timelines for success. I have met a few too many young artists who have been urged to abandon a career in the arts if they have not experienced "success" within their first year in the profession. Similarly, a few too many artistic directors race to commission the new "hot" playwright, quickly develop her work, and subsequently drop both the artist and the work in order to repeat the cycle with a new, allegedly hotter playwright. The consequence of such time pressure is that promising artists and projects never realize their potential. Theater takes time.
Trust Your Work
In the 2009 White House performance, a close-cropped Miranda accompanied on piano by Tony Award-winning musical director Alex Lacamoire, snapped and rapped "Alexander Hamilton." When he declares himself to be the celebrated colonial revolutionary, laughter erupts. The camera cuts to President Obama. He joins in.
That laughter, which was not malicious but bemused, targets the strangeness of the concept: a musical on 18th century colonial-era revolutionary Alexander Hamilton by a Puerto Rican performer embracing hip-hop aesthetic.
Clearly, Miranda's presence at the White House in 2009 signals his status as a cultural authority. The previous year, his "In the Heights" nearly swept the Tony Awards. Nevertheless, folks laughed. They laughed because they could not imagine the inventive, path-blazing, inclusive, and highly diverse type of theater that Miranda had in mind.
There is not a lack of skeptics in the world. Breathtakingly original ideas can be dismissed as being impractical. The integrity of an artist's work can be dismissed as a trivial pursuit without real world relevance. It can be difficult to withstand the onslaught. For this reason, it is imperative that artists create a network of support and, equally important, trust themselves and the integrity of their work.
Theater Matters
Time and again, the stories produced on a conventional stage resonate well beyond the playhouse and into the arena of everyday life: "The Crucible," "A Raisin in the Sun," "Angels in America," "Fun Home" (to name just a few). Nevertheless, the real world relevance and importance of theater is often debated, critiqued, or challenged.
These moments when a theatrical production captures the imagination of a wide and diverse public reminds us of the importance of the performing arts. The theater exists as a place where people come together not only to make or co-witness a production, but also to forge bonds of community. Theater offers access to a range of lived experiences. In the case of "Hamilton," it's not only the story of colonial revolutionaries but also an engagement with a multicultural array of contemporary perspectives.
Theater should be the basis for water cooler conversations. It should be a forum in which diverse members of a society can see themselves and hear their stories. It should be valued as an important cultural form with its relevance openly and loudly proclaimed by industry leaders in the fields of politics, finance, law, the academy, and, of course, the arts. In short, theater matters.
Inspired by this post? Check out our theater audition listings!
The views expressed in this article are solely that of the individual(s) providing them,
and do not necessarily reflect the opinions of Backstage or its staff.