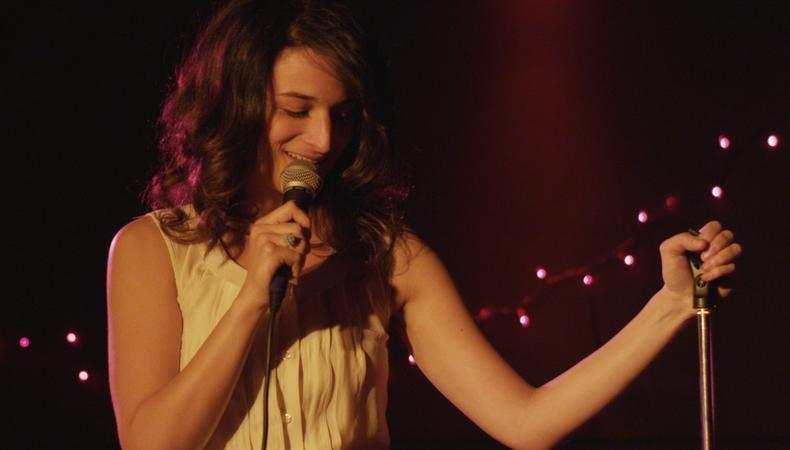 Where does an actor go after dropping the F-bomb on "Saturday Night Live" and creating and voicing a hit web series about a talking shell that gets turned into a children's book called "Marcel the Shell with Shoes On?" They go on to take more risks! Jenny Slate's role in "Obvious Child" has been years in the making and it's clear Slate is an unabashed risk taker.
"Obvious Child," a romcom about Brooklyn comedian Donna Stern (Slate) and her worst Valentine's Day ever, is premiering at this year's Sundance Film Festival after the original short got a feature treatment. Real-life comedian Slate plays a character who gets dumped, fired and to top it off, knocked up. What makes "Obvious" different is that Donna decides to terminate her pregnancy. No, abortion isn't funny, but "Obvious Child" is.
Slate sat down with Backstage to talk about what she learned from her role in the film.
Get out of your comfort zone.
Slate is known as a funny woman. How else would she have gotten on "SNL?" But playing Donna required a bit more realism than she was previously used to. "I think because I'm often playing really larger-than-life characters like on 'Parks and Rec' or even on 'Hello, Ladies,' that sort of antagonist that I play is more amped up than I think a normal person in real life actually is," says Slate. "Donna is a real person, so I think the challenge was to keep it in that zone and to have it be funny without leaning on any of my normal mannerisms or the ways that I know can get a laugh, which is a great challenge I was up for, and I'm glad I did it because I discovered a lot about myself as a performer."
Don't think twice.
After the release of the short version of "Obvious Child," the film's subject matter was met mostly with positive responses, praising the film for representing an alternative narrative specific to women, but there were those who thought the film was making light of abortion and controversy ensued. In regards to whether or not she ever had any doubts about playing a "less conventional" role when compared to the mainstream circuit, Slate says, "Oh no. No, no, not at all. Maybe I had my own kind of doubts about whether or not my performance is what I wanted it to be because it's hard to see the outside from within, but I had no doubts about the subject matter...it didn't seem strange to me, it seemed real; that's why I was eager to do it and proud to do it because it's a story that many women that I know have really gone through in their own lives." For the actors afraid to take on unconventional roles Slate says, "Don't think twice. If it's a character that you feel compelled to play and story that you feel needs to be told, don't think twice."
Tell the human story.
With such a heavy situation wrapped up in a funny movie, it'd be easy to get caught up in the details and overlook the big picture, so Slate was sure to encompass the entirety of a life while playing Donna, and for a good reason: she hopes it'll spark a conversation about human life. "The experience of the human, male or female, cannot be completely defined by one startling, surprising, or gigantic life experience," says Slate. "We [should] do ourselves a favor and it'll probably make our world better and our society easier to live in if we took the time to realize that every life experience is very complicated and very interesting."
Make your parents proud.
As an actor new to the game, it can be easy to get lost in the day-to-day jobs and roles we take on to pay rent in a place like New York or Los Angeles, but you can't forget what brought you here in the first place! Even if you take on a role you're not in love with, make sure you stick to your morals. "At the start of my career I remember going in for a commercial audition where my task was to not say anything but to pantomime licking a toilet bowl while keeping my eye on the camera, literally like I was sucking a dick," says Slate, laughing. "The whole thing was the bowl is so clean that you would eat of it, and it's just like, why not have a family eating their salad out of this toilet rather than having a young woman tongue it down. I just remember being like, 'This sucks,' and walking out of the audition and feeling really sad because I was on unemployment and I was asking my parents for a lot of money and they were helping me pay my rent and I was like, I should probably do this. I should probably at least audition for this stupid toilet commercial. But then I thought to myself, I don't think my parents would be proud if I even got this commercial; I just don't think that's what their investment in me is."