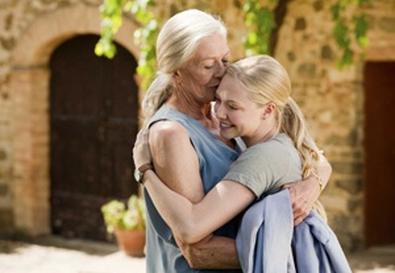 Though the plot is predictable, "Letters to Juliet" has something major going in its favor: Vanessa Redgrave. The veteran actor rises above the movie's schmaltz and brings a grace to her character, Claire, a British widow who travels to Italy with her grown grandson, Charlie (newcomer Christopher Egan), in search of the true love she regrettably left behind.
Meanwhile, on vacation in Verona with her fiancé (Gael García Bernal), aspiring journalist Sophie (Amanda Seyfried) stumbles upon the Secretaries of Juliet, a small group of volunteers that respond to the thousands of letters left by lovelorn women seeking the advice of the title heroine from "Romeo and Juliet." Thinking this would make a good article for The New Yorker, where she works as a lowly copy editor, Sophie joins the group for a couple of days and discovers a letter behind a brick in Juliet's courtyard left 50 years ago by a then-teenage Claire. Never expecting her response to reach Claire, Sophie writes back anyway, and to her surprise, a much older and wiser Claire soon arrives, hoping to reunite with the Tuscan farmer's son whose heart she broke. Sophie and Claire bond instantly, and together with Charlie, who doesn't approve of Sophie or of Claire's mission, go in search of Claire's long-lost Lorenzo. The problem is that Claire finds 74 Lorenzos with the same last name listed as residing in Italy, so it will not be so simple—unless you're in a Hollywood movie, that is.
As one would expect, Sophie and Charlie strike up a romance, in spite of Sophie's engagement to another. Seyfried and Egan are mismatched in terms of chemistry, but Seyfried is thoroughly charming as the film's lead, especially when she's working opposite Redgrave. Bernal is not used to his fullest, but he is amusing in this light role as the fiancé more turned on by truffles and cheeses than by his lovely bride-to-be. And if you're looking for chemistry, look no further than Redgrave and her co-star (and real-life husband) Franco Nero. Ultimately, this film belongs to Redgrave, who makes us root for her character every step of the way. There's just so much that the veteran actor is able to convey with her expressions and body language alone: joy, remorse, adoration, appreciation, sadness. See how a master does it, and take in the beauty of the Italian countryside and some frothy romance while you're at it. Or as Bernal's Victor likes to tell Sophie: It's mostly "win-win."
Genre: Drama.
Written by: Jose Rivera and Tim Sullivan.
Directed by: Gary Winick. Starring: Amanda Seyfried, Vanessa Redgrave, Christopher Egan, Gael García Bernal, Franco Nero.