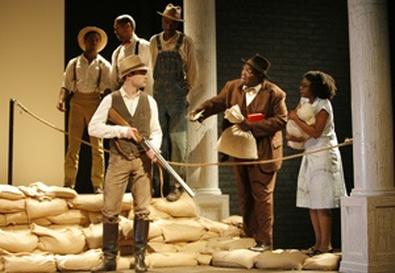 Like the object of its title, "On the Levee" attempts to contain an ocean of ideas, characters, and plots, but the foundation is too weak, and the audience winds up getting soaked. Based on the actual 1927 flood of Greenville, Miss., the play incorporates too many divergent stories, resulting in a waterlogged soap opera. The shattering events of that natural disaster—the greatest to strike America before Katrina—are enough to create a harrowing drama. After the town's levees gave way, thousands of African Americans were stranded, while a handful of white women and children were ferried away. The black citizens were thought too valuable a source of cheap labor by the town's powerful to be allowed to leave. Many historians credit the flood as a main cause of the black migration from the rural South to the industrial North, where there was less discrimination and better-paying jobs. With the plethora of hardships hitting the region in contemporary times—both man-made and natural—this could have been a powerful comment on authority that has failed those in need.
Unfortunately, Marcus Gardley's play introduces too many tributaries to his central theme, and most of them are choked with clichés. The powerful ex-senator's son, a poetically inclined closeted gay man, strives to achieve his father's approval. The family bootblack is seen as an Uncle Tom by his rebellious offspring for bowing and scraping too much. The pious preacher turns out to be a petty chiseler. If Gardley would just cut two or three of these storylines, things would flow more smoothly. Todd Almond's score features moving gospel and gritty blues, but the songs aren't integrated into the script, so they feel like distractions rather than comments on or development of character. To be fair, the work is subtitled "a play with music" rather than "a musical," but that doesn't excuse the choppy blending of the spoken and sung elements.
The 12-member cast does the best it can with Gardley's overly flowery language, of which there is too much, and Almond's spicy songs, of which there are too few. Tony winner Chuck Cooper gives depth and humor to Old Lucas, a slow-moving sage, and makes the potentially one-dimensional Rev. Booker into a complex and almost tragic figure. Dion Graham captures the conflict between practicality and pride within Joe, the bootblack, while Harriett D. Foy gives grit and backbone to housekeeper Queen. April Matthis makes Puddin, Booker's odd-duck daughter, spunky and fun.
Director Lear deBessonet, who is also credited with conceiving the piece, has created some arresting images. The first act ends with all the furniture and props being hoisted to the flies on cables, simulating the effect of the Mississippi River engulfing the town. Artist Kara Walker has fashioned a series of oddly beautiful videos—displayed before the show and between the three long acts—employing crude-looking paper puppets to depict the river-based community. Too bad these compelling stage pictures get swept along on an overwhelming tide of soap suds.


Presented by Lincoln Center Theater/LCT3 at the Duke on 42nd Street, 229 W. 42nd St., NYC. June 28–July 10. Mon.–Sat., 8 p.m.; Wed. and Sat., 2 p.m. (646) 223-3010 or www.lct3.org. Casting by MelCap Casting.