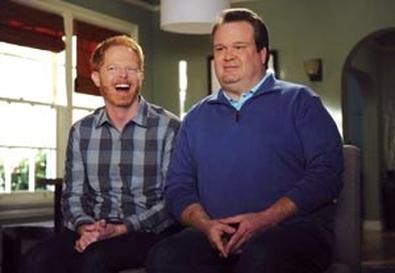 For the first time in four years, the number of lesbian, gay, bisexual, and transgender characters on television has decreased.
Since 2005,
GLAAD
, the Gay & Lesbian Alliance Against Defamation, has published an annual "Where We Are on TV" report, counting the number of LGBT characters on scripted television and marking the trends from year to year. On Sept. 28, the report on the 2011-12 season was released. It states that among the 647 series-regular characters on 91 scripted programs on the five broadcast networks (ABC, CBS, the CW, Fox, and NBC), 19 are LGBT, a decrease from last year's 23. The number of series-regular LGBT characters on the cable networks has decreased from 35 to 28.
Although the overall number of LGBT roles has declined, GLAAD is still optimistic. "Shows like 'Modern Family,' 'Glee,' and 'True Blood' are still great examples of how significant LGBT inclusion and an eye towards diversity often help a program craft fresh stories, garner significant critical acclaim, and maintain a large, loyal audience," said Matt Kane, associate director of entertainment media for GLAAD. "Hopefully, newer shows like 'Smash' and 'Allen Gregory' will follow suit."
However, Jason Stuart, co-chair of the Screen Actors Guild's National LGBT Actors Committee, noted that most of the LGBT characters on television are not played by openly gay actors. He suspects that producers would rather have a straight person play the role so they can be sure the character is more "straight-acting." "They're too uncomfortable with us playing ourselves," Stuart said.
Like the TV industry, the mainstream film industry also still seems to have a long way to go. While there are a growing number of LGBT-related independent films and LGBT film festivals, "it's still relatively rare to see significant LGBT stories or characters in major Hollywood productions," said Kane. "But surprise hits like 'Brokeback Mountain' and 'The Kids Are All Right' have also proven that when our community's stories are well told, they also have tremendous commercial potential."
"Yes, 'Brokeback Mountain' and 'The Kids Are All Right' were brilliant," said Stuart. "But again, straight people playing the leads."
Meanwhile, Broadway continues to welcome gay actors with open arms. "With shows like 'Priscilla Queen of the Desert' and 'The Normal Heart' proving to be hits with audiences and critics alike, it's likely we will see more LGBT-inclusive storylines," said Kane. "It's clearly a smart decision from both a critical and commercial standpoint."
But for actors who want to pursue screen acting over stage, the medium that seems the most LGBT-friendly is the Internet, agree Stuart and Kane. "As filmmaking technology has become more affordable and user-friendly, one of the great benefits to the LGBT community is that it's allowed a wider range of creators to develop content about communities who are underrepresented in the mainstream media," said Kane. "Over the past decade or two, we've seen the number of LGBT-themed films and Web series increase exponentially, which speaks to both the inherent need people have to identify with the stories they see onscreen and our own community's willingness to craft those stories ourselves."
The Web is emerging as a dominant force in entertainment. While still thought of as a successor medium to film and television, there's no denying that creative people are flocking to it. There are no censors, barely any rules, and a large audience. The Internet is exciting for many in the LGBT community who want to experiment with changing the dynamic of the entertainment industry by creating their own content.
Laughing Their Way to Equality
On Sept. 27, the website
OMGay.tv
—which aggregates comedic videos and Web series that have a "gay sensibility"—was launched. Its tagline calls its content "The best of the funny gay web." The site is the brainchild of veteran casting director Howie Meltzer and host, comedian, and actor Bill Sindelar.
Meltzer had often advised actors to produce their own content if they weren't getting work. "The last batch of stars came from reality television," he said, "but I believe the next batch of stars will be from the Web." One night, he was at dinner with a group of friends, including Sindelar, who did audience warm-up for "Hannah Montana," a show that Meltzer cast. Sindelar lamented that he wasn't booking enough work because casting people didn't know what to do with him. Although he is openly gay, casting directors were telling him he wasn't believable as a gay man.
"They said I don't fit the stereotype," said Sindelar. Meltzer told him, "They probably just don't see you as that person yet. Casting directors make lists of talent that bring certain qualities and personas to a project. You need to create your own vehicle if you want to break out onto that list." Sindelar wanted to be "America's gay best friend." Meltzer said, "As an actor, you have to get people to see you in that light." They started brainstorming ideas for funny videos that Sindelar could make and put online that would highlight who he is as a host and personality.
As he helped Sindelar put the video together, Meltzer looked for similar videos on the Web. "Being a casting director," he said, "I started identifying really funny talent—this great content from people who are gay or have a gay sensibility." One example was Davey Wavey. Meltzer had never heard of Wavey, a gay personality on the Web, even though his videos have more than 53 million views on YouTube. Digital producer Brian Rodda introduced the two. "I believe he could be 'gay Oprah,' " said Meltzer. "He's a fantastic mouthpiece to our community."
Meltzer and Sindelar realized there was no central place to see videos like this that didn't include "dating ads, naked people, or something inappropriate for the workplace popping up," said Meltzer. They decided to create OMGay.tv as a home for these funny people and their content. "It's like a mall," he said, "a central hub for our specific point of view."
Meltzer believes that having funny LGBT characters in entertainment will help the community in general: "People who are out and proud and it's a part of their lives and it's not a big deal. We need to break the stereotypes. Five years ago I said, 'We need role models of two boring gays. Two boring, not buff, regular guys.' That's now what we have on 'Modern Family'—just a boring married couple. Look at the next-door neighbors on 'Desperate Housewives.' They're just regular guys who live a suburban life. I believe that we're 20 years away from America realizing that we're not scary. Meaning, 25 years ago, Bill Cosby was on TV and 'The Cosby Show' was a huge hit. They just happened to be black. It's just a matter of exposure."
Meltzer and Sindelar insist that OMGay.tv doesn't have an agenda. "But if there was one," said Meltzer, "it would be 'We're just like everyone else...and we're funny.' "
"I think it will inspire gay actors and personalities to be creative, now that they have an outlet for it," said Sindelar, who now hosts "OMGay Walking With Bill Sindelar," a man-on-the-street-interview show on the site. "It's so empowering to do what you want to do and what you think is funny."
Better representation of the LGBT community may very well come from better representation of gay characters in filmed media. Mainstream media may be lacking LGBT roles, but the Internet may soon be mainstream media. Embracing the new might be the best inroad to the established.