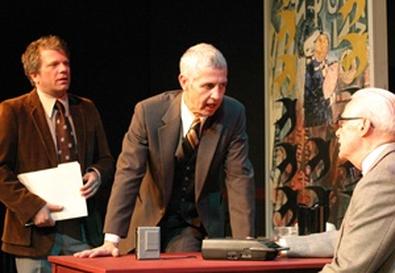 The truth about Jerzy may be forever hidden—Jerzy Kosinski, that is. Playwright Davey Holmes has chosen to add another layer of curiosity to the mystery and legend of Kosinski by naming the charismatic lead character Jerzy Lesnewski "because it freed me to make up his life," Holmes said on LA Stage Blog. Much of the play's content deals with the facts, or nonfacts, of Kosinski's life, specifically during the Nazi occupation of Poland in the 1940s, as recounted in Kosinski's first book, "The Painted Bird." Doubt still exists as to whether the novel is autobiographical or fiction. "We all invent our lives," said Holmes. "We fictionalize the past to make it as exciting as possible." This is doubtless what Kosinski did to ballast his own insecurities. The arguments about the veracity of the earthshaking first novel of an unknown author, whose English was minimal and whose work was at the mercy of translators and editors, are at the core of "More Lies."
Jack Stehlin does a phenomenal job portraying the writer who is bashed and discredited at the same time as he's being awarded and lauded for a work of genius—which is maybe an autobiographical miracle or possibly a tissue of lies. By all accounts, Kosinski was a clever conniver, a beguiling center of the upscale social whirl of New York and Hollywood, and a bit of a decadent rascal. Stehlin does it all. He appears made for the role—playing mischievous, angelic, and evil by turns, a conniver and a bon vivant, an egoist and a brat, a stern taskmaster and a flirt, with a fair share of peaks and hollows in the writer's flagrant personality. Likewise bringing the story to life are writer Holmes, director David Trainer, and a sparkling cast of consummate actors: Chet Grissom and Neil Vipond in a number of roles, Jordan Lund, Adam Stein, Kristin Malko, and the glorious Cameron Meyer, as Jerzy's amiable and long-suffering wife, whose golden voice rings clearly all the way to the back row of the theater—a quality devoutly to be wished on many actors who are Hollywood but not theatrically trained.
The play opens doors to a new vision of a controversial life story and a bookshelf full of previously unread books—by Kosinsky, not Lesnewski—that may expand that vision.
Presented by Circus Theatricals at the Hayworth Theatre, 2511 Wilshire Blvd., L.A. May 15–June 26. Fri.–Sat., 8 p.m. (323) 960-7788. www.circustheatricals.com.