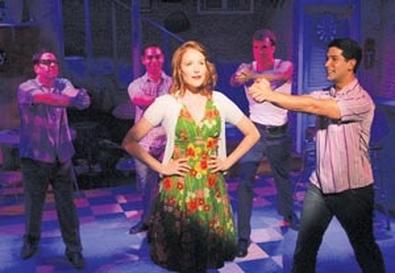 The title neatly sums up the euphoric charge generated by this feel-good musical. Writer-director Roger Bean, a master at fashioning intimate jukebox tuners ("The Andrews Brothers"), is in high-flying form with this world-premiere offering, a spinoff from "The Marvelous Wonderettes." Revisiting that show's fictional 1960s-era burg, Springfield, USA, Bean replaces the high-school singing girls group with a postgraduate boy quartet. A dynamite cast and formidable behind-the-scenes talents spin entertainment gold from Bean's lovingly crafted pastiche.
A simple but breezily engaging narrative smoothly incorporates almost 30 chart-topping tunes from rock 'n' roll's heyday. Brash Denny (Daniel Tatar), geeky soda jerk Eugene (Jim Holdridge), and feisty preacher's son Wally (Ryan Castellino) form a trio to compete for the big prize—and a shot at stardom—in a local radio-station contest. The guys audition for Lois (Jessica Keenan Wynn), the daughter of an auto shop owner, hoping she can persuade her father to sponsor their novice group. But she insists a quartet is the way to go. Enter her dad's mechanic, leather-jacketed hottie Skip (Doug Carpenter), who joins the group and wins Lois' heart. Unfortunately, he's from the "wrong side" of the tracks. What will happen when Lois' status-conscious dad learns of the romance?
Prior to the smashing talent-contest finale, Bean gives each performer stellar turns in the spotlight, augmented by a blissful cavalcade of harmonic group numbers. Carpenter, a spectacular baritone, finds his breakout role here. He's a charismatic charmer, offering an endearing characterization and bravura renditions of classics such as "The Wanderer." Wynn is likewise enchanting as the spunky ingénue, showcasing her terrific soprano in solos and dreamy duets with Carpenter. Nimble and golden-voiced Tatar is hilarious as the narcissist Denny, strutting his stuff divinely in such highlights as "Who Put the Bomp?" Holdridge, a virtuoso physical comic, parlays the melancholy "Tears on My Pillow" into a sidesplitting gem, and Castellino is warm and witty, enjoying his crowning moment in the evergreen "The Glory of Love."
Lee Martino's showstopping choreography, Michael Paternostro's knockout music direction, and deliciously evocative design elements enhance the joys in this cotton-candy treat, which seems certain to duplicate the runaway success of "Wonderettes."
Presented by David Elzer, Peter Schneider, and Crooning Crabcakes LLC at the Hudson Mainstage Theatre, 6539 Santa Monica Blvd., Hollywood.
Aug. 7–Sept. 27. Thu.-Fri., 8 p.m.; Sat., 3 and 8 p.m.; Sun., 3 p.m.
(323) 960-4412. www.lifecouldbeadream.net.