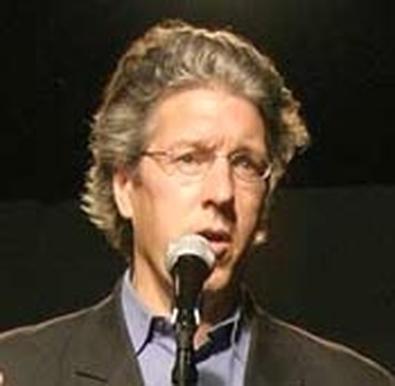 This is Back Stage's review of the show's original production at 59E59 Theaters earlier this year.
In his lean, thick-haired, bespectacled way, James Braly looks something like a cross between Gustav Mahler and a hip young English professor with a taste for understated gray blazers. His voice is light and pleasing, his manner expressive and casually humorous. All told, he seems the epitome of a certain kind of civilized, well-educated, coastal-state normality, which makes the often-bizarre anecdotes in this autobiographical one-man show all the more unsettling.
The subtitle is "20 Years of Monogamy in One Terrifying Hour," which sums it up pretty neatly. Although he weaves a deeply felt story about his dying sister throughout his monologue, Braly's main subject is marriage — specifically his marriage to an inveterate New Age enthusiast by the name of Susan.
Quite a piece of work, this Susan. On the night they meet, he shows her his poetry; she corrects it with a red pen. Later, she demonstrates her acute grasp of reality by taking relationship advice from a self-proclaimed witch, reading books like My Summer With the Leprechauns: A Memoir, and keeping her placenta in the freezer (for years). Susan's friends are even more repellent, though it's probably best to let Braly give the gruesome details.
Most autobiographical monologues leave you wanting less. Braly's left me wanting more, but not necessarily in a good way. His tolerant, lighthearted tone is difficult to interpret or even fully believe; if he really views his wife as a lovable eccentric, why does he constantly show her in an unflattering light by emphasizing her most extreme, least endearing behavior? Braly touches on the fact that he's attracted to unstable women but doesn't analyze his own motives deeply enough; I was left wondering why this seemingly calm, intelligent guy thrives on an atmosphere of chaos and full-throttle flakiness.
Presented by The Deep End Productions and Little Johnny Koerber at the SoHo Playhouse, 15 Vandam St., NYC. July 9-Aug. 31. Wed.-Sat, 8:30 p.m.; Sun., 3 and 7 p.m. (212) 691-1555 or www.sohoplayhouse.com.