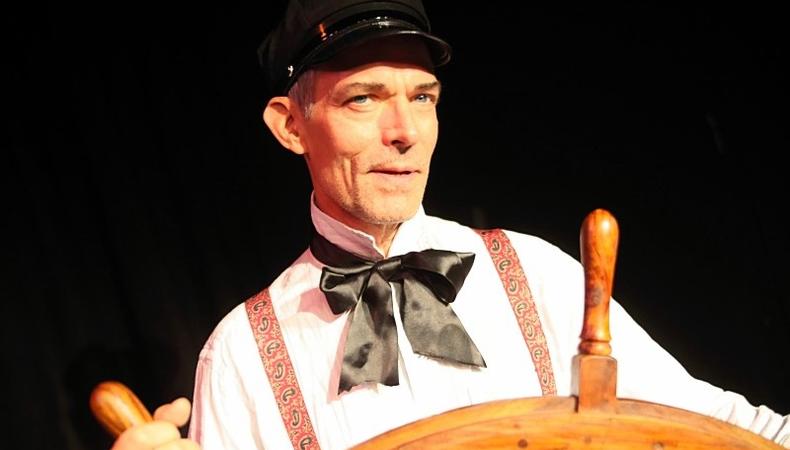 Mark Twain's "Life on the Mississippi," which began life as a series of magazine articles, was never in a class with "Huckleberry Finn." So it would be unfair to expect anything like another "Big River" from Twain's memoir of his early days working on a 19th-century paddle-wheel steamboat. But author and composer Philip Hall has fashioned an agreeable little musical, and double-threat director and set designer Susanna Frazer and her strong cast of seven men manage to convince us that we are in the prow of such a boat, learning how to pilot it along with Sam Clemens, as Twain was known then, in spite of—or perhaps in part because of—WorkShop Theater's tiny triangular black-box space. Hall's songs, in a variety of styles but with most owing an attitudinal debt to sea chanteys, are effective and beautifully sung by the cast, often with the entire septet singing in harmony. "Flights of Angels" and "Mississippi Sunset" are the standout choral pieces.
Wisely, Hall has based his book largely on the first portion of Twain's work, the narrative of Sam's river apprenticeship. Although Hall begins his 90-minute story with the elder Twain revisiting his lost youth from his home in Hartford, Conn.—which is based on the second and lesser half of the autobiography—he quickly abandons the gambit. It's helpful that the real Sam kept a diary of his time on board, not only to learn the lingo of his chosen profession ("mark twain" meant "two fathoms down" in making soundings) but also to jot down his beloved "yarns." These little tales are the only hints we get of the future novelist. The 20ish Sam, engagingly played by Andrew Hubacher, and his younger brother Henry, given life by a touching Zachary Sayle, have booked sub-steerage passage on a paddle wheeler, sleeping with the livestock in order to get hired as "cub" boatmen. Sam will settle for nothing less than pilot-in-training, while Henry is happy to shine as a steward. The boat's co-captains, the sympathetic Bixby (Jeff Paul) and the curmudgeonly Brown (David M. Mead), alternately encourage Sam and stand in his way.
There are a couple of missteps. Hubacher puts a tad too much hick in Sam's accent, which is much thicker than that of his younger brother and older betters. And the single-scene appearance of Suzanne Ponomarenko, in a gauzy, silent dance acting out the lovely ballad "I Remember," is nicely done but worse than unnecessary. It distracts from Paul's heartbreaking rendition of this song of a young love lost to death, which would be even more powerful without the visual aid.
Presented by and at WorkShop Theater Company, 312 W. 36th St., 4th floor, NYC. Sept. 12–22. (212) 352-3101, (866) 811-4111, or www.workshoptheater.org.
Critic's Score: B+