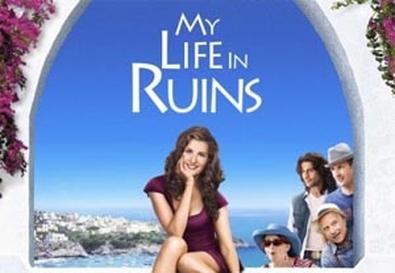 Nia Vardalos' surprise smash
My Big Fat Greek Wedding
, still the highest-grossing romantic comedy in history, somehow never spawned a sequel—though it was turned into a disastrous, short-lived TV series. Now Vardalos has the closest thing to a follow-up as she returns to her Grecian roots (and we're not talking hair color) and actually finally gets to make a movie in her ancestral country. Unfortunately the one she's made,
My Life in Ruins
, would seem more suited for an episode of
Love, American Style
. This creaky and very old-fashioned comedy, full of hoary jokes and stereotypical characters, looks like it's out of some comic time warp. It's too bad, because Vardalos is as likable and appealing as ever.
The premise has Vardalos' Georgia, unlucky in love and career, visiting Athens, where she takes a job as a boring tour guide who likes to spout out historical facts no one wants to hear in a rickety bus. On top of that she must deal with crafty competitor Nico (Alistair McGowan), who is out to destroy what business she has. But as her current tour progresses she not only finds new friends and confidence but romance pops up in the most unexpected way.
Vardalos is a solid anchor for this trifle, and along with the breathtakingly photographed Greek locations, she is the sole reason to go. Richard Dreyfuss, who seems to be morphing into Mickey Rooney right before our eyes, has the meatiest role of the tourists she schleps around. As widower Irv, he gets to tell a lot of bad jokes before his own touching backstory is revealed. Alexis Georgoulis is the shaggy-haired, creepy-seeming bus driver who turns out to be much more than Georgia ever dreamed. The busload of international stereotypes she has to contend with include two loud Americans (Harland Williams and Rachel Dratch), two drunken Australians (Simon Gleeson and Natalie O'Donnell), two stuck-up Brits (Ian Ogilvy and Caroline Goodall) and their morose kid (Sophie Stuckey), a senior klepto and her silent hubby (Sheila Bernette and Ralph Nossek), some oversexed Spaniards (María Botto and María Adánez), and a business guy who texts all the time (Brian Palermo). None of them make much of an impression or even begin to resemble a living, breathing human being. In fact, they'd all be tossed off
The Love Boat
before you could say, "Captain Steubing."
Certainly this premise has promise and has been done in style before, in 1969's
If It's Tuesday, This Must Be Belgium
, but director Donald Petrie and screenwriter Mike Reiss (a TV joke writer) are mired in the lowest form of sitcom antics and can't seem to get out of the comic muck.
Thank the gods for the glories of Greece and the engaging presence of Vardalos, or this European vacation would be a total bust.
Genre: Comedy
Written by: Mike Reiss
Directed by: Donald Petrie
Starring: Nia Vardalos, Richard Dreyfuss, Alexis Georgoulis, Harland Williams, Rachel Dratch.