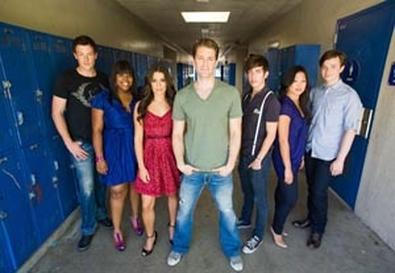 Since assembling in February, Lea Michele and her "Glee" cast mates have spent a lot of time together—indeed, it felt like every waking minute, and probably some of the sleeping ones. "Literally, we've been with each other nonstop," says Michele with a laugh. "We are like a family."
This enforced bonding time was necessary to prepare for the high-energy Fox series, a song-and-dance-heavy dramedy focusing on a misfit-populated high school show choir and its idealistic teacher, Mr. Schuester (Matthew Morrison). The show enjoyed a buzzy post–"American Idol" debut earlier this year and officially kicks off Sept. 9.
The "Glee" cast members come from all walks of the acting life. Morrison is best known as a Broadway luminary; after originating the role of Link Larkin in "Hairspray," he earned a Tony nomination for his work in "The Light in the Piazza." Michele, who plays high-strung songstress Rachel, and Jenna Ushkowitz, who plays black-clad badass Tina, also come from the stage; both appeared in the musical "Spring Awakening," and Michele nabbed a Drama Desk nomination for her turn as ingénue Wendla.
On the opposite end of the spectrum, Cory Monteith, in the role of vocally blessed jock Finn, has appeared extensively on the small screen ("Kyle XY," "Supernatural") but boasts no professional singing experience. Kevin McHale, appearing as wheelchair-bound geek Artie, and Amber Riley, who plays boisterous diva-in-training Mercedes, list a mix of screen and stage credits on their respective résumés: McHale has appeared on "True Blood" and toured as part of the boy band NLT (Not Like Them), while Riley earned her first break when "Glee" co-creator Ryan Murphy cast her in the pilot "St. Sass." And newcomer Chris Colfer, who portrays sassy boy soprano Kurt, has performed mostly in regional and community theater, but he's already showing promise as a budding multihyphenate: He wrote, directed, and starred in a "Sweeney Todd" spoof called "Shirley Todd" during his senior year of high school.
Despite these disparate backgrounds, the ensemble members agree their on- and off-screen bonds were instantaneous—and it shows. Though the series' deft mix of quirky humor and heartfelt poignancy marks it as a potential hit, it is the cast's palpable chemistry that makes the clever scripts sing.
Back Stage
: What was the "Glee" audition process like?
Lea Michele
: The minute I read the script, already being a fan of Ryan Murphy, I was so excited to get the opportunity to audition. I immediately started fighting and making sure that I was able to get in. Like, every day I would call [my agent] and be like, "When am I going in for 'Glee'? When am I going in for 'Glee'? Make sure you stay on top of this project!" I really made sure that every day they were like, "When are you going to see Lea?" Being a singer and a performer, I really wanted to have the opportunity to be part of a show that I felt was tailor-made for my background. I had one audition, and then I went for studio and network. I found out later that Ryan Murphy—I had met him a year prior through a friend—had written the role for me. So I kind of wish I would've known that before I went through all the nervous parts of auditioning. [Laughs.]
Cory Monteith
: I sent an audition tape from Canada. That was the first time I'd ever auditioned and sung; I'd never done anything like that before. I'd never sent a tape of myself singing; I'd never sung for anybody. My agent hooked me up with ["Glee" musical director Brad Ellis], cause he was the guy who was going to be the piano accompaniment for the auditions. So I spent a couple hours with him on the weekend before the test, and I said, "This is the song I want to sing. Can you teach me how to sing it?" I had no idea what I was doing. I thought they wanted musical theater, so I was going to sing a song from "Rent." We chose different songs after working together; it ended up being Billy Joel.
Kevin McHale
: I auditioned fairly early for Artie, and I thought I did awful. I sang "Let It Be," and I cut part of the song out 'cause I thought it was too boring, and then in the middle of the song, they're like, "Okay, keep singing, don't stop!" I was like, "I don't know any more words!" Everybody was laughing in the waiting room. But they asked me back, and then I had to wait six weeks to go test. I was a nervous wreck. We all tested together—Jenna and Chris and I. And here we are.
Chris Colfer
: I originally auditioned for Artie. My audition piece was "Mr. Cellophane." I walked in, and I was completely nervous because I'm a huge fan of Ryan's, and I said a lot of stupid things, but luckily they found them to be funny. Then I left, and that night, my agent called and said they didn't want me for Artie, but they liked me, so they wanted me to read for this other part that they had just created.
Monteith
: If I can interject, what Ryan Murphy said was [Chris'] performance was so compelling that after he left the room, they all looked at each other and said, "We have to have this kid on our show. We have to make a part for him. He's that good."
Amber Riley
: And he is that good.
McHale
: Genius!
Colfer
: [blushing] Arrrgh. I hate it when they do that. Actually, in the audition room, because I'm very von Trapp–esque looking, the first thing Ryan said was, "Why do I have a feeling you've been in 'The Sound of Music'?" I was like, "Oh, I was Kurt in 'The Sound of Music' when I was 14." When I went to studio, I found out that the character's name was Kurt. So I kind of had an idea, but I didn't want to think about it, because I didn't want to work myself up. After I was cast, they were like, "Yeah, we wrote it for you."
Back Stage
: Did any of you have real-life glee club experiences to draw on?
Jenna Ushkowitz
: I was a total theater geek. I went to a performing-arts high school. You definitely pull from past experience, being the geek or the underdog.
McHale
: I quit choir in seventh grade. That's the closest I was. I always sang outside of school, and I just hated those types of songs we sang in choir.
Michele
: I was in choir, and my music teacher hated me because I was a singer. She was so terrible and so terribly mean to me that this is the experience that I wish I'd had: having a teacher like Mr. Schuester.
Back Stage
: But most of you have stage experience. Has that come into play on the show?
Riley
: Stage is different from TV. With TV, you want to be as natural as possible. You tend to be bigger [onstage] because you're playing out to an audience. I think the professionalism that it takes to be on the stage is what [we] bring to it. In theater, there's no "Cut." You either know your stuff or you don't.
Michele
: It's helped me deal with the rigorous schedule that we have. It hasn't prepared me at all, really, for being on camera or being in the recording studio, but what it does is it really teaches you how to keep up with your health vocally. When you can do eight shows a week for a year, two years, or however long you're in a show, you can pretty much do anything. I'm the girl at 3 a.m. on set doing tap dances 'cause I'm still wide awake.
Matthew Morrison
: You know, because this is comedy, the hardest thing is telling the jokes and not getting any laughs. Onstage, you tell a joke and they laugh right away, but here, no one can laugh or they'll ruin the take. You have to trust that you're funny.
Ushkowitz
: It's a fine line. You're performing onstage, but there's a camera in your face. I did a scene with Matt, and we were onstage, and he's like, "Jenna, you're cheating out [positioning yourself toward the audience]." It's one of those things that it's instinct for you to do. [Laughs.]
Morrison
: She was like [faces the group in an exaggerated fashion]: "Well, shoot…"
Riley
: That's so funny! It's like second nature.
Back Stage
: As a group, you have amazing chemistry. Was that there immediately?
McHale
: It was there from the first day of rehearsal. We were all kind of coming from the same place, so we all latched on to each other.
Colfer:
It was those seaweed arms that we did.
Back Stage:
Seaweed arms?
Colfer:
It was a warm-up we did that was kind of crazy. We walked around going, "Brrrrrr!" throwing our arms up. And all of us were looking at each other: "Are you gonna do it? Are you gonna do it? Okay, we're doing it!"
Back Stage:
Cory, given your nonsinging background, were these kinds of exercises especially weird for you?
Monteith:
Oh my God. I had no idea what I was getting myself into at all. I thought, "Okay, I can sing." I thought, you can sing or you can't. So show up and sing. But I had no idea that you make strange noises to make your voice sound better.
Back Stage:
Do the writers give you guys the opportunity to suggest songs for your characters?

McHale:
They were like, "If you have ideas, just send them to us." I suggested a song, and then a few episodes later, the song they ended up giving me was really, really similar. It was the same vibe.
Colfer:
I told Ryan a story about how when I was in high school, I begged my drama teacher to let me sing "Defying Gravity" [from "Wicked"] in the show that we would do, and he would never let me, because I was a boy and he said it was weird. And then Ryan wrote that into an episode. So they listen, they really do.
Michele:
What I like more than anything is being surprised. Ryan is so interested in what's going on in our lives. He really puts those things into the script. You see a song in the script that he's picked; it's like he was listening to what I'm going through in my life and has it also work for the character. I'll be like, "Oh my God, how did you know I was listening to that song all last week in the car?"
Back Stage:
A lot of you started acting pretty young. Do you remember your first inspirations?
Morrison:
I've known I wanted to do this since I was in fifth grade. I did my first musical in, like, a children's theater and I've kind of been on the path ever since. Like Jenna, I went to a performing-arts high school and went right to New York after high school. I did my first Broadway show when I was 19, and I've done seven Broadway shows since then. It's been a great ride. And this show: If I could've written a part myself, this would have been it.

Riley:
I've known since I was 8 years old. I called this talent agency that I saw a commercial for and made my own appointment. I told my mom, "Mom, I have an appointment at 10 a.m. on Wednesday, and you have to get me out of school." My mom just started laughing, and her and my dad discussed it, and I actually got to go in. Then I did "Midsummer Night's Dream," and there was an agent there, and I got an agent through that. You just do little things: Even though they might not be that big, you never know who's in the audience. When I did that play, it really wasn't a big thing. But somebody was there, and they saw me.
Back Stage:
Any final words of wisdom for actors?
Monteith:
Trust your instincts.
Riley:
Yeah. You can take acting classes and do all that, but don't let it be an excuse for why you're not getting out there. "Oh, I'm studying." Just go out and do it. You can suck at first, but at least you get the experience.
Morrison:
I always say, just make one very strong choice [in an audition] that you know no one else is going to try.
McHale:
If it's awful, it's awful. That always seemed to happen to me. I'd go in there, and they'd be like, "Huh. That's…interesting."
Morrison:
"That's…a choice."
McHale:
"We haven't seen it like that." And then I never got called back. We all know the struggle of going out on auditions for years and not getting anything and then something random happens; ["Glee" was] just another audition we went on, and here we are. You never know.