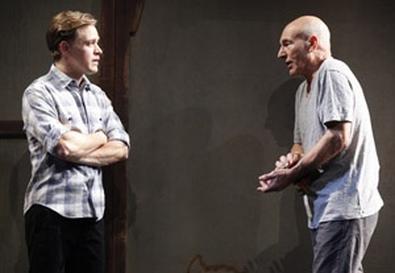 "A Life in the Theatre" is a rarity among David Mamet's works. Rather than the usual corrosive vitriol against venal real-estate salesmen, corrupt politicians, racist lawyers, or profit-mad Hollywood types, this two-hander is a sweet valentine to the theater. In 90 minutes of short vignettes, two actors run through every backstage story you've ever heard—missed cues, wardrobe malfunctions, dropped lines, broken props—all staged with comic dexterity by Mamet's frequent collaborator Neil Pepe in this fast-paced and fun revival, the show's first production on Broadway. It premiered Off-Broadway in 1977.
But the play is more than just a collection of onstage-disaster anecdotes. The scenes chronicle the inverse career tracks of the veteran Robert and the newcomer John. When the play begins, Robert is confident in his talent and willing to share his experience with the unsure neophyte. Gradually, John gains in security, rejecting his fellow actor's somewhat pompous pronouncements on the "theatah" as Robert becomes lonelier and uncertain of his abilities, eventually hiding in the empty stalls while John rehearses.
It's a delicate premise that calls for a director and a pair of actors to delve beneath the easy laughs and explore the passions and joys of living a life among the footlights. Pepe and his two stars, Patrick Stewart and T.R. Knight, amply fulfill those requirements. With a flick of his eyebrow or a slight drop of his voice, Stewart conveys reams of subtext. He even clearly puts across Robert's panic at losing his place during a hospital scene while half his face is covered by a surgical mask. He also peels back Robert's grandiose theatricality to reveal the aching uneasiness underneath. Knight charts John's journey from jittery beginner to assured performer. You can see his power and strength increase as he slowly outgrows Robert, yet he never seems arrogant or unkind to his informal mentor.
Pepe is to be commended for his coordination of the myriad scene and costume changes without letting the action flag. Kudos to production stage manager Matthew Silver, stage manager Jillian M. Oliver, wardrobe supervisor Sandy Binion, and dresser Moira Conrad, whose names are listed way in the back of the Playbill yet who make an invaluable contribution to the production.
Santo Loquasto's flexible sets, Laura Bauer's genre-spanning costumes, and Kenneth Posner's masterly lighting create a fascinating behind-the-scenes world for this entertaining "Life in the Theatre."
Presented by Jeffrey Richards, Jerry Frankel, Jam Theatricals, Debbie Bisno, Eva Price, Larry Magid, Kathleen K. Johnson, Herbert Goldsmith Productions, Roger Kass, Barry & Carole Kaye, Kelpie Arts, Black-Pereira, and Freedberg-Dale/Dombrowski-Manuel at the Gerald Schoenfeld Theatre, 246 W. 45th St., NYC. Oct. 12–Jan. 2, 2011. Tue.–Wed., 7 p.m.; Thu.–Sat., 8 p.m.; Wed. and Sat., 2 p.m.; Sun., 3 p.m. (212) 239-6200, (800) 432-7250, or www.telecharge.com. Casting by Telsey + Company.