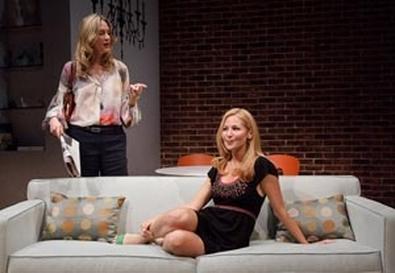 The slippery nature of truth is examined with wit and insight in Cusi Cram's play "A Lifetime Burning," which opens Primary Stages' 25th season of presenting new work Off-Broadway. Using the recent trend of scandalous but not entirely accurate best-selling memoirs as a jumping-off point, Cram indicts our lazy popular culture for valuing a spicy read over messy, mundane reality.
Spoiled, dysfunctional Emma is running out of her trust-fund money after checking in and out of mental institutions and suffering from being "alcoholarexic"—drinking too much and eating too little. She snags a six-figure publishing contract with a fabricated autobiography claiming a mixed-race heritage and a childhood in the 'hood rather than her actual privileged upbringing in Connecticut. Her sister Tess, a magazine writer struggling with an ugly divorce, is furious, as this means she'll be forced to pull her irresponsible sibling out of yet another expensive debacle once the truth is inevitably revealed.
There are some flashbacks involving Emma's Hispanic boyfriend, who unknowingly provides fodder for the false bio, and a British barracuda of a publisher, a cross between Anna Wintour and Tina Brown. But the bulk of the play deals with the confrontation between the sisters. Family history and social commentary are seamlessly interwoven in the sharp dialogue as the two sarcastically joust. Tess labels Emma "a maze inside a thimble." When Emma says Tess look thinner, the latter responds, "You should just say someone looks thin. The 'er' takes the compliment away."
Emma could easily have come across as a spoiled brat, but Jennifer Westfeldt pulls off an admirable feat of acting legerdemain by making us care for this hot box of crazy. She carefully details the twists of Emma's convoluted logic and makes an almost legitimate case for her dishonesty. Christina Kirk is equally skillful in adding dimension to a potentially narrow character. She finds endless variations in Tess' frustrated sputterings—watch how she builds her rage when repeating the same phrase in confusion—and saves Tess from becoming a one-note hissy-fit thrower.
Isabel Keating nearly steals the show as Lydia, the sharklike publisher. Keating wrings every line of its maximum subtext and laugh potential as Lydia schools Emma in the realities of the literary marketplace. Raúl Castillo makes Alejandro, the hunky Latino lover, more than just a hot guy, painfully exposing the character's disappointment when he discovers Emma has been using him.
Pam MacKinnon's fluid staging handles the transitions between the present, the past, and Emma's imagination with nary a bump, aided by David Weiner's subtle lighting and the set by Kris Stone, which is as chic and stylish as Cram's elegant script.
Presented by Primary Stagesat 59E59 Theaters, 59 E. 59th St
.,
NYC
.
Aug. 11
–
Sept. 5. Tue
.,
7 p.m
.;
Wed
.–
Sat
.,
8 p.m
.;
Wed. and Sat
.,
2 p.m
. (
No performance Wed
.,
Aug. 12, 2 p.m
.;
additional performance Sun
.,
Aug. 16, 3 p.m
.)
(
212
)
279-4200 or www.ticketcentral.com
.
Casting by Stephanie Klapper Casting
.