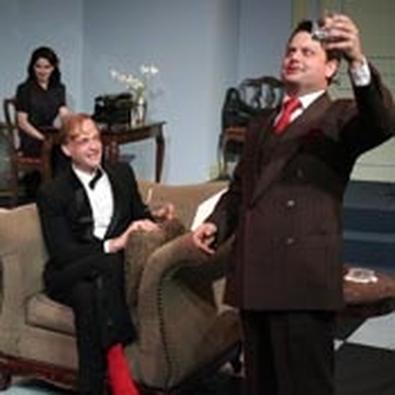 This top-notch production of Moss Hart's classic script handsomely echoes another era in theatre, while making a strong point about the difficulties of putting on a show. Prior to the opening of a new play by an untried playwright, the indomitable impresario Sidney Black (Benjamin Burdick in a powerhouse performance) and his trophy wife, Frances (foghorn-voiced Andrea Syglowski), meet for celebratory cocktails with the emotional ("I could cry!") director, the foppish Carleton Fitzgerald (Colin Campbell in a stellar performance), the prima donna Irene Livingston (an absolutely fabulous Laura Flanagan), and friends and family.
Kevin McCorkle is reassuring as friend and seasoned playwright Owen Turner, who's been there, done that; Barbara Schofield thoroughly convincing as the star's battleship mother; Richard Michael Knolla excellent as the star's battered husband; Dominic Spillane splendid as the overwhelmed young playwright; and Amanda Weier sweet and lovely as Miss Lowell, the typist who's organizing the Livingston autobiography. And then there's that darned parrot, Orson (the voice of Jason Paige).
When opening night appears to be closing night, it seems the celebration was a tad premature. Loss of face and investment vie for precedence, descending on the unfortunate playwright, who scarpers, defeated.
The play has stood the test of time, so there are no surprises, except that it still works in the capable hands of this terrific ensemble. The script smacks of another era in theatre, but there are significant echoes in the exigencies of backing untried projects and the disappointment and expense of trying an audience's patience with unusual or new material -- as well as in the economic stress of misplacing a huge amount of time and money.
Bjørn Johnson's direction cleverly emphasizes the louder-faster school of acting, which works to tremendous advantage in this brilliant comedy-farce. A. Jeffrey Schoenberg's costumes, Ellen Monocroussos' lighting, Victoria Profitt's scenic design, and Peter Carlstedt's sound work together like a charm.
Presented by and at the Open Fist Theatre,
6209 Santa Monica Blvd., L.A.
Jan. 16–Mar. 7. Fri.–Sat., 8 p.m.; Sun., 3 p.m.
(323) 882-6912 or the Open Fist Theatre.