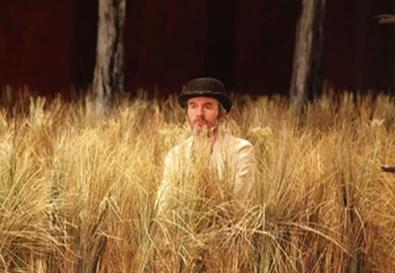 The Bridge Project, Sam Mendes' company featuring British and American artists, opens its second season at BAM with an insightful and lyrical production of "As You Like It." Probably only "Twelfth Night" is more popular among Shakespeare's comedies on these shores. Yet Mendes has concocted a new recipe for the meal, adding contrasting spices and meaty textures, transforming it from a frothy dessert to a hearty repast.

He sets the first act in winter, with fallen snow on Tom Piper's rustic set and costume designer Catherine Zuber attiring everyone in heavy coats and rich gowns. Obstacles beset the heroic Orlando and Rosalind as they separately escape the ruthless court of Duke Fredrick for the idyllic Forest of Arden, seen here as a kind of hobos' jungle for deposed noblemen. The act ends with the death of Orlando's old servant Adam, an addition on Mendes' part. In the original text, the elderly retainer simply disappears after his last scene. Mendes has staged this sequence with a heartbreaking tenderness. After Stephen Dillane as Jaques delivers the famous "Seven Ages of Man" speech, Alvin Epstein's Adam quietly waves goodbye to his young master and silently expires to the strains of Mark Bennett's sweetly melancholic score. This marks the passage of time and the fact that death is an inevitable part of the cycle of life, the cycle that Orlando and Rosalind are just beginning.

The second act brings spring and the emergence of new love. The snow is replaced with a field of wheat; heavy clothes are traded for brighter and lighter garments. Rosalind becomes the mistress of a series of romantic and sexual games as she surreptitiously tries Orlando's amorous mettle while disguised as a smooth-faced boy. Juliet Rylance's Rosalind is a joyous creation, fearless and witty in both genders. Rosalind can overpower Orlando, but Christian Camargo, Rylance's offstage spouse, is as formidable in their verbal sparring matches as he is in Act 1's wrestling match.

There are many more delights in the large Anglo-American company. Dillane gives Jaques a wry, tongue-in-cheek turn. This morbid philosopher is sometimes played as a wet blanket, but Dillane makes him a sarcastic commentator on the follies of his fellows, kind of a male Dorothy Parker. Thomas Sadoski, who made a hit last season in "Reasons to Be Pretty" and "Becky Shaw," is a sharp Touchstone, a jester, and proves he can handle the classics as well as contemporary works. Ashlie Atkinson and Aaron Krohn strike sparks as a pair of squabbling lovers, and there are valuable contributions from Edward Bennett, Michelle Beck, Michael Thomas, Anthony O'Donnell, and the rest of the transatlantic cast.


Presented by Bank of America, BAM, the Old Vic, and Neal Street at the BAM Harvey Theater, 651 Fulton St., Brooklyn, N.Y. Jan. 26–March 13. Schedule varies. (718) 636-4100 or www.bam.org. Casting by Nancy Piccione and Maggie Lunn.