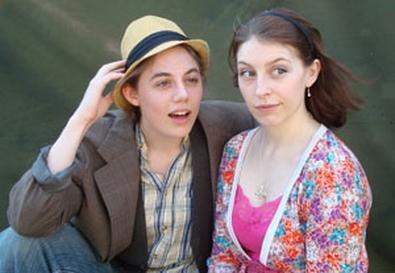 Contemporary attitudes and gadgetry fit snugly into Shakespeare's forest of Arden and the nearby court of Duke Frederick in Pulse Ensemble Theatre's highly likable rendering of "As You Like It." Frederick (played by Elliott Mayer) barks out banishments in the thick-tongued accents of a "Goodfellas" godfather. His daughter Celia (Iris McQuillan-Grace), loaded with shopping bags, dances on stage to Beyoncé playing on her iPod. With Valley Girl squeals, she gleefully doles out the pashmina shawls she has bought for herself and her best chum and cousin, Rosalind (Stella Kammel), daughter of the banished Duke Senior. The wrestling match between the challenger Orlando (Josh Odsess-Rubin) and Frederick's own pro, Charles (Shawn Williams), is adorned with scantily clad ring girls carrying placards announcing the number of the upcoming round.
When Rosalind herself is banished and flees into the forest accompanied by Celia, Frederick's thugs pull out their cell phones in an attempt to find them. In the forest, the gentle Duke Senior (also played by Mayer, in an admirable transformation) and his followers look like nature-loving refugees from "Hair," joining in meditative ohms before dinner.
These conceptual embellishments by director Alexa Kelly, Pulse's longtime artistic director, do little or no violence to the Bard's happy classic and are certainly an appropriate choice for this free, open-air production staged on the shore of the Hudson River. All the modern stuff might well be a magnet to casual passersby in the park to descend to the amphitheater and stay with the intermissionless show, running a little more than two hours.
The production falls short in capturing the sylvan enchantment that can be an integral part of the proceedings and misses the full sparkle of the language in the tutorial exchanges between the disguised Rosalind and the object of her affection, Orlando, as well as in the bantering between the various clowns. But down to the smallest role, the 18-member cast attacks the storytelling and all its courtly intrigues and rustic high jinks with a rambunctious, infectious energy.
The costumes, by Bob Miller, make for a colorful panorama, and an amplification system, despite some random rumblings, lets the actors' voices nicely fill the open space. It all adds up to a show that's fun to watch, even on a hot, humid night relieved only now and then by a breeze off the river.
Presented by Pulse Ensemble Theatre at the Amphitheater at Riverbank State Park, West 145th Street and Riverside Drive, NYC. July 21–Aug. 13. Wed.–Sun., 8 p.m. Free admission on a first-come, first-served basis.