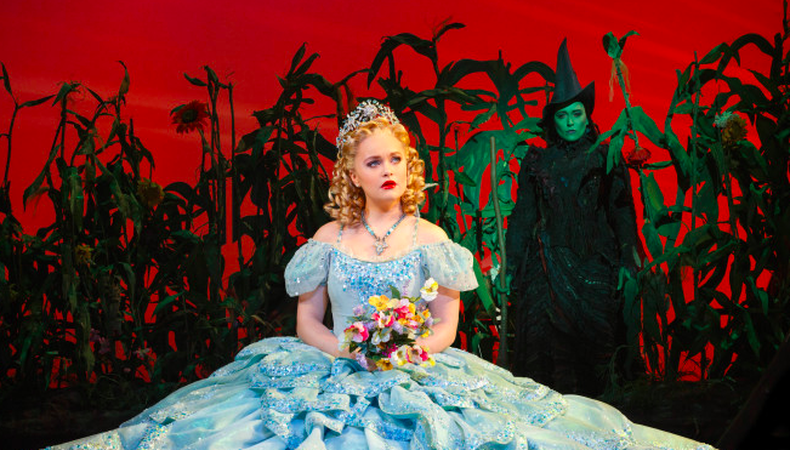 Broadway replacements have big shoes to fill—literally. Stepping into a role originated by someone else brings with it a highly unique set of challenges and rewards. In The Replacements, Backstage speaks with replacement performers who have lived to tell the tale.
As far as Broadway debuts go, it doesn't get much grander than descending via bubble onto the stage of the Gershwin Theatre. No one knows that more so than Amanda Jane Cooper who, after playing the role on and off on tour for several years, is currently making her Broadway debut as Glinda the Good Witch in the long-running smash hit, "Wicked."
Cooper spoke with Backstage about her pre-audition-audition for "Wicked" composer Stephen Schwartz, advice for aspiring Broadway hopefuls, and the special gift every Broadway Glinda leaves for the next.
So many incredible women have played this role. How do you subvert intimidation and make it your own?
That's the coolest thing about playing Glinda: knowing the history of all of the immensely talented forces who have played her. When you go into something like this, there's a great deal of honor that you have for everybody who has played her before. As you are finding her for yourself, there's a blank slate. I just started with the text and started with, "What is going on in this story? Who is she? What does she want?" Going back to those basics, those fundamental story [details] that are going to help you create her.
How did this role come about for you?
I was at Carnegie Mellon University and ["Wicked" composer] Stephen Schwartz, who is an alum of the school, was there doing a master class. I got to sing "Popular" for him and he said, basically, "I think you are going to be a Glinda one day." And I just about passed out. That was a really special moment because of course, ever since I saw it, it was a bud of a dream inside my heart and the fact that it could possibly blossom into a reality was the most thrilling. He told me to send my headshot and résumé to [Bernie] Telsey. I was such a nerd. I printed a cover letter on pink paper! I think I drew hearts all over the envelope. I went in probably five or six times, each time with an increasing number of people behind the table. I graduated from college in May 2010 and got the call in January 2011 about going out and playing Glinda on the national tour.
What was the rehearsal process like?
I had a four-month break between my final performance on tour and my opening night in New York so I had a two-week rehearsal process with everyone. Every single person who was coming into the show here had been a part of "Wicked" in some form, whether it was in the West End or on tour or on Broadway. All of us were familiar with the story which I think was a really interesting place to come from. We were all bringing a familiarity but we were all open to exploring what it would look like now. You live your life and then you grow and you change and then you're able to bring that experience and what you've learned with you back to the role.
What is it like being a part of the Glinda sisterhood?
There is an immense amount of love in the Glinda sisterhood, in the bubble sisterhood. It's a really supportive atmosphere and there's a celebration of everybody's uniqueness and what each gal brings to it. We all understand that no two ladies are going to give the same performance and there's a beauty in that. Something that's really special is on Broadway, every Glinda leaves a message for the next Glinda up in the rafters, up by the bubble where nobody except the Glindas can see it.
You're making your Broadway debut in one of the biggest shows there ever was. What advice do you have for an aspiring performer who wants to do the same?
I always like to tell people to remember that there is only one of you. God only made one of you. The less you compare yourself to others, and the more you can embrace your gifts and talents and really just bring yourself to whatever you're doing, the more honest your storytelling will be. I would say, as cliché as it may sound, it truly is a journey. There are so many aspects of the journey that matter, and it's not just about your career. Be patient and trust that wherever you are in your journey, you're being refined into the person you were created to be.
Get in on the action: Check out Backstage's theater auditions listings!