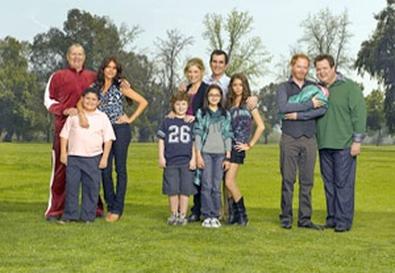 "If there's a headline about what's gone on in TV this year, it's that last year's breakouts are still going to be the dominant shows. Nothing really broke out this fall," says Matt Roush of TV Guide about this year's possible SAG Award nominees in the TV ensemble categories.
"The battle in comedy is still between 'Modern Family' and 'Glee.' They are both at the top of their game. Since 'Glee' won last year and is now being perceived as being rather uneven from week to week, that might impact the ensemble itself, and as the characters on 'Modern Family' have become more defined and more hilarious, I can't imagine it not winning and not being nominated. Each of those characters on 'Modern Family' is so delicious that I think it has to be considered a real contender."
Robert Bianco of USA Today and Chris Beachum of GoldDerby.com concur, giving the edge to ABC's "Modern Family" over Fox's "Glee." "Outside of Jane Lynch in 'Glee,' I don't know that there's anyone in that show I would pick out for individual work," says Bianco, "whereas all six actors in 'Modern Family'—throw in the kids as well—I would be quite happy to see them get any individual award they can." In addition, the three critics see the probable return of two more of last year's nominees: NBC's "30 Rock" and "The Office."
The fifth contender last year was HBO's "Curb Your Enthusiasm," which is ineligible this year because it aired no new episodes in 2010. All three critics lean toward CBS's "The Big Bang Theory" or Showtime's "Nurse Jackie" taking the remaining slot. But the kudos won by Jim Parsons and Edie Falco, including Emmys earlier this year, may work against their shows' ensembles. "With 'The Big Bang Theory,' people tend to concentrate on Jim Parsons, who is incredibly wonderful," Bianco explains. "But every one of those members can carry a story, which is what you want from a comedy ensemble. It's the same thing with 'Nurse Jackie.' Edie Falco is so good, it can cause you to forget how good the actors around her are."
"One show that hasn't gotten any SAG love like it should is 'The Big Bang Theory,' " says Roush. "I think it would be a real shame if it were passed over. It isn't just Jim Parsons' show, although I think he would have a great shot for his own nomination. But that is an ensemble that plays really well together. It's a classic comedy in the old-fashioned format that is out of favor when it comes to awards times. I think SAG in particular has not been kind to the studio-audience theatrical comedy as opposed to the filmed comedy. There is a sort of snobbism against that kind of comedy. But it's a hugely popular and powerful show."
Beachum sees another Showtime series, "The Big C," as a possible spoiler, because it features previous SAG nominees Laura Linney and Oliver Platt. He is also rooting for NBC's "Community" and "Parks and Recreation," but the erratic schedule of the latter—"Nobody knows when it's on or if it's coming back," he says—may work against it. Roush and Bianco cite ABC's "Cougar Town" and "The Middle" as dark horses they would like to see recognized. "We tend to undervalue kid actors," says Bianco, "but the three young actors playing those children on 'The Middle' are turning in very good performances every week."
'Boardwalk' Breaks Through
On the drama side, there is a similar dearth of new programs the critics deem award-worthy. The notable exception is HBO's "Boardwalk Empire." Says Roush, "It's got that kind of HBO glamour around it. And several of the characters have truly popped: the unconventional casting of Steve Buscemi and this very particular thing that Michael Shannon is doing with his role. It's neat to see him getting this TV exposure—just a very peculiar, intense character. Kelly Macdonald as the new lead female character is marvelous. I think this will be the contender as the new HBO prestige product."
All three critics foresee the return of last year's winner, "Mad Men," and predict that several of its performers will also receive individual nominations. "When it began, some people saw it as a male-dominated fantasy of compliant women in the '60s," says Bianco. "This year the females are the most interesting characters. Elisabeth Moss and Christina Hendricks are definitely in the running."
Roush thinks CBS's "The Good Wife" is one of the few network dramas deserving SAG recognition. "It's a real cut above regular network television," he says. "It sounds like a formula show, but it's much more than that. That cast is just really sensational. It's a first-rate example of what network drama can be but almost never is anymore. It transcends formula, where everything else is bogged down in formula, which is why you won't see a lot of nominees from network in contention at the SAG Awards. The dramas tend to strain even the best talent within the formula that they have to work with. There are better opportunities on cable for these actors to break through."
Beachum and Roush hope NBC and DirecTV's "Friday Night Lights" receives long-overdue SAG nominations. But Bianco thinks its time has passed: " 'Friday Night Lights' still has two incredible stars in Connie Britton and Kyle Chandler, who are as good as they've ever been, but that's a show that has reduced its ensemble to nothing. The original actors are now almost all gone, and the new actors are not playing as interesting characters or giving as interesting performances. SAG members should point out to producers that there comes a point where you cut budgets and you cut talent and it shows. This current idea that you can continue to cut budget without affecting quality has never been true and isn't true now."
Beachum cites TNT's "Men of a Certain Age" and NBC's "The Event" as possible sleepers because of their high-profile casts. All three critics see HBO's "Treme" as a worthy underdog, but they don't hold out much hope for an ensemble nod. "It flew too under the radar," Roush explains. "It was one of those shows that everybody liked but almost nobody watched. It felt so real, sort of the way 'Friday Night Lights' has been accused of looking more like a documentary than a drama, so nobody ever gets nominated for it. But if there is any sleeper deserving of a nomination, it would be 'Treme,' just because there was fine work on that show. Talk about a truly unified and harmonious ensemble. That show was pretty special."