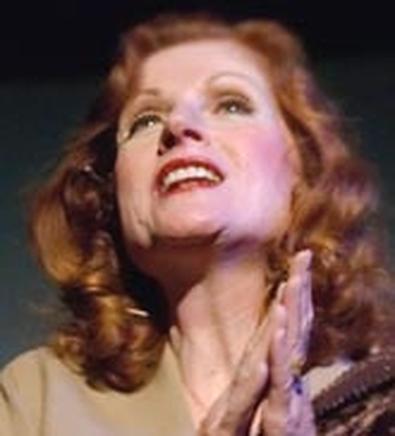 Daphne, an Indiana housewife; Rose, a British music hall artiste; and Lilli, a German diva — friends from student days at the Vienna Academy of Music — correspond throughout the Second World War and sing the wartime tunes of their respective countries. Such is the conceit of Kathryn Ryan's one-act piece. All are played by classically trained mezzo Linn Maxwell.
Projecting down-to-earth Yankee directness in the first role, Vera Lynn-like fortitude in the second, and Teutonic charm and implacability in the third, the statuesque redhead nails the accents and delivers her dialogue with commendable clarity. And she segues neatly from "It Had to Be You" to "Keep the Home Fires Burning" to "Solomon Song" in requisite style, accompanied by ace musical director Paul Trueblood. Maxwell's musical pedigree comes to the fore with a full-blown Das Rheingold excerpt.
Though most of the songs are standard period fare, Maxwell performs them — and the few more-offbeat items — freshly. Between numbers, Daphne struggles with loneliness, Rose loses her most ardent military admirer, and Lilli morphs from Hitler adulation to disillusionment.
The show could use a little more pizzazz, though to its credit, Ryan eschews campy pastiche, and the overall tone is warmly sentimental. Efficiently directed by cabaret veteran Erv Raible, the evening strives to transcend its essential structure as a classy club act, achieving a good degree of success.
There's a workable setting courtesy of Lana Fritz: a writing desk for Daphne, a dressing table for Rose, and a café counter for Lilli; at one point a screen descends with archival German newsreel footage, allowing for Maxwell's one costume change. Matt Berman's lighting design adds further texture. Dull patches are few, though Maxwell's patrician graciousness results in an evening more "charming," as the ladies seated behind me enthusiastically opined, than electrifying.
Presented by John Osher and Bob Roskam of Twinbros Productions
at the Abingdon Theatre Arts Complex, 312 W. 36th St., NYC.
Sept. 22-Oct. 4. Thu.-Sat., 8 p.m.; Sun., 3 p.m.
(212) 868-4444 or www.smarttix.com.