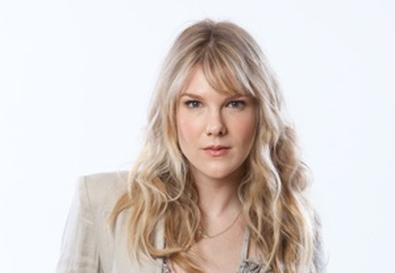 Lily Rabe is having trouble grasping the concept of balance in her life.
"I don't know what that is!" she says. And lately, she hasn't had any time to figure it out.
At 29, Rabe already has five Broadway credits, a Tony nomination, and a successful television series to her name. After exiting Theresa Rebeck's "Seminar" at the beginning of April, she had a rare three weeks off before starting rehearsals as Rosalind in "As You Like It," part of Shakespeare in the Park's 50th anniversary at the Delacorte Theater, where the show begins performances on June 5.
And frankly, Rabe is a little nervous.
"I'm not sleeping a lot right now," she says over iced tea at Tribeca's Kaffe 1668 on a Friday afternoon in April. Fresh from a cover photo shoot, she makes elegant look easy in a shapeless sheer dress paired with a faded denim jacket, and her thick blonde hair rolls down her shoulders with a studied casualness. "Before I ever start a job that I'm really excited about, I usually have some sleepless nights or weeks or months. But that anticipation for a person like me ... I don't do so well with a lot of time off."
The anticipation has been mounting for a while. Rosalind is "one of those great roles that every actress hopes they get a chance to do," Rabe says, and while playing Portia in "The Merchant of Venice" in the park in 2010, she started "dropping little Rosalind hints" to director Daniel Sullivan.
"I was like, 'I'll do it wherever,' " Rabe recalls. " 'I'll do it in your backyard. I don't care where.' "
Sullivan needed no convincing. "She's right to want to do it because it's a role that's sort of made for her," says the director, who is helming "As You Like It" and calls Rabe "one of America's leading Shakespearean actors."
Rabe has successfully tackled the classics, from George Bernard Shaw's "Heartbreak House" to Henrik Ibsen's "A Doll's House," but she's equally comfortable in contemporary plays like "Seminar."
Lily Rabe and Alan Rickman in "Seminar" (Jeremy Daniel)

Hamish Linklater, who appeared opposite her in Shakespeare in the Park's "Merchant" and in "Seminar," says acting with her is "invigorating" and "a pleasure." One of his favorite moments with her onstage was eating cookie dough together in "Seminar."
"The greatest acting achievement she's ever accomplished," he jokes, "is making it look fun to eat cookie dough while you know the skinny girl in her is screaming for air."
While Shakespeare's heroines aren't known for stage eating, his characters present their own challenges. Before "Merchant," Rabe had never been paid to do Shakespeare, though her training at Northwestern University focused on classic works. (She also remembers playing Oberon in "A Midsummer Night's Dream" in high school.) Rabe calls performing the Bard "the greatest privilege you can have as an actor"; however, she doesn't want to discuss the difficult charge before her. "We don't need to talk about that," she says quickly. "I'm going to have a nervous breakdown."
Part of the intimidation comes from following a legion of "great, great actresses" who have conquered the role. But Rabe is going into it with fresh eyes.
"I've never seen a Rosalind; I had never seen a Portia," she says. "I did see Janet McTeer play Nora [in 'A Doll's House'], and it was burned in my memory as one of the greatest performances I'd ever seen. Then I played Nora, and I was never haunted by Janet's performance because the production we were doing ... For me, it would be really crazy to try to repeat something because I would fail. The joy of getting to play these parts with these histories is getting to somehow make it yours for the moment, and that's the great challenge. And also having a director who has a very specific vision for the play."
For Rabe, Sullivan is one of those directors. "He's a true visionary, so he's never just going to do the play so someone gets to play a part they want to play. It's going to be his production, and I want to be Rosalind in Dan Sullivan's production of 'As You Like It.' "
Outdoor theater was another new experience for Rabe with "Merchant," and she's looking forward to doing it again, joking that she'd like to play all her parts in Central Park -- though she says that as an actor, she craves control. But at the Delacorte, "you can't even for a minute pretend like you have control," she says of the park setting. "For me, that was actually more relaxing than any other job I'd ever had because you just surrender to the universe. It's going to do what it's going to do, and you're going to get to say the greatest lines ever written. It's ridiculous, it's so fantastic."
Lily Rabe and Al Pacino in the "Merchant" (Joan Marcus)

Shakespeare in the Park is special to Rabe because she remembers attending productions as a child with her mother, Oscar-nominated actor Jill Clayburgh. As the daughter of revered talents -- her father is Tony-winning playwright David Rabe -- she grew up in the industry, though her parents tried to shield her from it, she says.
When asked if following in her parents' footsteps was an intimidating task, she looks somewhat surprised. "Now?" she asks incredulously. "At this point?" She's right. She has achieved remarkable success co-starring with the likes of Al Pacino in "Merchant" and Alan Rickman in "Seminar," but with "As You Like It," Rabe strikes out on her own as a headlining name.
Yet joining the family business was not an easy decision. "It was enough to almost make me not want to be an actor because I was so worried I would never be able to be seen as separate from them," she says. She studied ballet instead for 10 years because "it felt safer; it felt like it was my own. But really, what I loved about dancing was performing."
Rabe says that she fought her instinct to act until one summer in high school when she was teaching dance at a performing arts camp. A teacher asked her to perform a monologue for the camp's final showcase and left her a stack of options. Rabe took them home and discovered one of Babe's monologues in "Crimes of the Heart." (She later played the role at the Williamstown Theatre Festival in 2007 and Off-Broadway in 2008.) "It was like a love that I had never felt before," she remembers of doing the piece. "It was a relief, actually."
Rabe made her professional stage debut alongside her mother at the Gloucester Stage Company in 2002, her sophomore year of college, appearing in a night of one-acts comprising Israel Horovitz's "Speaking Well of the Dead'' and Frank Pugliese's "The Crazy Girl."
Clayburgh passed away in late 2010, just days before "Merchant" opened on Broadway, but Rabe was back in the show the next day.
When asked what she learned from working with her mother, she quietly dismisses the question. "It's hard to talk about," she says.
Rabe has yet to work with her father. Scheduled to appear in the world premiere of his play "An Early History of Fire" in April,
she had to pull out for scheduling reasons
. One can't blame her. In addition to "As You Like It," Rabe will also return to FX's "
American Horror Story
" for its second season.
Lily Rabe as Nora Montgomery in "American Horror Story" (FX)

"This is the best job in television I can imagine because it's like doing repertory theater," Rabe says of the anthology show, calling it a "delicious job for an actor." She appeared on the first season as ghost Nora Montgomery, a 1920s-era socialite, and will return in a new role.
Her recurring role as Nora contributed to the lack of balance in her schedule. While performing in "Seminar" eight times a week in New York, Rabe was simultaneously filming "American Horror Story" in Los Angeles. She would board a plane on Sunday after the matinee, film all day Monday, and take the redeye back Monday night for the Tuesday-evening show.
"If you're a little sleep-deprived, who cares?" she says. "Because you're landing and you're getting to go to work."
Rabe will be working for many years to come. Next up, she's been announced to play Mary Pickford in a biopic about the actor. Though she is at home on TV, in film, and onstage (indoors or out), she calls the theater her "home." She's looking forward to conquering more classic roles, citing Blanche in Tennessee Williams' "A Streetcar Named Desire" and the title role in Ibsen's "Hedda Gabler" as two she'd love to do.
Her most surprising career goal?
"All I really want to do is someday be in a western," she says. "If I could be on a horse with a rifle, I would be a really happy camper."
---
Lily Rabe on Director Daniel Sullivan
Rabe and Sullivan have worked together on both of her Shakespeare in the Park productions, and she shares what she enjoys about their collaborations.
Dan is specific and brilliant and confident in the way that he builds the world of the play for his actors. It's like he gives you earth to stand on, and nothing is accidental. So what it does is the greatest thing in the world for an actor: It sets you free. It's not going to be quicksand. He's given you solid ground. And for me, because I trust him with my life, that is something that's very relaxing. It's a wonderful thing as an actor to know that you are working with someone who you trust completely. I feel that way very deeply about Dan and very deeply about Sam [Gold, who directed "Seminar" and "A Doll's House"]. And they're also people who understand me, and there comes this wonderful shorthand. I have a lot of trouble finishing my sentences because I don't know why, my thoughts interrupt, but with Dan, I can say the first third of a sentence, and he knows the other two-thirds. It saves everyone a lot of time.

Suzy Evans is the Senior Web Editor at Back Stage. Follow her on Twitter:
@suzyeevans