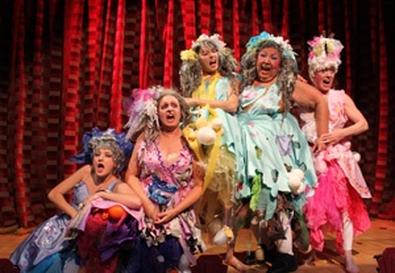 Here's hoping you're on good terms with Joseph Campbell, William Shakespeare, and Martin Heidegger, because auteur Taylor Mac has gathered all your favorites from the local bookstore for a dizzying theatrical epic—or essay—called 'The Lily's Revenge.' It is ostensibly the story of an organic lily that wants more than anything to become a man (see Campbell), marry the girl (see Shakespeare), free Dirt, the spirit of nature, from technology (see Heidegger), and embarrass the cranky God of Nostalgia, which here is the proscenium curtain (see…well, better to just see this, really).
Mac hauls these abstract ingredients to Here Arts Center and stirs them together with messy, impish delight. As if that weren't enough, he smears the result across five acts (and hours), with five directors—Paul Zimet, Rachel Chavkin, Faye Driscoll, Aaron Rhyne, and David Drake—imbuing each segment with a different theatrical form. A sixth director, Kristin Marting, is responsible for segments called kyogens that take place in the lobby and bathrooms between acts.
Mac has gone to great lengths to express his love-me-love-me-not relationship with theatrical convention, hoping the audience will comprehend precisely the raunchy dialectic between, say, performance art, Japanese Noh theater, and burlesque. And by the time it's done, it is unquestionable. Mac might be a little overly ambitious in the delivery of his message, but after rearranging the theater four times and ticking through the whole history of performance, the point about looking more progressively at the institutions of theater and marriage emerges with profound clarity. A surprising but suddenly obvious connection lands just right: Both theater and marriage are essentially pure, intimate relationships that have only been corrupted into institutions.
Aside from Mac, who plays the lead with sneering romanticism, and Amelia Zirin-Brown, who rocks some sultry Judy Garland vocals as Bride Deity, there are about 40 plucky performers involved, and all are eager to serenade you in the bathroom or let you squeeze the deflated balloons on their costumes.
Presented by Here Arts Center and Ethyl Crisp Productions in association with Abrons Art Center at Here Arts Center, 145 Sixth Ave., NYC. Nov. 1–22. Thu.–Sun., 6:30 p.m. (212) 352-3101, (866) 811-4111, www.theatermania.com, or www.here.org.