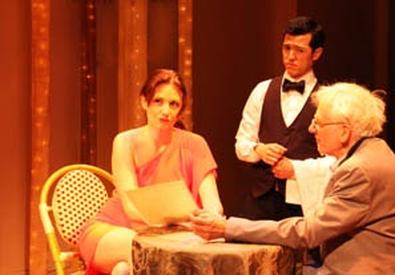 Love, as in "It seems to me the trouble always begins with love," is to playwright Charles L. Mee as gray hairs are to older men. And not just male-female love but love of wine and friends, "even love of sorrow, love of tears, love of heartache, love of anguish." And so on. All this spills from a 50-ish American named Andrew in Mee's 75-minute blank-verse play "Limonade Tous les Jours" ("Lemonade Every Day"), now having its New York premiere after being seen first in Louisville, Ky., in 2002.
In a scenario with echoes of the superior Ethan Hawke movies "Before Sunrise" and "Before Sunset," two people meet and fall in love while traversing that most romantic of all cities—Paris, of course. Ya-Ya is half Andrew's age. A cabaret singer, she's talkative and uninhibited, while he's quiet and vulnerable. As both are bouncing back from painful divorces, neither seems particularly interested in starting another liaison. Their shared aversion to entanglement is, of course, what begins to cement their relationship. She's trying to mature, while he's still willing to find himself "stepping out into the unknown, taking a chance, not afraid." This is the character's heart talking. But their attraction is cramped, not progressing much beyond her sensuality and his rationality.
Mee is an enjoyable playwright. In "First Love," "Big Love," and "True Love," he showed an antic disposition and wild theatrics, yet he invested those works with far more vim than he does here. He's always had a lot of penetrating things to say. In the past, however, his occasional long-windedness was couched in a vigorous physicality. But Andrew and Ya-Ya yak so much, analyze so much—in a café, in bed, in a bathtub—it's a wonder they have room for any feelings at all. Take that disquisition on types of love: While Andrew is enumerating the variations, Ya-Ya is trying on and discarding various dresses. Attention is split, and any scintilla of emotion is also discarded.
Diana Basmajian directs with a light hand. She's particularly good at delineating the various locales, including filmed scenes showing the lovers in Paris. Austin Pendleton splendidly underplays Andrew, his eyes shading over with yearning. Eleanor Handley is charming as Ya-Ya, and Anton Briones is blithe in various roles. Music director Cris Frisco provides piano accompaniment as Handley sings several French cabaret love songs.
As with the bulk of Mee's work, the answer to the world's problems lies in finding "all people in one person." Turning the prose of loss into the poetry of love is the one constant for which we should strive. For all its snags, "Limonade" ensures that audiences hear the call.
Presented by the New Voice Project and Joie de Vivre Théâtrale at the Cell, 338 W. 23rd St., NYC. April 5–May 9. Wed.–Sat., 8 p.m.; Sun., 3 p.m. (Additional performances Sun., April 11, 7 p.m., and Sat., April 17, 2 p.m.) (212) 279-4200 or www.ticketcentral.com.