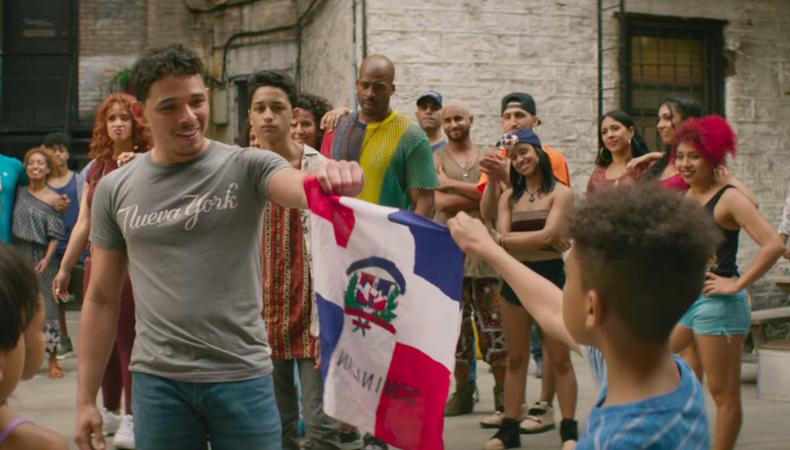 Lin-Manuel Miranda has issued an apology in response to criticism that "In the Heights"—the film adaptation of his Broadway musical, set in Upper Manhattan's Washington Heights—did not do enough to represent the neighborhood's Afro-Latino population.
"I started writing 'In the Heights' because I didn't feel seen," said Miranda in a Twitter post. "And over the past 20 years all I wanted was for us—ALL of us—to feel seen. I'm seeing the discussion around Afro-Latino representation in our film this weekend, and it is clear that many in our dark-skinned Afro-Latino community don't feel sufficiently represented within it, particularly among the leading roles. I can hear the hurt and frustration over colorism, of feeling unseen in the feedback."
Miranda ended his post with an apology and a "promise to do better in my future projects, and I'm dedicated to the learning and evolving we all have to do to make sure we are honoring our diverse and vibrant community."
The criticism of colorism was first mentioned when the trailer debuted in 2019. The film is set in Washington Heights, a predominantly Dominican neighborhood with a wide range of skin tones, yet majority of the film's leads are light-skinned actors. The same criticism resurfaced over the weekend after Felice León, a reporter for "The Root," asked "In the Heights" director Jon M. Chu, as well as its actors, why there weren't any dark-skinned Afro-Latinx leads in the film. Anthony Ramos stars as the central character, Usnavy, a bodega owner with dreams of opening a shop in Dominican Republic, alongside Melissa Barrera, an aspiring fashion designer.
"In the end, when we were looking at the cast, we tried to get the people who were best for those roles," said Chu to León. "I hear you on trying to fill those cast members with darker skin. I think that's a really good conversation to have. It's something we should all be talking about."
There are Black actors in the cast. One of the leads, played by Corey Hawkins, is Black but not Latinx, and actors Leslie Grace, Dascha Polanco, and Daphne Rubin-Vega are Afro-Latina, but are light-skinned. Darker-skinned characters were mostly in the background as dancers or extras.
"We've been able to be the dancers and we've been able to be in the hair salon," said León for The Root. "A lead, that's the breakthrough. We want to see Black people in the Heights, we want to see Afro Panamanians, Black Cubans, Black Dominicans, that's what we want to see and that's what we were yearning for and hoping for." León is Afro-Cuban.
León also said that there's a long history of colorism in Latin America that is glossed over in "In the Heights." "Throughout history, there has been the exclusion of and violence towards Blackness within Latinidad. Homogeneity and the illusion of a 'race-free culture' within Latinidad is a myth," she wrote in The Root.
"In the Heights" is based on the Broadway musical, and in the original stage version, there was a subplot where one of the Latinx characters is racist towards his Black employee. That subplot was cut from the movie.
The criticism against "In the Heights" is a complicated one, especially in an industry where Latinx characters only receive speaking roles in film 4.5% of the time, making that community underrepresented in relation to their population in the U.S.
Film critic Monica Castillo said that "In the Heights" reflects a wider issue within Latinx culture where light-skinned people are given privileges, opportunities, and representation in media that darker-skinned people often don't.
"This discussion about colorism is about acknowledging those already in our communities and families, to stop relegating dark-skinned and indigenous talent to outside the spotlight and open doors to not just white or light-skinned Latinos, but to all of us and our varied experiences," Castillo wrote in NPR. " 'In the Heights' wasn't going to solve decades of media exclusion and centuries of colorism, but perhaps it can start a movement towards a diversity that is actually inclusive."
"I agree w/ [sic] criticism," said Miranda's long-time understudy, Javier Muñoz in a tweet. "As a people, we Latinx get so few opportunities to have our stories told w/ [sic] truth, dignity, & integrity. So when those few breadcrumbs come our way we feel passionate for the artistic expression to be perfect. The broader issue for me is the serious lacking of Latinx stories & representation, overall, in media. Film, TV, Theatre, are all suffering from Latinx-anemia."
Leslie Grace told the Root that she hopes that "In the Heights" will lead to more films with Afro-Latinx characters. "Since we get so little opportunities, everyone wants to claim that one story because it's all we got.... I hope this is cracking that glass ceiling. I do hope to see my brothers and sisters that are darker than me lead these movies."