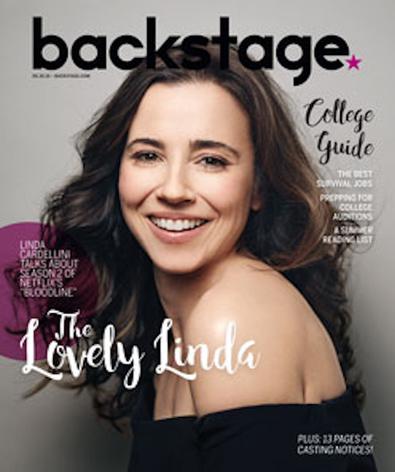 "My voice tends to give me away," Linda Cardellini says over burgers—her choice after some debate—revealing that she could never successfully make prank phone calls as a kid. "People who barely knew me would be, like, 'Is this Linda?' "
But her distinctive voice sells.
The actor, who has built a 20-year career on memorable onscreen roles—Lindsay on "Freaks and Geeks," Samantha on "ER," Sylvia on "Mad Men," and now Meg on the Netflix drama "Bloodline," whose second season premieres May 27—has an impressive résumé of voice work. Almost by accident, Cardellini built a second career, voicing animated characters on children's shows like "Scooby-Doo! Mystery Incorporated," "Gravity Falls," and "Sanjay and Craig."
It all started in 2005, at which point Cardellini had made a name for herself on "Freaks and Geeks" and as Velma in the live-action adaptation of "Scooby-Doo," when Seth Green asked her to reprise Velma on his Adult Swim animated sketch comedy show, "Robot Chicken."
"I'd always wanted to try my hand at every bit of the acting field," Cardellini says, "so it appealed to me in that way. And then, you know, it's a creative way to make money when I wasn't acting on camera."
It wasn't until 2011, a few years after "ER" ended and a string of back-to-back independent film releases, when Cardellini picked up most of her recurring voice roles—many of which she continues today. It also coincided with her pregnancy. "Nobody was looking for a pregnant woman," Cardellini says with a laugh, admitting that she had some glimmer of hope the perfect role would come along. "I thought, When I get pregnant, someone will be looking for a pregnant woman. I'll do a movie about a pregnant woman. But that didn't happen."
While Cardellini's break from work was short-lived, it was long enough to add to the impact of her surprise appearance on Season 6 of "Mad Men." As Sylvia Rosen, Cardellini bedded Don Draper (Jon Hamm) and scarred Sally Draper (Kiernan Shipka) in the process. "It was my first venture back in and it proved to be something wonderful," she says.
Of course, this being a Matt Weiner series, Cardellini wasn't quite sure what she was getting into. "I knew nothing about the part," Cardellini says of going into the audition, during which Weiner made her do an exhaustive number of takes. "He had me do it so many times I didn't know what truth was.
"I remember one time," she recalls, "in the middle of it—at a certain point you start to turn on yourself because you're thinking, Why is this going poorly? And then I tried to get back into the moment—I realized I was crying because I was frustrated. I couldn't understand what was happening. I ended up using it in the scene as a choice." Even after all of that, Weiner asked her to do it again and paid her her greatest compliment: "He said, 'Oh come on, it's like driving a Ferrari.' "
Ultimately, the work paid off, earning Cardellini her first Primetime Emmy nomination and unexpected praise from colleagues. "People in the industry definitely saw it and they saw me in a different way. I've been busy ever since, so I can't complain," she says.
While she won't say if her guest role directly led to more work, it did coincide with a string of projects—"Welcome to Me" with Kristen Wiig, a hush-hush role in "Avengers: Age of Ultron," "Bloodline," and a couple of episodes of "New Girl"—all released within a year.
Watch the "Bloodline" Season 2 trailer:
For "Bloodline" executive producer Daniel Zelman, it just confirmed what he already knew. "You could just add it to the pile of things we loved," he says.
"Versatility in actors is something we like; actors who defy genre and defy type," Zelman says of casting the Netflix thriller he co-created with Todd and Glenn Kessler. "The thing about Linda is she has a very interesting career and a very interesting skill set for us."
As soon as they realized she was available, Cardellini became the top choice to play the daughter and youngest sibling of the Rayburn family living in the Florida Keys, where she serves as an attorney and family peacekeeper. For her part, she liked the idea of a "well-intentioned good sister who does something horrible. The idea of the family was appealing to me," Cardellini says.
This time around, she didn't have to audition; the producers agreed to work with her after speaking over the phone. And just like that, "there I was in the Florida Keys," she says, lucky to find herself on such a gorgeous set, working alongside pedigreed actors such as Kyle Chandler and Sissy Spacek.
"There was a moment this morning where I was sitting in my hotel room, eating oatmeal and looking at Manhattan, when I pinched myself," Cardellini continues, reflecting on moments before she found success. "When I was young, I would read Backstage and think, Someday, I'm going to be on the cover of this. Today is one of those 'pinch me' moments."
And Cardellini is genuine about her excitement to be on the cover—she stated it in earnest several times throughout lunch—just as she is proud to be a working actor, a career that started with a recurring role on the 1996 children's horror series "Bone Chillers" and continues with the upcoming biographical film "The Founder" about Ray Kroc, starring Michael Keaton.
"I'm so happy that, at this point, I feel like things are getting better and better. But you never feel 100 percent secure," Cardellini says. "I don't know that I ever came into this business wanting to feel 100 percent secure, so it's a contradiction in that way. As many things are. For instance, you have to be a very sensitive person in order to feel things and do your job. Yet, at the same time, you have to be resilient to all the rejection. It can be the best job in the world when you have a job, and when you don't, you're always wondering about the next one. There are no guarantees," she says with a laugh.
---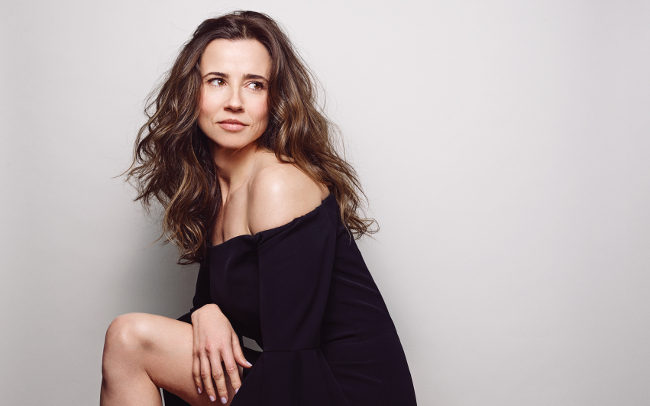 My First (Paying) Role
"The very first actual paying job I got was a commercial for Japan. It was a brunette, who was me, a blond girl, and a redhead. We were in locker room showers, using something called 'Cool Soap,' and you had to put it on your skin—this is also one of my first experiences with voiceover—you had to put it on your skin and go [in a luscious tone], 'Ooooh.' And it was voiceover, print, and on-camera for very little money. No money, probably, by anybody else's standards. But I was working for minimum wage at my college, so it probably was a lot to me.
"Anyway, we had to say things like, 'Oh, he's your baby, he's your honey.' They were things like, 'Oh, cool,' and catchphrases that seemed very American. So we did that. Then we had to act like we were swimming, wearing these nude-colored bathing suits. We were on a bench and they were going to superimpose whatever they were—mind you, I've never seen any of this and I don't know if it even exists—behind us. The director was speaking in Japanese, with a translator, and they said, 'Can you now do your voiceover part? I want you—when you put the soap on—to say, "Cool," and make a noise like it feels really cold at first but then it feels really invigorating.'
"I was, like, 'OK.' Now, I'm really nervous. I was, like, 'You've just got to go for it, Linda.' Like, just go for it and think about the soap. And here I am being so serious about this soap on my skin. And it'll be just whatever noise will come out. It'll be real. So, everything's really quiet—there's a whole crew standing around for my first-ever commercial—and they go, 'OK, action!' And I let out this noise that's like [in an orgasmic tone] 'Uhhhh.' I don't know where it came from or why, but as soon as it left my mouth I was hoping it would be different than what I had felt. They were, like, 'Cut! Cut! Cut! No, not like that. That is not the sound!' It sounded like something from a porno!"
Want to read more? Check out our Backstage covers here!
Dress by Milly.