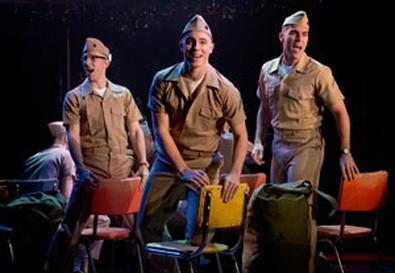 Neither Lindsay Mendez nor Derek Klena wants to focus on the challenges and/or pressures in originating leading roles in the new high-profile musical, "Dogfight," at Second Stage Theatre. It's an unprecedented experience for the two young actors and yet they insist the key is preparation which is the case for any role or production.

Mendez says if she thought about the career turning potential of her part, "It would wreck me. I just have to put it out of my head. I know this is a big role, but I'm working with people I can trust. I'm hopeful I can live up to the task." Still, she's happy to find comfort in a familiar space. Previously, she performed at Second Stage with Sherie Rene Scott in "Everyday Rapture." "So, I feel at home in this theater." She went with the show when Roundabout Theatre Company transferred it to Broadway.

"This is the largest and most in-depth role I've ever had," says Klena. "But I focus on the character and learn as much as I can from each preview audience and narrow in on the specifics."

Undoubtedly, the specifics are daunting. With book by Peter Duchan and music and lyrics by Benj Pasek and Justin Paul, "Dogfight" is set in San Francisco on Nov. 21, 1963, the night before President Kennedy was assassinated. This seminal event in American history took place years before either Mendez or Klena were even born.

Inspired by the 1991 film, starring River Phoenix and Lili Taylor, "Dogfight" is an unlikely love story between a crude and unkind Marine, Eddie Birdlace (Klena) and Rose Fenny (Mendez), a painfully awkward young woman, who meet while Birdlace is on a 24-hour leave before being shipped off to Vietnam. "Dogfight" refers to a competition among Birdlace and his Marine buddies who are vying to find the most unattractive date. With the divisive war as its centerpiece, the musical portrays an America on the cusp of seismic cultural and political change.

"I knew about the war through history and I had an uncle who fought in it," says Mendez. "And we talked a lot about the war. I relate to the story because I see men going off to war now. But they're respected. It's very hard for me to get a handle on the terrible way returning soldiers were treated after Vietnam."

"These soldiers believed they were making a difference and they'd be rewarded for their efforts," says Klena. "It was devastating when they came back. Also, attitudes towards women have changed enormously. In 'Dogfight' they are nothing but objects and sex symbols. A lot of this is foreign for me, except the age. I relate to the soldiers because we're about the same age."

Striking the Right Note
Unlike the hapless characters they play, Klena and Mendez have enjoyed a fair degree of success. Klena has appeared in many regional productions and was last seen in MCC's Off-Broadway revival of "Carrie." Similarly, Mendez boasts a host of Off-Broadway credits in addition to appearing on the Main Stem in the recent revival of "Godspell." She is an accomplished jazz singer and has been seen performing around town with her collaborator Marco Paguia. "Dogfight" director Joe Mantello's interest was piqued after seeing her being interviewed online. Mendez was already in the running, having auditioned and been vetted by the show's casting director at Telsey + Company. Mantello brought her in to read with Klena and it was a done deal.

"Dogfight" is an emotionally trying piece for both actors on many levels, most pointedly in the complex love story that evolves between Rose and Eddie, each of whom is a layered character struggling with demons. Klena says his major acting challenge is striking the right balance between Eddie's cruelty and compassion. "He's constantly struggling between doing what's right and wrong, though he gradually changes and ultimately feels more comfortable in expressing compassion."

Mendez understands Rose's shyness and optimism, but only wishes she had Rose's strength and bravery as a young woman. "I want to play a strong, honest woman who does not feel sorry for herself. Rose goes through a lot and I have to make sure the audience loves her and wants to follow her." Mendez adds that the music is yet another challenge. Its intricacy requires that she paces and prepares herself in ways she never had to before, including not speaking too much before and after performances in order to save her voice.

Despite the many credits, neither actor has been in a production that has evoked such strong audience response. "Younger audiences may get the humor and laugh more than older audiences, though in many ways it's eye-opening for them," Klena says. "The older crowd is quiet, but they're relating to the events. It hits them. They wait for us at the stage door. One older man was crying."

"Dogfight" is slated to run through Aug. 8 at the Second Stage Theatre, 305 W. 43rd Street. www.2st.com.

Biobriefs
>Klena has appeared regionally in such productions as "Hairspray," "Glory Days," "Happy Days," "High School Musical," and "Big River."
>He made it to Hollywood Week in season nine of "American Idol."
>Mendez's Off-Broadway credits include "The Marvelous Wonderettes," "Love's Labour's Lost," and "Jaques Brel is Alive and Well and Living in Paris," among others.
>She is a member of The League of Broadway Superfriends, a five-person band singing to benefit organizations in need.