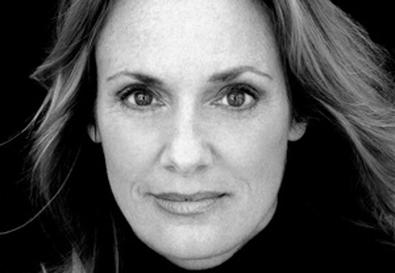 Veteran actor
Lisa Emery
moves seamlessly from playing an efficient job interviewer to a well-meaning but slightly intrusive mother to a beleaguered Latvian domestic in
Paul Weitz's
play, "Lonely, I'm Not," now running Off-Broadway at the
Second Stage Theatre
. The drama with comic elements centers on a troubled young couple (played by Topher Grace and Olivia Thirlby) finding connection in a world where disconnection is the operative word.
Tackling multiple roles is not new to Emery. In "Jackie," a comic piece on former First Lady Jacqueline Onassis with masks and puppetry, Emery had far more involved changes. She recalls dashing on to the stage at one performance without donning her wig. "I was on stage in a head cap and someone was tapping my head," Emery notes with a laugh. "I ran off stage to get my wig, but they wouldn't let me come back on stage. After being in 'Jackie' this play is easy."
Still, taking on more than one part is not without its challenges, most pointedly creating several three-dimensional lives within a few short scenes. Emery insists her method varies with the project and sometimes fluctuates within the same play. She may work from the outside in or the inside out or both. Either way Emery insists "You don't have to do nearly as much on stage as you may think. Less is better. Just be there and trust it."
To judge by her roster of credits, Emery has been on target for close to three decades. She's constantly working and, more important, she's fearless in trying a broad range of roles-from the largely silent and increasingly intoxicated guest in Mike Leigh's "Abigail's Party" to the vulnerable and confused soul emerging from a decades-long sleep in Harold Pinter's "A Kind of Alaska." Emery's Broadway appearances include "Relatively Speaking," "The Women," and "Present Laughter." Numbering among her many award-nominated Off-Broadway roles are "The Prime of Miss Jean Brodie,""Iron," and "Marvin's Room." Her resume also boasts a host of film and TV gigs.
Emery admits frankly that the script takes precedence over other considerations, including the character she is going to play. She cannot take on a project "If I'm rolling my eyes when I read the play. I know I'll be miserable even if I'm in a drought. But I'll do a play even if I think it needs a lot of work as long as the playwright is around and willing to work on it." Emery concedes money is her primary motivation for accepting TV projects, though she can't be totally embarrassed by the script.
Some of her values have evolved. When she was much younger, a long run in a play was off-putting. The steady check was not enough she says. Now, she feels it's important just to work and "I'm as happy as can be when I'm in a long run," she notes. Also, as a mature woman she's concerned about having fewer opportunities, although that has not happened. "You think things are going to dry up and then something comes along."
Emery favors new plays, but concedes it would be fun to take a stab at Mary Tyrone in "Long Day's Journey Into Night" or Gertrude in "Hamlet."
The Acting Epiphany
Emery grew up in Philadelphia, planning to be a painter. Indeed, at Hollins University, she majored in art, but the experience was frequently frustrating. When she found herself, quite by accident, observing an acting class it was an epiphany she recalls.
"They were doing improvisations and exploring the issues of the day, from women's rights to Vietnam," she says. "Not that I was all that political. But I thought it was so exciting. The teacher was wonderful and I realized that's what I wanted to do. I wanted to act and I dove right in."
After graduation Emery relocated to New York, acknowledging it took another six years to earn her living as an actor. Joining Circle Repertory Theatre was a turning point. She worked with director Marshall W. Mason and playwright Lanford Wilson and began to come into her own. She moved on to make her Broadway debut, playing six different characters in the original play, "Passion"-not to be confused with the Stephen Sondheim-James Lapine musical-also directed by Mason.
Since 1984 she has worked fairly steadily, though not necessarily in New York or Hollywood. Emery never actively pursued a film or television career or thought in career strategies at all. "I take it as it comes," she says. "Perhaps I'd regret it if I were less happy now. I live perfectly well and love what I do."
So, how do you become a veteran actor? "Keep a sense of humor, be a team player, and put the inner diva to rest," Emery suggests. "Share your space. Nobody wants to be with a cast member who sucks up all the energy."
"Lonely, I'm Not" is playing through May 27 at the Second Stage Theatre, 305 W. 43rd St., 212-246-4422
www.2st.com
Outtakes
-Won an Obie award, three Lortel and three Drama Desk nominations
-Guest-starred on "Law & Order," "The Fringe," "Damages," "Sex and the City," "Ed," and "Third Watch," among others
-Appeared in such films as "Rodger Dodger," "A Map of the World," and "Unfaithful."