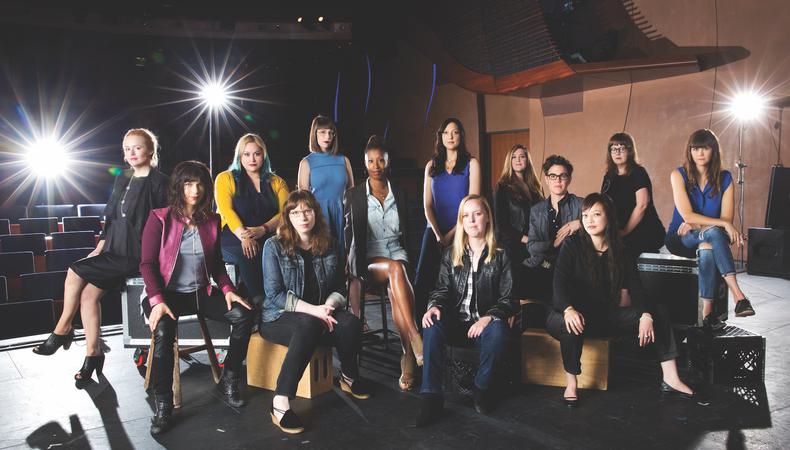 At a 2014 panel discussion at Washington, D.C.'s Arena Stage, a comment was made by Ryan Rilette, the Round House Theatre's producing artistic director, about plays written by women; he stated there were "not enough yet in the pipeline." The remark proved controversial, mostly because, as many female playwrights, dramaturgs, and other thespians agreed, it was untrue.
By then, Annah Feinberg and several of her friends in Los Angeles had already formed the Kilroys, a group of playwrights and producers fighting for gender parity in the American theater industry. Named after the "Kilroy Was Here" graffiti tags left in unexpected places by World War II soldiers, the group was created after several discussions about the misinformed mentality held by artistic directors like Rilette across the country. As Feinberg puts it, the Kilroys came about "because we were so sick of talking about it."
"Our country's regional theaters, many if not all have mission statements about reflecting the world that exists," she says. "Many even have 'diversity' in their mission statements. And yet every year when those season announcements come out, it's the same white guys doing their thing. And nothing against those white guys, but there's something much more systemic at play if that keeps happening over and over again."
Upon moving to L.A. in 2013, Feinberg, a writer and director for stage and screen (including "Gretch & Tim" and HBO's "Veep"), began to meet with other female acquaintances in similar lines of work, Zakiyyah Alexander, Bekah Brunstetter, Sheila Callaghan, Carla Ching, Sarah Gubbins, Laura Jacqmin, Joy Meads, Kelly Miller, Meg Miroshnik, Daria Polatin, Tanya Saracho, and Marisa Wegrzyn among them. "We all knew each other peripherally from theaters in New York and Chicago," Feinberg remembers. "We threw a little dinner party and it just so happened to all be female playwrights and dramaturgs—not totally by accident, that's who I tend to hang with! We started talking about the natural frustrations in the field."
So what are those frustrations? "Where to begin?" responds Feinberg with a laugh. "At the base of it it's a parity problem.... One of the issues is the way in which female voices are perceived as telling smaller stories. A domestic drama by a man is 'August: Osage County.' A domestic drama by a woman is, 'How cute, that sweet little drama.' "
READ: "How to Become a (Successful) Playwright"
Inspired by the Black List, Franklin Leonard's annual list of unproduced screenplays, the Kilroys decided to spread the word—loudly and boldly—about plays written by playwrights who identify as female or transgender. The List, as it is known, is composed of works anonymously recommended by over 200 influential readers of new plays. First published in 2014, the List's third edition emerged June 21, this time comprising only works that have never received full professional productions.
"When we came up with it, initially we were like, 'Maybe in the third year people will pay attention,' but people were excited about it right away," says Feinberg. The List dismantles the argument that producing plays by women or transgender playwrights means more risk for nonprofit regional theaters, she adds. The vast majority of ticket buyers in America are women; it stands to reason audiences crave stories that reflect their experiences. "We're trying to help theaters put their money where their mouth is."
Ramping up their efforts, in December the Kilroys will also release a book of monologues from plays on the Lists. "I edited [the book], and it's pretty incredible to see all these powerful voices in one place," Feinberg says. "It's the least lame monologue book I've ever seen."
The fact that industry professionals are using the List to recommend and even stage new plays by female and transgender playwrights is worth celebrating, but as Feinberg points out, the List will only be truly successful when we don't need it anymore. "One day we'll hopefully not have to celebrate [gender parity]. That would be the end goal of the Kilroys in general: to not have the List."
Looking for new material for your next audition? Try "The Monologuer" for a customized search!