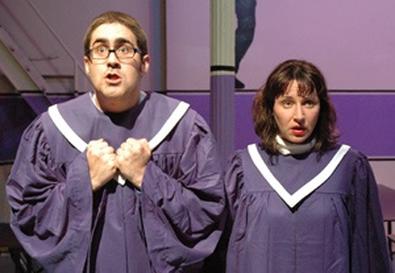 In the incendiary opening scene of "The Little Death: Vol. 1," an unnamed girl sings exultantly and paints the walls of St. Mark's Church with her own blood after being shot. Sadly, this triumphant ditty, "OMG I'm Shot," is the high point of the energetic clutter that makes up Matt Marks' alleged "post-Christian nihilist pop opera."
As usual, the space at St. Mark's Church has been utterly transformed. Set designer Brett J. Banakis has mocked up a believably drab school cafeteria or church youth center (the ecstatic silhouette paintings and the gaudy purple stripe across the middle suggest it could be either). Regardless, it is just the sort of nondescript paradise where a boy and a girl, played by Marks and Mellissa Hughes, can wryly reconcile their fierce physical attraction with their devout Christian chastity. That's about all the narrative Marks provides, but his loud electronic score surges along well, sampling lyrics from gospel standbys like "He Touched Me" and "Jesus Loves Me" and using trance-style beats to ratchet up the spiritual rapture to fetishistic levels.
Several selections, such as the lively song "I Like Stuff," draw clever parallels between wanton sexuality and vehement abstinence, but the joke about overly erotic holiness quickly loses steam. Without a more defined storyline on which to hang the proceedings, the noisy fury of Marks' music and the modest staging by director Rafael Gallegos begin to feel repetitive.
As a performer, Marks dives pelvis-first into the rock-star physicality of his part and exhibits a capable vocal range, even if he and Hughes are occasionally drowned out by the throbbing music. Thanks to her own strong vocals, Hughes is able to navigate the jumpiness of the music well, and her dirty, thrusting rendition of "He Touched Me," in a wedding dress, is quite raucous and absurd, like something out of a Kate Bush music video.
Presented by Incubator Arts Project at St. Mark's Church in-the-Bowery, 131 E. 10th St., NYC. July 8–17. Wed.–Sun., 8 p.m. (212) 352-3101, (866) 811-4111, www.theatermania.com, or www.incubatorarts.org.