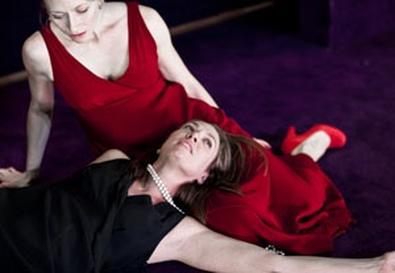 Lillian Hellman's sturdy melodrama about the greedy, grasping Hubbard clan in the Old South at the turn of the 20th century is a play I know well and admire as a minor classic yet have no particular affection for. So I watched with fascination as director Ivo van Hove and his excellent actors went at its deconstruction with hammer and tongs. I don't think "The Little Foxes" has any unexplored depths to mine, but the folks at New York Theatre Workshop certainly searched for them with vigor. Alas, the whole thing came off as an acting exercise that would probably be very helpful somewhere around the middle of rehearsals.
Van Hove begins by stripping away external elements such as Southern accents and furniture, which I imagine he thinks keep us from seeing the text with fresh eyes. Production designer Jan Versweyveld provides a visually compelling environment in a warm plum color, with the famous staircase center stage in a box behind which the actors regularly go, usually when they have a change in objective. Above the staircase is a video screen in a period frame on which we see footage of offstage characters. The wide-open spaces force the actors into unusual stances and allow for the stylized use of physical violence, which van Hove rather obviously sees as endemic to the Hubbard clan.
The actors have been asked to reinterpret their characters in modern terms. The most arresting work comes from Tina Benko, as Birdie, the tippling faded aristocrat whom Oscar Hubbard married for her family's plantation and social status. Benko plays her as a seething trophy wife rather than a sad and addled lady and finds a persuasive emotional through-line for it. Nevertheless, it undermines Birdie's big scene, when she admits the truth about her marriage and her drinking to young Alexandra. It's no longer a surprising change in behavior, just one more tantrum.
Marton Csokas is a younger, more sexual Ben Hubbard than usual and inhabits him with insinuating coolness. But the reptilian quality grows predictable and swamps the character's forcefulness. It turns Thomas Jay Ryan's Oscar, who's always raging, either on the surface or underneath, into the dominant brother—and he's not. Nick Westrate makes Oscar's feckless son, Leo, into a sullenly handsome, happily hedonistic rich kid without a brain in his head, exactly as Hellman conceived him. Cristin Milioti's Alexandra is ready from the first scene to run off to the East Village and become a heroin-soaked goth girl, destroying Alexandra's journey from submission to strength. Christopher Evan Welch's nearly narcotized Horace Giddens emphasizes the character's weakness at the expense of his decency, which takes a further hit when Welch must play his big scene—in which Horace explains to his wife how he will prevent her from sharing in the millions her brothers are about to make in a cotton deal—while making unwanted sexual advances.
Of course, the reason to do "Foxes" is having a great Regina, and this time is no different, as Elizabeth Marvel was in mind from the beginning. This fiercely intelligent, fearless actor finds surprising facets in a snotty party-girl attitude that seems a perfect contemporary equivalent for the character. But van Hove also has her screaming too often and too loudly, flattening the drama and Regina. Further, the playing of iconic ugly moments—such as Regina telling Horace she hopes he dies—with tenderness reveals nothing and feels arbitrarily imposed.
I assume sound designer Thibaud Delpeut is responsible for the clichéd New Age underscoring, but I have to believe that van Hove chose to end with a screaming rendition of John Lennon and Yoko Ono's "Woman Is the Nigger of the World" as we watch Alexandra on video dragging a suitcase through an airport. Sorry, but I got that the first time around.



Presented by and at New York Theatre Workshop, 79 E. Fourth St., NYC. Sept. 21–Oct. 31. Tue., 7 p.m.; Wed.–Fri., 8 p.m.; Sat., 3 and 8 p.m.; Sun., 2 and 7 p.m. (No performance Sat., Sept. 25, 3 p.m.; additional performance Thu., Sept. 23, 1 p.m.) (212) 279-4200 or www.ticketcentral.com. Casting by Jack Doulin.