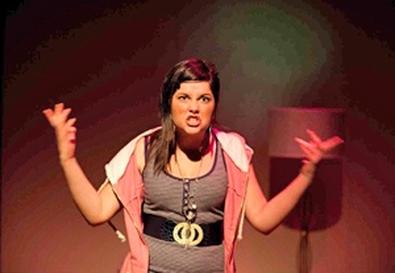 Like many Irish plays, "Little Gem," a first play by actor Elaine Murphy, tells its stories through interlocking monologues. Fortunately, the three women who speak to us are entertaining, complex, interesting characters played by very strong actors, particularly Anita Reeves as Kay, a youngish granny dealing with a beloved husband who is recovering from a stroke. "Little Gem" received the Dublin Fringe/Fishamble Best New Play Award when it premiered at the Dublin Fringe in 2008 and subsequently won the Carol Tambor Best of Edinburgh Award at the Edinburgh Fringe last summer.
The three women are grappling with the largest, most human issues there are: death, birth, and love. About 20 minutes in, sooner if you're savvy, you realize they are related: Kay is granny to Amber and mother to her mother, Lorraine. Murphy provides strong roles that pull powerful emotional strings (bring Kleenex). But it's difficult, because there's not much of a story arc to the play. It digresses before coalescing on the cycle-of-life theme that explains the title: "Little Gem" is the name given to Amber's illegitimate baby, Gem being short for James, the name of the dying grandfather.
As the party-hard teenager, Sarah Greene mouths off with cheeky appeal, but she's hard to understand, thanks to a thick working-class accent and untranslated Dublin slang. Still, Amber's vulnerability and loneliness shine through in Greene's performance. Hilda Fay plays Lorraine, a shop clerk whom we first encounter looking unbearably dowdy. Lorraine humorously complains about an annoying customer she calls "the wrecker," but when her reprimanding manager asks gently about her sick father, she bursts into heart-wrenching tears. Later, when Lorraine first smiles broadly while describing a new love interest, Fay makes her transform before our eyes.
"I've an itch" is Kay's first line—Murphy opens each monologue strongly—and Reeves is adorable when Kay recounts how she followed her doctor's advice to buy a vibrator. Reeves' irresistible warmth and natural humor steal the show; she also communicates the most clearly. Her character's abiding love for her husband and grief at his illness ground the play.
Director Paul Meade deftly brings out the humor. Ultimately, "Little Gem" is about birth: the birth of Amber's child, Lorraine's rebirth into life and love, and Kay's birth into a new world, one in which she's not a missus anymore. If not life-changing, it's sweetly life-affirming, with shining performances.
Presented by the Carol Tambor Theatrical Foundation and the Flea Theater at the Flea Theater, 41 White St, NYC. Jan. 7–16. Wed.–Fri., 7 p.m., Sat., 3 and 7 p.m., Sun., 1 and 6 p.m. (212) 352-3101, (866) 811-4111, www.theatermania.com, or www.theflea.org.