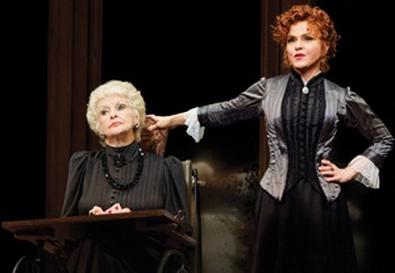 Director
Trevor Nunn's
attempt at a darker, more intimate interpretation of "A Little Night Music" didn't sit too well with a certain cadre of musical theater traditionalists, who reacted as if someone had scrawled obscene graffiti across a sacred text. Overall,
I found Nunn's take on the show arresting
, though hardly definitive. Great works of art, and Stephen Sondheim and Hugh Wheeler's adaptation of Ingmar Bergman's film "Smiles of a Summer Night" certainly is one, are generally rich enough to embrace multiple approaches. Ironically, Nunn's production is proving this anew. Bernadette Peters and Elaine Stritch are offering a mother-daughter combo far closer to that created by the roles' incomparable originators,
Glynis Johns
and
Hermione Gingold
, than to the excellent work of Catherine Zeta-Jones and Angela Lansbury. And you know what? The company has adjusted, and the show is still pretty wonderful.
The unquestionable highlight of the evening is Peters. This is without doubt one of her finest stage performances. Impetuous, delicate, earthy, sardonic, willful, sensual, loving, and shatteringly vulnerable, her Desiree is endlessly enchanting and completely believable as a combination of scattered diva, caring mother, battling daughter, and enthusiastic lover. Peters does bring some of her trademark mannerisms to the table, particularly some kewpie-doll line readings, but they are always used organically, in service to character. If she's an older Desiree than usual, that only ups the stakes; indeed, Peters takes full advantage of it when appropriate. Her playing of Desiree's reunion scene with Fredrik is remarkably layered (though it could use a bit of editing from Nunn), and her "Send in the Clowns" is riddled with rueful despair but never self-pitying. Watch what she does when she sings the line "Don't bother, they're here." It doesn't get better than that.
Of course, Peters is a natural fit for Desiree. The same can't be said about Stritch as Mme. Armfeldt. This great performer's hallmark throughout her career has been the persona of a dryly contemporary broad. Probably wisely, Stritch doesn't even make a feint toward belonging to the show's period, nor does she reach for the kind of elegance and hauteur that Mme. Armfeldt affects. What Stritch does offer is honest, psychologically acute acting married with the kind of razor-sharp timing that can only be attained through a lifetime of experience. Her ferocious concentration of energy explodes into the theater every time she appears, and she excels with Peters at creating a long-complicated mother-daughter relationship. But unlike Peters, who inhabits Desiree, Stritch must wrestle her character to the ground, imposing herself upon her. It's not ideal, but it sure is entertaining. (Stritch wasn't aided by losing her place completely in the middle of what up to then was an impressively well-thought-out "Liaisons." She never really got back emotionally into the song, which is the keystone of the role.)
The superb
Alexander Hanson
remains the best Fredrik I've seen, and he and Peters share delicious sexual chemistry. The performances of the supporting actors seem to have lightened in response to their new leading ladies. Aaron Lazar gets greater comic mileage out of Count Malcolm's dimness, Ramona Mallory's virgin bride is less neurotic and more playful, and Leigh Ann Larkin softens some of Petra's harder edges (while still delivering a knockout "The Miller's Son"). Two performances have improved markedly: Hunter Ryan Herdlicka has found a nicely loopy stylization for the repressed Henrik, and Erin Davie's Charlotte has regained her wit and shed some self-pity.
Without Peters and Stritch, this admirable production would have closed. Here's to them for taking it on, allowing many more audiences to enjoy the heady pleasures of "A Little Night Music." Is it worth a trip back? You bet.
Presented by Tom Viertel, Steven Baruch, Marc Routh, Richard Frankel, the Menier Chocolate Factory, Roger Berlind, David Babani, Sonia Friedman Productions, Andrew Fell, Daryl Roth/Jane Bergère, the Weinstein Company/Raise the Roof 3, Beverly Bartner/Dancap Productions, Nica Burns/Max Weitzenhoffer, Eric Falkenstein/Anna Czekaj, Jerry Frankel/Ronald Frankel, and James D. Stern/Douglas L. Meyer at the Walter Kerr Theatre, 219 W. 48th St., NYC. Production originally opened Dec. 13, 2009. New cast opened Aug. 1 for an open run. Tue., 7 p.m.; Wed.–Sat., 8 p.m.; Wed. and Sat., 2 p.m.; Sun., 3 p.m. (212) 239-6200, (800) 432-7250, or www.telecharge.com. Casting by Tara Rubin Casting.