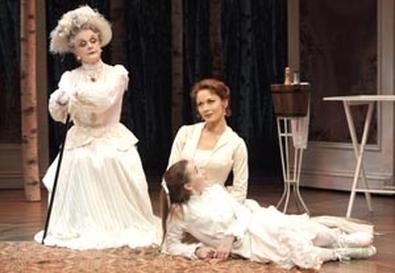 I have always felt that director Trevor Nunn approaches musicals and plays with different palettes: broad and bold for the former, detailed and nuanced for the latter. In this chamber version of "A Little Night Music," however, he seems to have applied his play palette to a musical. While it's hard not to miss the romantic sweep and orchestral lushness of Harold Prince's glorious original production, which I saw on national tour multiple times, what Nunn delivers is a persuasive and entertaining account of a great American musical.
The show runs longer this time around, a good three hours, due to the wealth of subtext being played in the scenes and slower tempos for the songs. The pace may be more deliberate, but the acting is richer, and interest never flags. One dividend is the attention being paid to Sondheim's phenomenal lyrics. I have never heard them get more laughs than in this production, aided by Jason Carr's elegant and supportive eight-piece re-orchestration.
The generally excellent company is led by three top-flight performances. There is no "Night Music" without a successful Desiree, and it has one here in the somewhat unlikely person of Catherine Zeta-Jones. Her Desiree is very much the journeyman, working-class actor. Oh, she's still refined and can play the grand lady when required, but this Desiree goes out for drinks with the company, where she tells bawdy jokes and is the life of the party. Zeta-Jones zeroes in on the fun Desiree and Fredrik had with each other during their affair. It makes for a unique and memorable creation, leading to a terrific "Send in the Clowns," notable not for its rue but for its self-laceration.
Alexander Hanson is every inch her equal as the unhappy lawyer with a determinedly virginal bride. His Fredrik is simultaneously self-possessed and hopelessly flummoxed by his obsession with Anne. His dry contempt for Desiree's lover, Count Malcolm, is beautifully done. Their second-act duet, "It Would Have Been Wonderful," is a highlight.
Angela Lansbury is enjoying another late-career triumph as Desiree's disapproving mother, Mme. Armfeldt. More refined and less acerbic than the divine Hermione Gingold but no less authoritative and just as funny, Lansbury accentuates the former courtesan's growing uncertainty about her life choices. Her "Liaisons" brims with reluctant contempt and well-worn nostalgia, and her final scene is deeply moving.
Ramona Mallory's flighty Anne is still a teenage girl and not yet a young woman, and Mallory takes her right to the edge without spilling into caricature. Aaron Lazar is a more intelligent and self-doubting count than usual, which only makes the character's blind self-regard even funnier. Leigh Ann Larkin makes Petra a highly calculating servant, infusing "The Miller's Son" with a hard sense of her life's limitations leavened by a giddy belief in the possibility of surmounting them. Katherine Leigh Doherty is a font of maturity and calm as 13-year-old Fredrika, Desiree's illegitimate daughter, who's wiser than the adults surrounding her.
Nunn makes two missteps. His direction of Erin Davie demolishes the hard carapace of wit Countess Charlotte Malcolm has erected to protect herself from the degradation of her marriage, leaving only the vulnerable, troubled woman. Davie does it well, but it's less interesting. As Henrik, Fredrik's religiously obsessed son, Hunter Ryan Herdlicka strains vocally, but his acting is not distinctive enough to justify the compromise.
David Farley's simple unit set of blond paneling and antique mirrors that accommodate projections serves Nunn's vision nicely, as do Farley's monochromatic but stylish costumes. Hartley T A Kemp's lights are too dark during the opening "Night Waltz" but otherwise succeed in providing a sense of perpetual Swedish twilight.
Moments such as the soaring finish of "A Weekend in the Country" may not pack as much punch due to the reduced circumstances, but there are plenty of countervailing new pleasures to be found in Nunn's thoughtful take on this Broadway classic.
Presented by Tom Viertel, Steven Baruch, Marc Routh, Richard Frankel, the Menier Chocolate Factory, Roger Berlind, David Babani, Sonia Friedman Productions, Andrew Fell, Daryl Roth/Jane Bergère, Harvey Weinstein/Raise the Roof 3, Beverly Bartner/Dancap Productions, Nica Burns/Max Weitzenhoffer, Eric Falkenstein/Anna Czekaj, Jerry Frankel/Ronald Frankel, James D. Stern/Douglas L. Meyer at the Walter Kerr Theatre, 219 W. 48th St., NYC. Opened Dec. 13 for an open run. Tue., 7 p.m.; Wed.–Sat., 8 p.m.; Wed. and Sat., 2 p.m.; Sun., 3 p.m. (No performance Thu., Dec. 24 and 31; additional performance Mon., Dec. 28, 8 p.m.) (212) 239-6200, (800) 432-7250, or www.telecharge.com. Casting by Tara Rubin Casting.