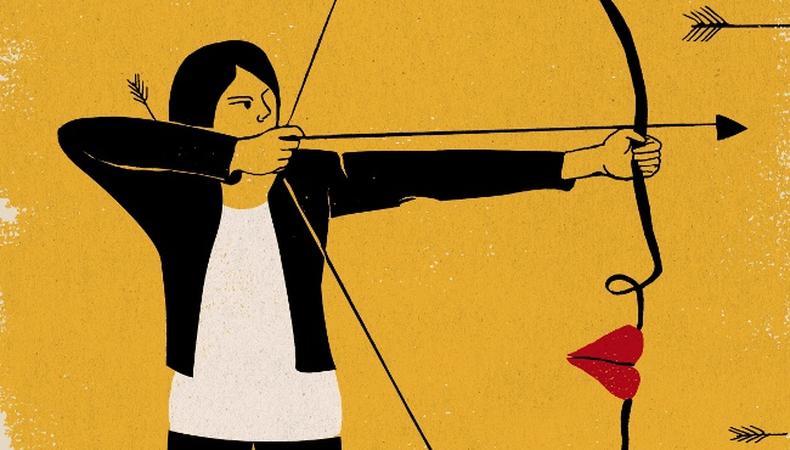 I know this all feels like a race to you right now. Like you need to hurry up and "make it" while you're impressively young. But it's not a race. There is no finish line. The path is uphill and circular. You are cultivating a lifelong relationship with your craft. Be in it for the long haul. Redefine your concept of making it to mean showing up to create every day.
And you're showing up voluntarily. No one made you. No one's parents forced them to move to New York City and pursue theater. You chose that. And even on the hardest, most hopeless days, own that choice. Let it empower you. Don't let anyone take away your love for this work. There are so many things in this industry that are out of your control. This is not one of them. No one can rob you of your passion, so don't give anyone that power.
When people ask you what you do, say you're an actor. Or a writer-performer, or however you grow to define yourself. You don't need an Equity card or a major credit to earn this title. You don't need someone else's permission to call yourself an artist. Don't diminish or apologize for your identity. Even when you're broke and unemployed and get typed out at an EPA, you are still an actor. Respect that. Teach the people in your life to respect it. They only will if you do.
Read more Working Actor columns here!
Always be kind. This is not just a corny platitude. Contrary to popular belief, this business does not tolerate jerks, at least in my experience. If you don't practice compassion and generosity toward the people you work with, you will stop getting hired.
Cheer others on. Root for your friends. Root for everyone ballsy enough to try and make a living doing this. This field is infinitely more bearable if you play for the same team as your peers. Harness your artistic family. Challenge each other to continue evolving. Contribute positivity to your community and it will come back to you in spades.
I know you're stressing that you don't fit a type. You're not an ingénue, you're not a character actor, you don't fit a box. Please realize this is an asset, not a hindrance. Once you start to embrace your boxlessness, others will too.
That impulse you feel to write, to make your own work—listen to it. Follow your inspiration wherever it leads, even if it's not where you expected. You don't have to give up performing to write. You can and absolutely should do both.
You are allowed to say no. Don't say yes to something just because it feels like it's what you should be doing or to satisfy someone else's vision for you. Don't sacrifice your integrity to give off the appearance of being successful. You are allowed to prioritize your own joy.
Taub was most recently seen Off-Broadway in "Hadestown."
Check out our New York City audition listings!