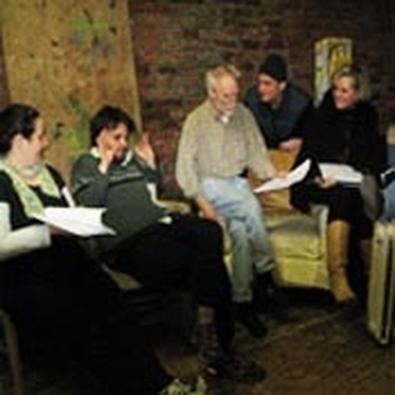 The gang putting on Live!...at the Cockpit: Will at Work With the Lord Chamberlain's Men seems to be an amiable bunch of folks with a palpable passion for Shakespeare. Unfortunately, their piece displays little evidence of being ready for an audience.
The premise is promising: an attempt to show what might have gone on backstage at the Globe Theatre in London in 1599 when Shakespeare was in the midst of writing such hits as A Midsummer Night's Dream, Henry V, and Hamlet. However, nothing very surprising or interesting occurs, and the ambling proceedings -- scripted by Kobun Kaluza and T.D. White, both of whom are also part of the 11-person cast -- seem to go on much longer than the running time of 65 minutes or so. There are some giggles to be had, and occasionally an actor will recite a snippet of Shakespeare with feeling, but generally the show has the air of improvisatory material being tried out in very early stages.
In one long section, we see the actors making entrances and exits and generally fooling around backstage during a performance of A Midsummer Night's Dream, but don't expect any of the comic precision of Noises Off. Then Shakespeare (played with a mix of goofiness and intensity by Dave Warth) instructs one of the Globe's leading men, a bombastic Richard Burbage (James Richard), how to deliver a speech from Henry V. Unsurprisingly, Shakespeare's direction is Hamlet's advice to the players.
There's also a lot of talk about how the law forbids women from appearing on stage and how female roles have to be played by males. A wardrobe lady yearns to emote, and the plot, such as it is, has a woman passing as a man so she can act at the Globe. However, don't expect any of the romance of Shakespeare in Love. Nothing substantial ever really comes of this theme, but it does make for the blackout joke at the show's end.
The production's most accomplished elements are the good-looking Elizabethan costumes, courtesy of the Juilliard School.
Presented by Loose Moon/Al Dente as part of Frigid New York 2009
at the Kraine Theater, 85 E. Fourth St., NYC.
Feb. 26–March 8. Remaining performances: Sun., March 1, 5:30 p.m.; Tue., March 3, 10:30 p.m.; Thu., March 5, 9 p.m.; Sun, March 8, 1 p.m.
(212) 868-4444 or Smart Tix.