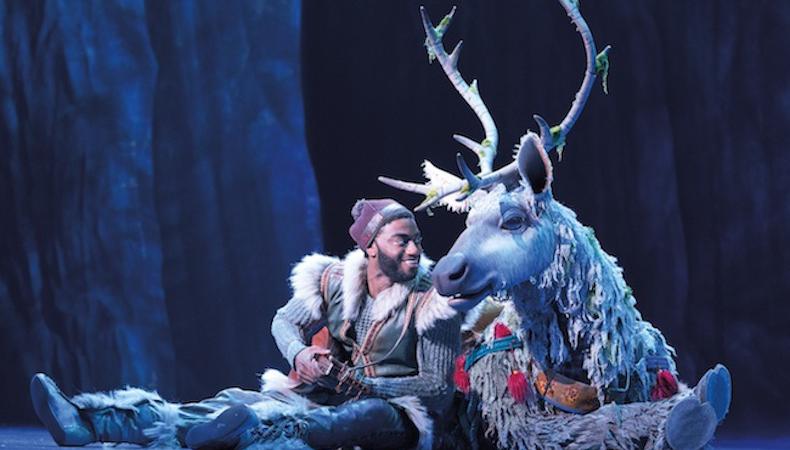 Bringing the icicled magic of Disney's "Frozen" from animated screen to stage required deeply imaginative reinvention in several forms, but perhaps no more so than in its use of puppetry. Enter puppet designer Michael Curry, who reimagined Olaf the snowman and Sven the reindeer, two of the film's fan-favorite characters who each posed a unique challenge to arrive in their three-dimensional forms on Broadway. Curry, who has more than 40 Disney theme park and parade credits under his belt as well as roughly 20 Broadway shows, spoke with Backstage about the multidisciplinary requirements for puppet design and how actors are integral to the design process.
How closely do you work with actors to create puppet design?
[The actors and I] find it together, then I work with the choreographic team. Lorenzo Pisoni, who was the movement director [on "Frozen"], really became my associate. But it's two things; not only do I set the training, it's a discovery period. The beauty of working with Disney is they allow me a great many months and years to develop the language. In my own studio, I have performers, and we work first in schematic sketches. We use cardboard cutouts and we move them around like you would playing with toys. And then we find scale, we find movement, and then we start working with Disney as to who the performers might be.
READ: How Patti Murin Reimagined Her Disney Princess for Broadway's 'Frozen'
How heavily did the film "Frozen" inform the stage adaptation?
There's sort of a weird rule that has established itself over the years: When looking at cartoon characters, you can change the funny characters less. They have to remain a snapshot of what the audience saw in the film. But with characters that aren't completely invested in comedy, you can play with them more onstage, you can make it more avant-garde, you can play with the spiritual aspect of them. Olaf is much more a representation of the film image of Olaf in the movie than Sven is. Sven is a real caricature in the film. He has big, googly, Disney eyes, a big snout. [For the musical,] we were able to get out of the look of the film and find something that was more applicable for the live presentations. He became this really great metaphor—subtext for Kristoff's spirituality, his shamanistic nature, his primitive nature—without getting in the way.
The role of Sven the reindeer in the musical is already infamous for its arduousness. What was it like to train Andrew Pirozzi and Adam Jepsen, the actors who alternate playing him?
Rather than the stunt or character actors we had been looking at—and I should have known better—I always find a solution with dancers. We finally found Andrew and Adam, who are pure dancers at the highest level of dance. But they were also the ones with the acting, the discipline, the ability to count music. I don't know if it's true, but I think there are only 100 people in this country who could play the role. It's a very select set of skills that allow you to do this. First and foremost, you have to be like a Navy SEAL in terms of your conditioning and your ability to focus and handle isolation and claustrophobia, and then you have to listen to [director] Michael Grandage, who has specific direction. People see the role and go, "Oh, my God, that guy must be getting 15 massages a week" and they do focus on what they perceive as discomfort. But when you're an actor, you live with the idea of compromising your body to the role anyway.
How do you make sure actors aren't physically overextending or hurting themselves with their puppets?
Puppet designers don't just do sketches on paper, even though we could. We actually feel our way through these things. It's a process, and "Frozen" kept developing even between [the out-of-town tryout in] Denver and Broadway. It's more refined, it's working with ergonomists, orthopedic surgeons. My biggest fear in my work is that I would injure somebody, and so we work very scientifically and we're very good at those disciplines. We know the mechanics of how the human body moves and [we use] geometry in our pieces because they have to be usable by a human. That's the beautiful, sweet science of what I do."
How did you land the "Frozen" gig?
I have a long history with Disney Theatrical, and I have a long history with Disney in general. I've done 48 of their theme park shows and parades over the last 30 years. Not that they didn't consider a lot of other people; I actually had to compete for this show. I have a pretty good relationship with the animators of the Disney films, because they're very stringent and suspicious about how their animation, especially the computer-generated stuff, should be physicalized onstage. I also have a knowledge of what a dancer or an actor needs to do that is separate from the technique of animation. Somewhere, there's a hybrid between the ability to create a solution that can live, that doesn't upstage the actor, but still plays off the animation.
How did you get into this niche design field?
I'm a sculptor by training, but I always found that in the galleries, with sculpture, the work was kind of incomplete, it was static. I grew up in a family of inventors and engineers, so I made sculptures that moved and had a kinetic quality. This was in the '80s in New York in the gallery scene, and I was always an odd man out because movement was not part of sculpture necessarily. But it was very much a new trend in dance and theater, so it was theater people who started contacting me. Coincidence had it that I was asked to do theater in the early days with [director] Julie Taymor, and it really clicked for me. I never grew up playing with marionettes and was not what you would think of as a puppet designer. I consider not having studied it a huge advantage, because I really interpreted it in my own personal way. I wasn't bound by tradition.
What advice can you offer someone to get into puppet design?
Learn to be a storyteller first and don't geek out on puppets. Instead, be a full-disciplined artist, a good sculptor. Pay attention to artistry and craftsmanship. It's probably the most broad technique you'll find in theater, because you have to be equal parts costume designer, scenic designer, choreographer, and storyteller, working with what the story is for people. It's a magic trick.
Bitten by the stage bug? Check out Backstage's theater audition listings!