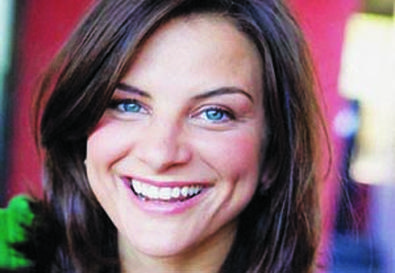 Auditioning is hard enough without the presence of a major star in the room, but that's exactly what happened to Liz Beckham when she went in for
Accomplice
:
Hollywood
. The project is a half-scripted, half-improv theater game that takes place throughout different locations along Hollywood Boulevard; the New York version ran for five years. And the famous producer behind the project? None other than Neil Patrick Harris of
How I Met Your Mother
.
"I didn't know Neil was going to be in the audition," says Beckham, who is most recognizable as the spokeswoman for Vonage, a provider of digital phone services, and for appearing in the first season of
Chappelle's Show
. "I walked in, and there he was. It was kind of like a crash course in how cool can you be, but he and [writer-producer Tom Salamon] both created such a supportive environment. [Harris] is so unaffected by his success. I was shocked when I left at how at ease I felt with them."
Beckham had heard about the project when she lived in New York; she is a fan of its brand of "offbeat, in-your-face theater." Salamon, along with his sister, co-created the show's concept because they loathed dry, boring walking tours of Manhattan neighborhoods and loved adventurous theater games. The fusion proved winning. The show has a loose script and a lot of improv, and the audience gets to learn something about each location.
"The story is about a fictional, troubled Hollywood starlet, and all the characters you meet throughout the day are involved in her world," says Salamon. "Liz was one of the first [actors] we saw, and she set the bar very high. We still wanted to see everyone, but after her it was pretty clear that no one would be able to top her performance. She not only fully inhabited the character we wanted but [she] had answers for every question we threw at her, all of them sharp and funny."
Salamon says Harris was as involved in the casting as he was, and the actor even brought the show to national attention while co-hosting
Regis & Kelly
recently. As for working with Beckham, Salamon says it has been a total pleasure.
"She's a consummate professional," he says. "It's a very collaborative production, and Liz is always trying to make it sharper, and [she] has brought terrific ideas to the table, not only for her character but for the show as a whole." Beckham is equally thrilled to create this experience for everybody.
When it comes to her future plans, the actor says, "I think as long as I'm working hard and having fun, then all the things that need to happen, will." Her manager is Richard Kerner at Kerner Management Associates.
Click the link for more on
Accomplice: Hollywood
and to purchase tickets or
www.nikkidesmond.com
. Click here for more on
Beckham
.
Has Back Stage helped you get cast in the past year?
We'd love to tell your story. Be in the weekly column by emailing
[email protected]
for New York or
[email protected]
for Los Angeles with "I Got the Part" in the subject line.