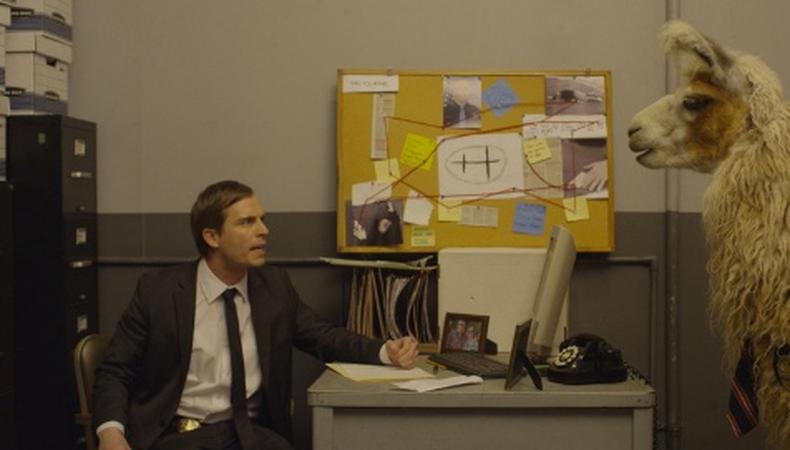 When actor-writer-producer Walter Masterson told people about his concept for the Starz Digital Web series "Llama Cop," the general response was: "This is the dumbest thing you've ever said, please don't say it to another human being."
But Masterson pushed on with a clear understanding of his vision and faith in his idea, acknowledging that it was "so dumb it could work." He says it started with an Instagram post. "I had bed head one day, so I cropped a picture of myself next to a llama, and as a joke, I told everyone that this was my new movie. Like a buddy cop movie, and he's a rookie llama who doesn't play by the rules, but got top scores in the police academy."
After meeting with Starz Digital regarding a different Web series he had penned, Masterson told executives he had other ideas. He sandwiched "Llama Cop" in the middle of five pitches because he thought, "If I start with that, they're gonna think I'm insane."
And maybe they did, but the company signed off on half of the episodes in November of last year.
Next, Masterson needed to find his co-star. When he laid eyes on Como T. Llama, he knew he had found the right animal. "I thought, This llama, from a casting perspective, looks more like a llama than other llamas," he explains.
Finding him was simple. Masterson says he looked up places on Yelp, which brought him to ShangriLlama in Orange County, Calif. Of their five llamas, Como T. was it. He says there are people in Hollywood who rent their llamas for show business, but he went the nontraditional route, allowing Como T. Llama to make his acting debut.
"He's calm, but he's unpredictable," says Masterson. "We'd call him a diva on set 'cause he'd do the opposite of what you wanted him to do in any situation."
Thankfully, the crew was accompanied by a professional animal wrangler, whose help did not go unneeded, because as you could probably imagine…shooting with a llama isn't quite a walk in the zoo. "There's a police stakeout scene where we're, like, in a van together, and I was really worried 'cause I thought, Well, if I get him in this van he might flip out," Masterson says.
"It took us a while to get him in this damn van, but finally we get him in and we're all running around set like, 'The llama's in the van! Everyone go, go!' "
Masterson is from New York City but chose to film "Llama Cop" in L.A. because of the warmer weather.
"My main concern that gave me a lot of stress was hurting an animal on the shoot," he says.
"That would have basically been game over for the production, God forbid anything happened." Despite this not being an easy undertaking, it's been a rewarding one for Masterson, who wrote, produced, and stars in the series that premiered April 1 on the YouTube channel Union Pool, owned by Starz Digital.
Of his experience with "Llama Cop" thus far, he says, "I have been acting for 15 years, and have never been more fulfilled as an artist than I am now."
Disclaimer: No llamas were hurt in the making of this article.
Like this article? See more of our Now Streaming articles here!