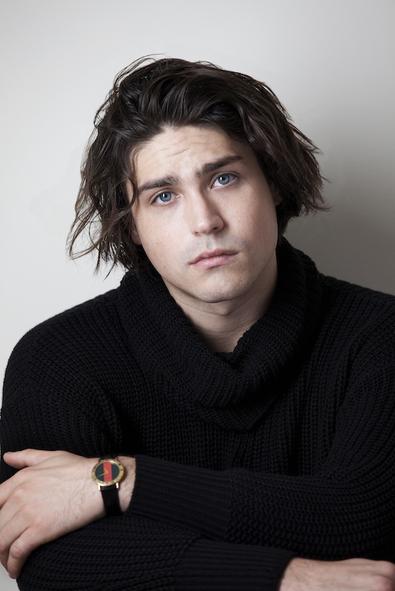 To say Logan Huffman's blossoming career as an actor is unexpected would be an understatement, yet when he discusses his all-encompassing passion it's impossible to imagine him doing anything else.
After getting his start in several TV movies and the sci-fi series "V," Huffman's acting has risen to new heights with a recent roles in "Bad Turn Worse" alongside Jeremy Allen White, two films from photographer-director Tyler Shields ("Final Girl" and "Outlaw") and more on the way.
Citing his "mildly rockabilly" upbringing in Indiana, chance foray into the world of acting, and lifelong struggle with dyslexia, Huffman's success has only come at the hand of tireless work and devotion.
"I would be acting if I was talking to myself on the side of the street, there is no other option for someone like me," the 24-year old says in his distinctly southern drawl. "When you're down and out, you just keep fighting and know that if you're [acting] for the betterment of people, then there is no other way to go."
After he was "discovered" by a neighbor who taught vaudeville at a nearby college, Huffman was trained in the Meisner technique by renowned acting teacher Kathryn Gately for a year and half "working from eight in the morning to eight at night." Transformed from a "chubby kid with braces and a lisp [who] couldn't read," into an aspiring actor, he headed out for New York on his own at 17.
Now happily residing in the Los Angeles area with high hopes for the future, Huffman reflects on how he's made it so far already and offers up the wisdom he's learned along the way.
Embrace what makes you different.
Growing up with dyslexia made school a difficult experience for Huffman as he was unable to read until the ninth grade. He was bullied by other children and placed in special classes for students with learning disabilities.
Nearly two years ago, Huffman discovered the Irlen method for reading in which he prints all documents on blue paper to help correct the tracking problems he had experienced. Now able to memorize his lines more easily, he has come to see this challenge as one with its own distinct creative advantages.
"The good thing about being dyslexic is because your brain connects in all these weird ways, your acting choices are going to be nothing like your average Joe Shmoe's," he says. "All learning disabilities are gifts and we shouldn't look at them as a hindrance, because [they allow you to] view reality in a much brighter and new way. It's going to be an obstacle, it's going to be hard, but it's a gift."
Learn your archetype.
After reading Joseph Campbell's nonfiction novel "The Hero with a Thousand Faces," Logan decided to discover his own archetype by taking a long, hard look in the mirror—literally.
"I was never really a good looking kid; I was chubby with braces and I had a lisp and couldn't read," he says. "But when I turned 17, I'd become something of a good looking guy."
Stepping outside of his own biases as he looked at his reflection, he realized how casting directors would see him.
"I saw a kid that's pretty beat-up and had always been trying to fight for somebody to recognize that I'm not stupid and that I'm not weak," Huffman says. "But that's not what the casting director sees. They see a bastard. They see a dick whose had everything easy for him. So in that case, I decided I'm going to play the dick and I'm going to play it the best I possibly can."
Huffman has launched his career playing such roles, such as the angst-ridden Tyler Evans on "V." Now, however, he aims to take his career in new directions as he delves into more complicated characters.
"Once you know your archetype, you'll be noticed for that role and then you'll get more opportunities to play the roles that might be closer to you or what you really want to play," he says.
Build characters out of your own inspirations.
With a vaudeville fascination that dates back to his seeing Carol Channing at the Egyptian Theatre in Indianapolis at age 5, Huffman is ecstatic for the upcoming release of Shield's thriller "Final Girl" in which he plays "an axe murderer with the feet of Fred Astaire."
"People think I'm a little bit odd and crazy, so thank God they're letting me play a little bit more odd and crazy," he says, laughing.
Huffman says that his performance in "Final Girl" is almost entirely improvised, as producers became more and more swept up in his character building. Upon his audition, Huffman slicked his long hair up into a pompadour and channeled Robert Mitchum's performance in "The Night of the Hunter" and Don Knotts; a perfect match for Shields' classic film noir-aesthetic.
"My mother raised me on black and white film, and I pretty much don't watch anything unless it's from 1962 or before," Huffman says. "I love that era. There are so many tricks to learn and I just find them fascinating because these guys grew up watching the stage and with the stage you have to engage that audience."
Find techniques that work for you.
On set, Huffman utilizes both the Meisner technique and a degree of Method acting to bring characters to life.
"It's never about me, it's about the other person," he says. "In training, I would sit for four hours straight repeating, 'You're wearing a white shirt,''I'm wearing a white shirt,''You're wearing a white shirt.' What it teaches you is that the lines don't really matter; it's the subtext underneath. I always say that good acting is vomiting; it's this constant repelling of whatever your opinion is. It's to get lost inside that trance of life that we're always in."
As the nature of acting in this way can be quite draining, he has found that developing hobbies outside of work helps teach relaxed repetition. Huffman is an active Bonsai tree artist and gardener—crucial outlets that he feels enhance both his life and craft.
"An actor must have three new hobbies a year," he says. "Just the repetitive nature of doing something every single day lets you lose yourself in thought, and that's where all great art comes from."
Inspired by this post? Check out our audition listings!