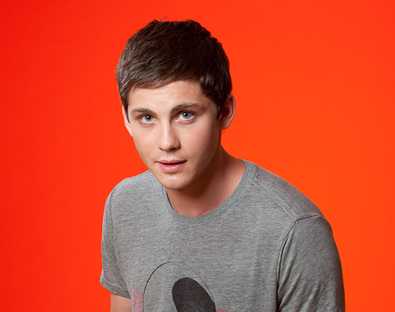 Logan Lerman's 2007 trip to the Toronto International Film Festival ended with the then-unknown 15-year-old transformed into a rising star, thanks to the debut of his film "3:10 to Yuma" at number one that weekend. Back at the fest with the ensemble drama "Writers" and the eagerly-anticipated adaptation of beloved young adult novel "The Perks of Being a Wallflower," Lerman is bracing for a repeat experience.
"It was kind of weird that first time; I was so overwhelmed," Lerman says. "I'm older now."
Lerman is only 20, but he's packed a lot of work into the last five years, headlining big-budget blockbusters "Percy Jackson & the Olympians: The Lightning Thief" and the latest remake of "The Three Musketeers." Toronto is just a jaunt between filming the sequel "Percy Jackson: Sea of Monsters" and shooting Darren Aronofsky's "Noah," starring Lerman's "3:10 to Yuma" co-star Russell Crowe. Lerman's schedule makes it clear: He's in it for the long haul.
What's ironic is that after years of working alongside high-profile stars (his first film role was as Mel Gibson's son in "The Patriot," and he co-starred in the WB's short-lived drama "Jack & Bobby" as Christine Lahti's son) and the success of "3:10 to Yuma," Lerman hadn't settled on acting as a lifelong occupation. Worried about a future in show business, he considered putting his burgeoning career on hold to attend college. "Then I had this moment where I realized that I didn't care where I ended up," he says. "I didn't care if I was that guy who never went to college. If I failed as an actor, I would embrace it." So rather than enroll in college, he signed on to do "Percy Jackson." "I figured I'd do this big fantasy studio film and commit to the contract I have with them and start trying to do other films as well," he says. "I just decided to fully go for it."
That turned out to be the right decision; Lerman says that "Percy Jackson" changed his career "big time. I know that studios look at actors and see dollar signs. So it really opened doors in terms of being able to read more scripts and help get things made that I was passionate about." Two such projects include "Perks" and "Writers," the latter of which comes from first-time writer-director Josh Boone. The film stars Greg Kinnear as a famous author whose daughter is in a relationship with Lerman's character. The job came to him as an offer, something that Lerman is still adjusting to. "It was really nice," he says. "After so many years of auditioning, to just be asked is incredibly flattering."
"Perks," which premieres in Toronto Sept. 8 and hits theaters Sept. 21, contains Lerman's most challenging role to date. Lerman stars as Charlie, an introverted high school freshman who begins to come out of his shell when he meets brother and sister Sam and Patrick, played by Emma Watson and Ezra Miller. The two bring Charlie into their group of friends, and the shy aspiring writer experiences such important teenage rites of passage as drugs, music, and first love. Lerman pulls off a brave, winning performance beautifully.
When writer-director Stephen Chbosky (who adapted his own novel) first met with Lerman, he wasn't picturing him as Charlie. "When I met with Steve he said, 'I see you more as Patrick,' " Lerman says. "And I said, 'I really like that role, but I'm more interested in Charlie.' " They had another meeting during which Lerman auditioned with three sides, including two wildly different scenes—one in which Charlie gets stoned for the first time and one in which he begins to break down emotionally. Says Chbosky, "Right away, it was clear. Within 15 seconds I said to myself, 'I've found Charlie.' After his audition, I never held another, because he was perfect."
To prepare for the role, Lerman arrived at the Pittsburgh set two weeks early and stayed alone at a motel in the middle of a strip mall. He got into town on Easter Sunday and took himself out for a meal at the local T.G.I. Friday's. "Everyone was looking at me like, 'Poor kid,' " Lerman says. "They were all with their families, and I was eating alone. But it really helped me get in touch with that isolation. It made me awkward all over again."
Also on Lerman's agenda was "trying to find things that really disturbed me" to get into Charlie's fragile mental state. He began to watch documentaries, noting, "Movies don't disturb me as much because I can stand back and see it's a film. But a documentary is a record of something real. And that can really mess me up." Lerman watched more than 50 documentaries, including a 2002 film called "Gladiator Days: Anatomy of a Prison Murder" that was of particular help. "There's a scene where Charlie says he can't get images out of his head, and they're driving him crazy. And this is what I thought of, this was the thing driving me crazy. It was the most disturbing thing I've ever seen, and it helped me a lot."
A career filled with famous co-stars no doubt also helped prepare Lerman for channeling emotional turmoil. The actor says he was never more anxious than when working on "3:10 to Yuma," in which he beat out more than 100 actors to share the screen with Crowe and Christian Bale. Says casting director Sarah Katzman of Lerman's character, "That was the hardest role because there are a lot of kids out there, but they are very Hollywood-ized. To find someone who's a natural who feels they could be from 1885 and from the plains—it was very hard." Lerman admits to some early nerves. "I expected these intense actors, but they were both wonderful and generous, and I learned so much from them," he says. "It ended up being an amazing experience all around."
Lerman is learning that good work begets more work. Case in point: When Aronofsky was casting "Noah," he asked Chbosky to show him "Perks." Aronofsky was impressed enough that he cast not only Lerman but Watson as well. A huge fan of Aronofsky's, Lerman can't wait for people to see the finished film. "I don't know exactly how to describe it," he says. "But from the script and the concept art and just talking to Darren, this is not a children's story. It's going to be amazing, and I think it will really blow people away. It's one in a string of projects that I'm just honored to get to be a part of."