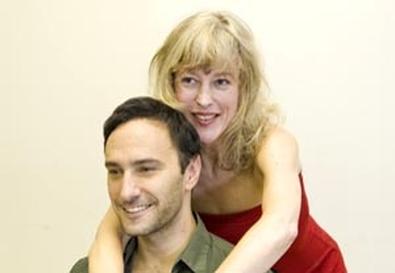 Here we are in 2009, with pop culture overrun by Facebook status updates and endless celebrity tweets on Twitter. So what better time for a show about cyber sex? At least, that's what playwright Tony Sportiello clearly thought when writing "LOL."
For anyone who has never had cyber sex or even spent much time on the Internet, there's much that could be shocking in Sportiello's tale of single Danny (Andrew Pifko) countering his sex drought by creating a female alter ego to find out what women want by surfing the "bi-fem" chat rooms. But for those of us who were briefly obsessed with talking about having sex with faceless strangers when the Internet was still a mysterious entity a decade ago, "LOL" rings false.
First of all, there's the problem of Danny's friends all ingenuously raving about online sex, implying that it is somehow better than the real thing. Then there's Sportiello's confusing conceit of having Danny's alter ego Karen (Nicole Taylor) take over his life, forcing him to remain chatting online for hours. The show is billed as a Frankenstein story, but as Karen exists in Danny's mind, surely the play is something more along the lines of a Jekyll and Hyde one? Regardless, Danny's original reason for joining the online fray is quickly discarded as Karen takes over the chats.
To make matters worse, the cast is all exceptionally talented; hearing and seeing them do yeoman's work in maneuvering the clunky plot is an exercise in vicarious embarrassment. Pifko and Taylor are both strong, charismatic performers with no problems holding the audience's attention as they move from amusing bickering to something darker as Danny fights for his sanity. As the various people in Danny's life and the men and women online who become obsessed with the aggressive and sexually accomplished Karen, Ilene Bergelson, Ethan Cadoff, Sutton Crawford, John Kevin Jones, and Joan Pelzer all have the chance to shine under Duane Boutté's accomplished direction.
Boutté keeps the action moving with admirable efficiency on the postage stamp–sized stage, but he can't overcome the fact that despite a turn toward the serious late in the show and an inappropriate Miley Cyrus fantasy, "LOL" reeks of the Clinton administration.
Presented by Algonquin Theater Productions at the Algonquin Theater
,
23 E. 24th St
.,
NYC. Sept. 17
–
Oct. 4. Wed
.–
Sat
.,
8 p.m
. (
Additional performance Sun
.,
Oct. 4, 3 p.m
.) (
212
)
868-4444 or www.smarttix.com
.