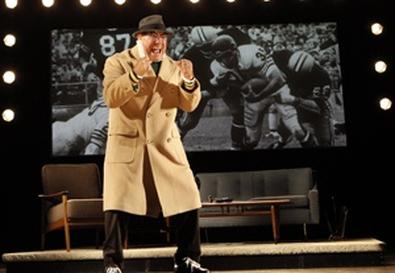 Late in "Lombardi," Eric Simonson's biographical play about the legendary Green Bay Packers football coach, sports reporter Michael McCormick rattles off statistics on the three players with whom he's sharing a beer and a game of pool. "I know more about you guys than you do yourselves," he boasts. This segment conveys the joy that the dedicated sports fan takes in gathering and memorizing all pertinent data on his or her favorites. Sadly, this seems to be the essence of Simonson's script: scores, yards, touchdowns, etc. He tells us little about the coach and why those who aren't football fanatics should care about him. The play's dramatic arc is particularly weak: Will McCormick finish his article on Lombardi for Look magazine? And will it not be the puff piece the hard-edged coach is expecting? That's it.
We're constantly told what a great guy Lombardi is, mostly by McCormick in monologues addressed to the audience. "He was the most perfect imperfect man I ever knew," the journalist informs us, but we're offered scant dramatic evidence. The playwright tells more than shows. Simonson does hint at his subject's incredible achievement in bringing the Packers from near last place to five league championships during his tenure. But the coach's struggle to pull this off is dramatized in only one scene, in which his famous strategy is demonstrated via video and animated chalkboard O's and X's. It's a pity those symbols are the only objects engaging in strong battle in this largely conflict-free play.
There is one scene that offers a genuine clash of ideas and personalities. Star running back Jim Taylor wants to have his agent represent him in salary negotiations. Taylor legitimately demands a piece of the game's ever-increasing profits, while the tradition-bound Lombardi bristles at the notion of a "goddamn gutter-crawling" middleman getting between him and his players. Two worthy opponents who believe in their positions are locked in a dramatic conflict. It's strongly played by Dan Lauria, as the coach, and Chris Sullivan, as Taylor. But it's a rare highly charged moment in the middle of a Biography Channel–like documentary. Director Thomas Kail does little to increase the action, save for having David Korins' set revolve as a substitute for theatrical movement.
With the help of makeup, Lauria bears a striking resemblance to Lombardi and really gets his teeth into the coach's famous temper tantrums. He also conveys the coach's passion for the game and love of his players. As McCormick, Keith Nobbs manfully handles the difficult chore of dispensing reams of narration, football stats, and exposition and manages to sneak in some believable emotions. But the show really belongs to Judith Light as Lombardi's equally tough wife, Marie. With highball in hand, Light dryly delivers Marie's piercing commentary on her husband's shortcomings and strengths. She also perfectly balances Marie's deep love for Lombardi and her own disappointment at leaving glamorous Manhattan for snowbound Green Bay. As noted, Sullivan has a powerful cameo as Taylor. Bill Dawes and Robert Christopher Riley are sturdy as Packers Paul Hornung and Dave Robinson.
"Lombardi" may bring a whole new audience of sports fans to Broadway, but theater fans will recognize it as an incomplete pass.

Presented by Fran Kirmser, Tony Ponturo, and Friends of Lombardi, in association with the National Football League, at the Circle in the Square Theatre, 1633 Broadway, NYC. Opened Oct. 21 for an open run. Tue., 7 p.m.; Wed.–Sat., 8 p.m.; Wed. and Sat., 2 p.m.; Sun., 3 p.m. (212) 239-6200, (800) 432-7250, or www.telecharge.com. Casting by Laura Stanczyck.