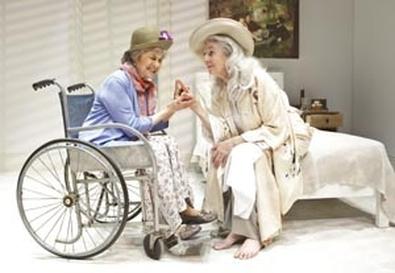 Jane Alexander and Lynn Cohen frankly admit they've never tackled roles like those in Tina Howe's new tragicomedy
Chasing Manet
. Presented Off-Broadway by Primary Stages, the play recounts the unlikely friendship between two nursing-home residents, both of whom are determined to escape. Alexander plays an enraged patrician painter who is going blind, while Cohen enacts a dotty—at moments senile—senior, confined to a wheelchair and convinced her late husband is still alive. Alexander likens Howe's work to music, and that's a major acting challenge. "It's precise, it's varied, it has different movements," she notes. "It's got its own rhythms, and you have to tune into them." Cohen agrees: "You can't fight the rhythms. If you do, the material does not serve you. Great writing tells you how to do it."
Alexander has more than 55 film and TV credits under her belt leading to four Oscar nominations and two Emmy awards for the TV movies
Playing for Time
and
Warm Springs
. On Broadway, she has appeared in 13 plays and won a Tony for
The Great White Hope
. She is a producer and author and served as the chair for the National Endowment for the Arts from 1993 to '97.
Cohen's extensive roster of credits includes her recurring roles on
Sex and the City
and all three editions of
Law & Order
. On stage she has appeared in, among others,
Macbeth
(with Liev Schreiber) at the Public Theater;
Ivanov
(with Kevin Kline) at Lincoln Center; and Horton Foote's
The Traveling Lady
at Ensemble Studio Theatre. Her films include Steven Spielberg's
Munich
; Charlie Kaufman's
Synecdoche, New York
; Julie Taymor's
Across the Universe
; Woody Allen's
Manhattan Murder Mystery
; and Tim Robbins'
Cradle Will Rock
.
Between a matinee and evening performance, Alexander and Cohen talk about their craft, their challenges as mature female actors, and how Hollywood has evolved.
Back Stage
: What is your method for approaching a role?
Alexander
: I read the script and figure out where I fit in. It's different for different material. I did a play before this [
A Moon to Dance By
by Thom Thomas at the Pittsburgh Playhouse] where I could fool around more. Here if I vary too much, it throws everybody off. Also, there are so many styles: farce, heightened realism. But I approach everything from a real point of view.
Cohen
: I figure out where I fit in the play and then make it simple: What do I need? What must I have from this person at this time?
Alexander
: I don't think I've ever played anyone like Catherine [in
Chasing Manet
]. There's such enormous rage. You don't get that in female characters often.
Cohen
: This is a play about women taking power.
Back Stage
: Do you think this will be made into a movie?
Alexander
: People have talked about it, but I don't see who would make it.
Back Stage
: It brought to mind
The Bucket List
.
Alexander
: But that was Jack Nicholson and Morgan Freeman, two Academy Award winners. We think it would make a good TV series.
Back Stage
: Have either of you ever suffered from typecasting?
Alexander
: I haven't.
Cohen
: I did 20 years in repertory, so there's hardly a role I haven't played. But in New York they want to put you immediately into a pigeonhole. They want to hire you for the last thing they saw you do, and you must fight it.
Back Stage
: Have you ever fought for a role that nobody thought you were suitable for and then got the part?
Alexander
: My failure is that I'm remarkably shy. So, no, I never have. I have never picked up the phone and called a director to ask for a role.
Cohen
: I never have either. I don't tell anyone I'm in a show. I never sent out a flier.
Alexander
: But I have fought for things I've produced or [a member of] my family is involved in and I want to get it mounted. It's very often a film, and I fight like a tiger for those, because you have to.
Back Stage
: Are you facing stumbling blocks in the industry as mature women?
Alexander
: I'm happy that I'm an older woman today and don't have to be concerned with what I look like. Of course, I try to be attractive, but I don't worry about all the things young actresses worry about. They're told by their agent, "Let's fix this, let's fix that." The pressure on young people when they go to Hollywood is indescribable. They want beautiful young people.
Back Stage
: Wasn't that always the case?
Cohen
: Was Bette Davis beautiful?
Alexander
: She was not beautiful. Neither was Gloria Swanson. Neither was Barbara Stanwyck. They made themselves what they were. They were really handsome, interesting women. The studio system groomed people for certain kinds of roles. Nobody's taking care of these kids except themselves and their agents and their press people.
Back Stage
: Any roles you're dying to play?
Alexander
:
A Moon to Dance By
again. I played Frieda Lawrence, who was bigger than life. I'd love to do it again. In film, we don't do leading roles at our age. Jessica Tandy played the last leading role in
Driving Miss Daisy
. At our age we don't carry a film, and that's probably just as well. It could be exhausting.
Cohen
: I want to do the chorus—played by one actor—in
Henry V
. I'm made to do it. I have the wit; I have the sensibility. It's almost always played by a man.
Back Stage
: What role, if any, most defines you as an actor?
Alexander
: The ones I'm known for are the film roles.
The Great White Hope
[first produced as a play at the Arena Stage in Washington, D.C., and then on Broadway] kicked off my career and James Earl Jones' in film and TV. It put me on the map. And it was artistically challenging and glorious.
Cohen
: There is no one role that defines me. And that's what defines me. I'm a chameleon.
Back Stage
: Have you worked steadily from the outset?
Cohen
: I'm so lucky. I work all the time with the most wonderful people. Also in television: [director] Michael Patrick King in
Sex and the City
, who is a theatre person, by the way, and Jace Alexander [Jane's son] on
Law & Order
, who also acted and speaks in an actor's language. Steven Spielberg speaks directly to actors. Many film directors have acting coaches on the set because they can't speak to actors directly.
Back Stage
: Jane, did your years at the NEA have any bearing on the roles you were offered after you left? Did it have any impact on the opportunities you had?
Alexander
: It had a huge impact. It took seven years before people in the industry stopped talking about me as a political person. I was out of sight except as a political figure. So they think, "Oh, she's an administrator," as if I've lost my artistic ability.
Back Stage
: In hindsight would you take the NEA job again?
Alexander
: Yes, I would take it. I was already in my 50s, and the most prominent parts of my career were already past, and I left at a high point: starring on Broadway in
The Sisters Rosensweig
. I was happy to do it, but I didn't realize it would take so long to get back. Now there's a whole generation who doesn't know about the NEA, much less my involvement in it.
Back Stage
: If you were starting out today, would you want to be an actor?
Cohen
: I can't imagine doing anything else.
Alexander
: I always say to young people, if you're asking that question—"Do I want to be an actor?"—do something else!
Chasing Manet
runs through May 2 at Primary Stages at 59E59 Theaters, 59 E. 59th St., NYC. Tickets: (212) 279-4200,
www.ticketcentral.com
, or
www.primarystages.org
.