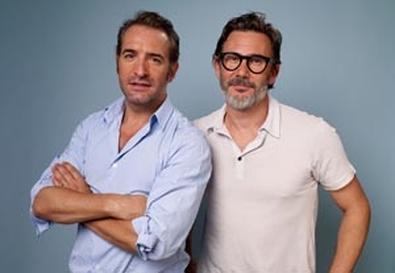 The 36th
Toronto International Film Festival
was held Sept. 8 to 18, bringing film titles from around the world in an effort to find distribution and audiences. While Hollywood provided star power with films that already have release dates, such as Brad Pitt's "Moneyball" and George Clooney's star-laden "The Ides of March," the festival also offered a chance for audiences to view more than 300 films from more than 60 countries.
In the end, a bittersweet comedy from Lebanon, "Where Do We Go Now?" won the Cadillac People's Choice Award. Lebanese director Nadine Labaki, who also stars in the film, wasn't on hand to accept her award but was reached at the airport in Germany for comment. "I'm running around jumping up and down at the Frankfurt airport," she said in a statement read by festival programmer Rasha Salti. "Tomorrow we'll be screening 'Where Do We Go Now?' for the first time in Lebanon, and I will be proud and happy to announce the news in front of my crew, my family, and the Lebanese audience." Last year's winner, "The King's Speech," of course did very well at the Oscars, and "Where Do We Go Now?" has already been submitted as Lebanon's official entry in the foreign language film category.
Read on for other trends and standouts at the 11-day festival.
The Play's the Thing:
Several films that began their lives as plays premiered at the festival to strong notices. Ralph Fiennes directs and stars in a modern version of Shakespeare's tale of a vain army general, "Coriolanus," which earned strong Oscar buzz for Vanessa Redgrave as the title character's scheming mother. Fiennes first played the role 10 years ago onstage but says it's timelier than ever. "The play has resonance with the times we're in, especially now with so much uncertainty in the world and the constant tension between leadership and the voice of the people," Fiennes said. "It's a continually resonant political thriller with a Greek tragedy at the center of it."
Also finding its way from stage to screen was "The Ides of March," co-written by, directed by, and starring George Clooney as a presidential candidate, and based on Beau Willimon's play "Farragut North." Ryan Gosling, who stars as a campaign adviser who uncovers unsavory secrets about the candidate, admitted he hadn't seen the play but was won over by the film's script and director. "When George Clooney calls," he noted, "you say yes."
Also intriguing audiences was Christopher Hampton adapting his play "The Talking Cure," now titled "A Dangerous Method" and starring Viggo Mortensen and Michael Fassbender as Sigmund Freud and Carl Jung, respectively.
And then there was "Killer Joe," Tracy Letts' adaptation of his dark comedy about a hit man (Matthew McConaughey) and the dysfunctional family that hires him. The film was directed by William Friedken, who previously brought Letts' play "Bug" to the big screen, and who earned raves for performances from McConaughey as the cold-blooded killer and Juno Temple as the object of his affection. "Coriolanus," "The Ides of March," and "A Dangerous Method" will be released before the end of the year, in time for Oscar consideration, and "Killer Joe" was acquired at the festival for U.S. distribution by Liddell Entertainment.
Actors Pull Double Duty:
Many actors were appearing in more than one film at the festival, including Phillip Seymour Hoffman ("Moneyball," "The Ides of March"), Clooney ("The Ides of March," "The Descendants"), Gerard Butler ("Coriolanus," "Machine Gun Preacher"), Redgrave ("Coriolanus," "Anonymous"), Seth Rogen ("50/50," "Take This Waltz"), and Elizabeth Olsen ("Martha Marcy May Marlene," "Peace, Love & Misunderstanding").
Perhaps no one was more visible, however, than Ontario's own Gosling, in town to promote "Drive" and "The Ides of March" and seeming to be on the cover of every magazine at the newsstand. "It's a very strange thing and a thing you can't control, having all this happen at once," noted Gosling, who also appeared in "Crazy, Stupid, Love" earlier this year. "Fortunately, I didn't just make three films this year, I made three films that I love and am very proud of."
Michael Fassbender Has "Shame":
Also headlining two films was Fassbender, starring in the aforementioned "A Dangerous Method" and earning Oscar buzz for his role as a sex addict in "Shame." The latter reteams him with director Steve McQueen, who gave Fassbender a breakout role as IRA hunger striker Bobby Sands in 2008's "Hunger."
Fassbender said he was eager to work with McQueen again, noting, "The opportunity he gave me with 'Hunger' changed my life. And just the working relationship is a very honest and exciting and scary and rewarding one, so I jumped at the opportunity." Fox Searchlight acquired "Shame" and plans to release it before the end of the year to capitalize on the Oscar buzz surrounding Fassbender. "I don't think about it too much, to be honest," Fassbender said when asked about the hype. He then quoted "King Lear," quipping, "That way madness lies."
"The Artist" Continues to Charm:
After a standing ovation at the Cannes Film Festival, where The Weinstein Company acquired it for a November release, "The Artist" wowed Toronto audiences. The movie tells the story of a silent film star (Jean Dujardin) who finds his career on the skids on the advent of talking pictures. "The Artist" is a silent film, shot in stunning black-and-white and done in the style of the era. It's a love letter from French director Michel Hazanavicius, making his first movie in America. His cast includes John Goodman and James Cromwell.
Noted Hazanavicius, "It's funny—we don't use the same word in French for acting. We say 'play.' An actor plays. Here you say, 'An actor acts.' I think it's very different. In the term play, there's something about pretend. And in acting, you don't pretend, you do the thing. It's the difference I noticed between American and French actors."
Dujardin was also on hand, but the film's leading lady, Bérénice Bejo, was not, as she was due to give birth to her child with Hazanavicius. "The Artist" is the third film pairing Hazanavicius and Dujardin, who won the best actor prize at Cannes. Dujardin couldn't be more proud of his friend. "This movie came from a very deep artistic desire from Michel," he noted. "It's only his fourth movie, but he gained 10 years of experience on it—not just in terms of learning to make films but in terms of the exposure it will get for him."
Gretchen Lodge Makes a Terrifying Debut:
One of the popular titles in the Midnight Madness section of the festival was "Lovely Molly," written and directed by Eduardo Sánchez, a co-director of horror phenom "The Blair Witch Project." Playing the lead role of a young bride who moves into her childhood home and finds herself questioning her sanity is Gretchen Lodge in her film debut. After moving to London as a teenager, Lodge appeared in shows such as "Chicago" and "A Chorus Line" in the West End. Shortly after moving to New York, she read a casting notice for the film (then called "The Possession") in Back Stage and went in for an audition. After an additional day of callbacks, she landed the role.
She arrived in the Baltimore area two weeks before shooting, where she says she "stalked" locals. "I'd pick someone who reminded me of Molly and watch them for an afternoon." Lodge recently moved to Los Angeles, where she says she has no acting projects lined up and is seeking representation. But it's hard to imagine that not changing as the industry gets a look at her raw, emotional performance. "Lovely Molly" is seeking distribution.
Bobcat's Blessed Duo:
In recent years, Bobcat Goldthwait has made a name for himself as the writer-director of low-budget dark comedies that push the envelope. His fifth film, "God Bless America," is no exception, telling the story of an office drone named Frank who, infuriated with where he feels America is heading thanks to reality TV and a lack of manners, goes on a cross-country killing spree with 15-year-old Roxy in tow. For the role of Frank, Goldthwait cast his old friend Joel Murray, best known as drunkard Fred Rumsen on "Mad Men."
Recalled Murray, "Bob sent me the script, and I loved it. I said, 'It's really good, Bob. Who do you want me to play, the guy in the office? The accountant?' He said, 'No. I want you for Frank.' I couldn't believe it. I don't get offered leads in movies very often—I know it's hard to believe." For the role of Roxy, Goldthwait discovered 17-year-old Tara Lynne Barr, whose previous work on Nickelodeon series like "Zoey 101" couldn't have prepared her for the profane, raunchy lines she got to deliver—including one particularly delicious rant against Diablo Cody.
But the pair doesn't seem worried that the film, which was acquired by Magnet Releasing, pushes that envelope too far. "The people who are offended by it seem to be the people the movie is condemning," Barr pointed out. Echoed Murray, "You're either going to hate the movie or love it. And I think about 90 percent of people have been loving it."