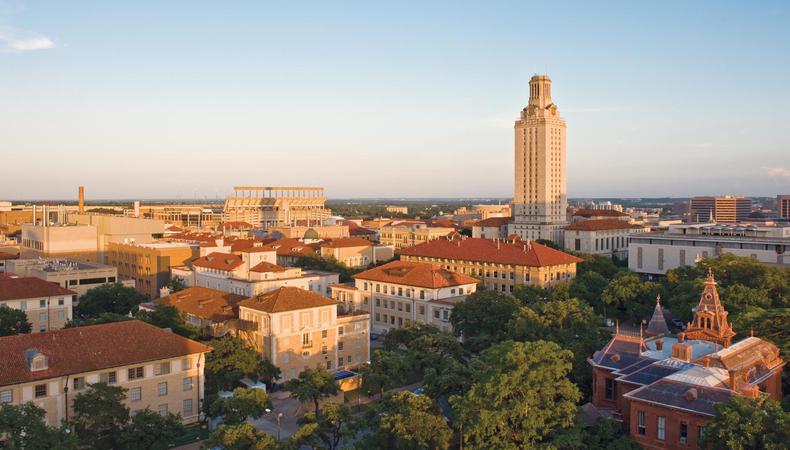 Professor Andrew Shea is an award-winning director and screenwriter whose films have premiered at such prestigious festivals as Cannes, Sundance, Tribeca, and SXSW. Professor Shea also serves as the Production Area Head of the University of Texas' Radio-Television-Film (RTF) department. Here, he chats with us about his role at UT, notable alumni, and acting opportunities for UT students.
What is your role as Production Area Head?
I'm responsible for the curriculum on the production side, such as narrative and documentary filmmaking, digital media, audio, editing, and animation. I also hire lecturers, part-time faculty, and work collaboratively with faculty colleagues on which classes to add, and also sometimes which ones we need to cut.
What's the range of films your students make at UT?
We make all kinds of short films—documentaries, fiction, hybrids, experimental. And we have a new 3D thesis film from our MFA student Deepak Chetty—a sci-fi film called "Hard Reset." It's the first 3D UT thesis film, and one of the most technically ambitious films ever produced here.
And a lot of the UT films get shown at the Longhorn Denius Film Showcase?
Yes, but that's just a drop in the bucket of the films we do—there are hundreds of films made here every year.
Who are some recent notable alumni?
Annie Silverstein's short, "SKUNK" (made during her last year in RTF), won first prize at the 2014 Cannes Film Festival's Cinéfondation Selection program. Juan Pablo González's "The Solitude of Memory" won the prize for best documentary short at the Slamdance Film Festival. And Elizabeth Chatelain's thesis, "My Sister Sarah," won the top student documentary prize at the 2013 International Documentary Association.
How much is acting a part of the film curriculum?
I teach an acting class for filmmakers, but our students aren't actors. When I first came to UT, I saw there were opportunities for collaboration with the Department of Theatre and Dance, so we've built a number of bridges between the two departments, bringing actors and directors together.
How do students cast for their films?
Well, students in the intro classes tend to cast their friends, which I discourage. Once they get past that, though, students post audition notices. Some students work with online resources, or casting directors, or they'll even deal with local talent agencies. They'll also cast from the Department of Theatre and Dance. And I keep a library of headshots in my office and make it available.
What about casting within the local community?
Yes, they'll reach out to the local acting community. The Austin acting community is growing, and we see a lot of good actors. Casting is all about effort and investment in time, so I tell my students to cast as wide a net as possible.