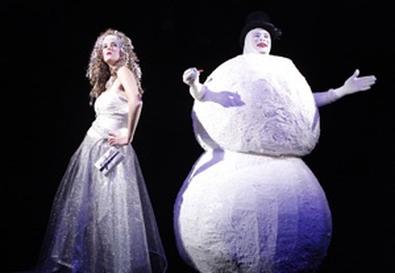 One of the first confectionary offerings of the season, Steven Banks' "Looking at Christmas" is being delivered by the Bats, the Flea Theater's lively resident company of young actors. Banks, the head writer for "SpongeBob SquarePants," has concocted for them a Christmas pudding of a show that is heavy on the sugar, with insufficient spice in the mix.
In this romantic comedy set on Christmas Eve in New York City, we are introduced to John (Michael Micalizzi), a writer who has just been fired, and struggling actor Charmian (Allison Buck), who meet while looking at the city's famed holiday window displays. The play's conceit is that while the young couple is looking, the characters in the windows are also observing them.
The windows feature an overamorous elf eyeing a miniskirted Mrs. Claus; a space-age Scrooge and a ray gun–toting Tiny Tim; a randy Russian countess and a snowman lacking the right body parts; the young couple from O. Henry's "The Gift of the Magi," who are into cross-dressing; two kids awaiting a wartime Santa Claus in 1944; an Irish married couple who on Christmas Eve, per tradition, have left the door open for Mary and Joseph and are consequently freezing; Hans Christian Andersen's Little Match Girl discovering smoking; and finally the Holy Family itself, with Joseph having doubts about the Christ child's paternity. Meanwhile, back on the street, John and Charmian consume hot chocolate and Pepto-Bismol, served with dollops of worldly wisdom, all the time growing closer together.
While Banks' concept promises intriguing possibilities, the actuality is a rather plodding format: first the would-be lovers' observations, followed by the window characters' comments on the couple. The playwright seems to want to lay hoary Christmas clichés to waste, but his ammunition lacks sufficient imaginative firepower. Only the benighted Irish couple and the Holy Family score direct hits.
The Bats, under Jim Simpson's direction and clothed in Gabriel Berry's witty costumes, again demonstrate the advantages of being in a cohesive company. Buck, as the "just kidding" Charmian, playing against a restrained Micalizzi, charms in a role that could be annoying in lesser hands. In the windows, Betsy Lippitt's Mrs. Claus, Jack Corcoran's Johnny Pat, Holly Chou's Betty, and Raúl Sigmund Julia's Joseph are especially laudable.

Presented by and at the Flea Theater, 41 White St., NYC. Dec. 1–30. Tue.–Thu., 7 p.m..; Fri., 7 and 10 p.m.; Sat., 3 and 7 p.m.; Sun., 3 p.m. (No performances Thu.–Sun., Dec. 23–26; additional performance Mon., Dec. 27, 7 p.m.) (212) 352-3101, (866) 811-4111, www.theatermania.com, or www.theflea.org.