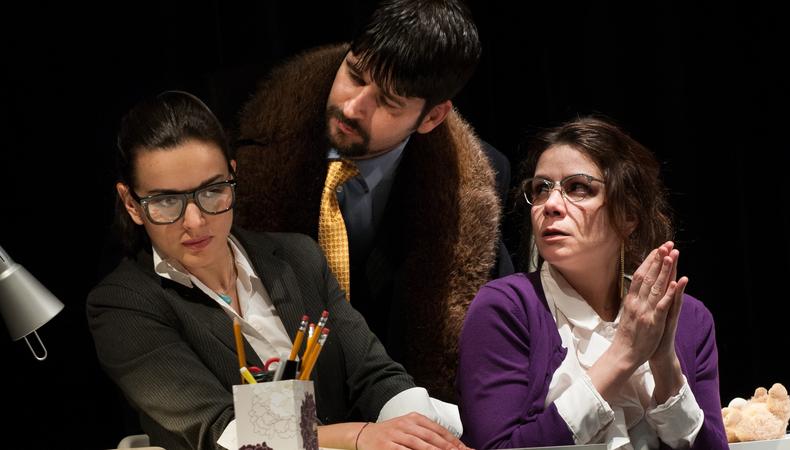 Fuente Obejuna is a town in Spain whose inhabitants in 1476 rose up against the man who ruled them, killing him. The king sent a judge to investigate the crime, but everybody of whom he asked the identity of the killer gave the same answer: Fuente Obejuna. The crime went unpunished.
More than a century later the great Spanish dramatist Félix Arturo Lope de Vega y Carpio turned this supposedly true historical event into a play. Often referred to as the Shakespeare of the Spanish Golden Age, Lope de Vega, a contemporary of Miguel de Cervantes, was astonishingly prolific, believed to have written some 1,800 plays. "Fuenteovejuna" is considered one of his masterpieces.
The production at Repertorio Español makes it difficult to understand why. The three-act play has been whittled down to a single act about 70 minutes long, and the setting has been transposed to a modern office. For at least a full five minutes before a single word is spoken, two rows of office workers sit at their desks shuffling and stamping papers. Later, a wedding scene is conducted with the bride (Soraya Padrao) and groom (Anthony Álvarez) swiveling around on office chairs.
Yet the "boss," called the Commander (Pep Muñoz), is a monstrous ruler, torturing the men of the town and raping the women, which is why the townspeople are provoked into killing him. Now, I've had some pretty bad bosses, but even I am taken aback by director Julián J. Mesri's strained efforts to fit this tale of bloody tyranny and bloodier revenge into modern corporate life. Mesri is more successful in his roles as sound designer and composer of incidental music and several songs.
Students of the Spanish language and literature will surely benefit from hearing Lope de Vega's dialogue, which is spoken in Spanish, with English captions available in front of every seat. Indeed, "Fuenteovejuna" would be best viewed when paired with a classroom discussion that explains the obscure historical references and puts into context a script that on occasion gives off a slight whiff of anti-Semitism and homophobia.
The eight members of the cast are all competent. Mario Mattei handles a difficult role as both comic relief and brutalized victim; Alfonso Rey and Muñoz are believably menacing. But only once during "Fuenteovejuna" is there a glimpse of why audiences for centuries have found this play so riveting. Padrao's bride, snatched from her wedding and violated, returns and with great flair and force rips into her fellow townspeople for being sheepish—which is, ironically, what "ovejuna" means in Spanish.
Presented by and at Repertorio Español, 138 E. 27th St., NYC. Feb. 1–April 6. (212) 225-9999 or www.repertorio.org.
Critic's Score: D