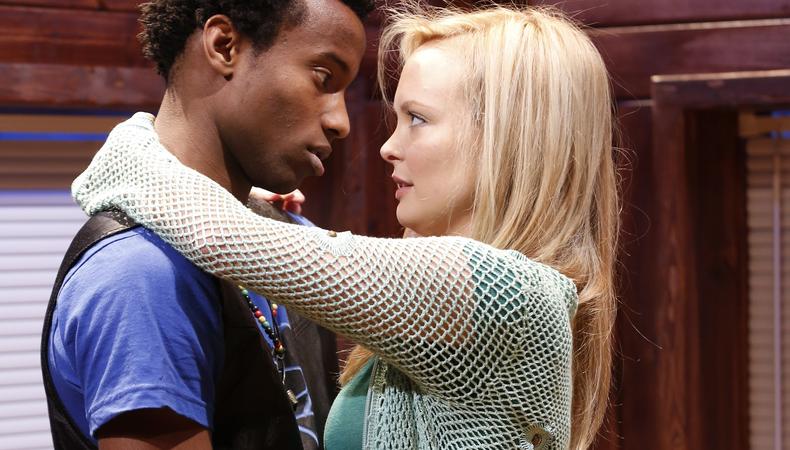 The opening of Barbara Blatner's three-act "Years of Sky" begins promisingly enough. A young couple, David (Sheldon Best) and Stace (Auden Thornton), are scheming to sleep together after watching President John F. Kennedy's motorcade ride through Dallas. The public meeting is a nervous one, as Stace is an American blond beauty, David is a handsome African American, and this is Texas in 1963. There they are on the grassy knoll. Stace is an idealist and a fervent JFK fan, while David is wary of them even standing together, moving away every time a white cop looks in their direction. Stace is the aggressor, suggesting that David come to her suburban home, as her parents are away, while David wants to settle for the bushes behind the Majestic Theatre. Blatner provides a pleasing picture of young love colored by the surrounding resistance to its very being.
But already Blatner is guilty of what will be the play's downfall: implausible dialogue coming out of the mouths of unconvincing characters. The playwright has Stace saying things such as "Your face is beautiful. Beauty's my religion, you know. I see nobility. I see a flame in you, like in the president." You put the verbiage down to romantic ardor, but it soon becomes apparent that the language is symptomatic of the entire play, in which Blatner sets out to describe a 30-year relationship.
Act 2 jumps to 1968 and takes place in the back office of David's father's lighting and electrical supply store. David, now a supporter of the slain Malcolm X, is working at the store's books and arguing with his father (Todd Davis) about being "black" rather than "Negro." From the radio we learn that Robert Kennedy has just been assassinated in California. Enter the distraught Stace, who has not seen David since the last Kennedy was shot. She has been working fulltime for the New York senator's presidential campaign, and though there is still a romantic connection, the divided duo speaks mostly of radical politics. Stace tells David, "You can't just act out in violence and wreck the social fabric," and the argument goes round and round, like a dog chasing its own tail.
The nonprogressive dialogue is even more evident in Act 3, which is set in a Dallas hotel in 1992. The 46-year-old Stace (Amy Hargreaves), in town for a meeting, has contacted David (Gano Grills) after 24 years. The most prominent feature of the room is a double bed. Will our handsome couple finally make it? But as the two shed light on their current lives, the talk continues on its circular route as David and Stace look down once more on the grassy knoll. At least no one has been shot.
Under Christopher Scott's direction, the actors do the best they can with the material. Best and Thornton show promise of shining in better circumstances.
Presented by Scripts Up! at 59E59 Theaters, 59 E. 59th St., NYC. Feb. 27–March 10. (212) 279-4200, www.ticketcentral.com, or www.59e59.org. Casting by Judy Henderson.
Critic's Score: C-