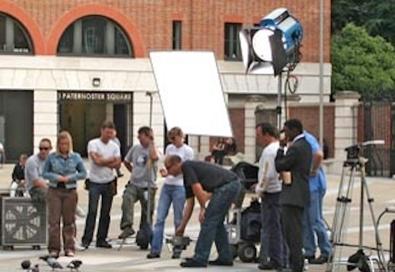 Daily Variety reports Kevin Wallace, one of the producers of the big-budget Lord of the Rings musical that opened at Toronto's Princess of Wales Theatre March 23, confirmed the show will open in London in 2007.
The reviews of Lord of the Rings, which began previews on Feb. 4, have been lukewarm thus far. However, Wallace pointed out to DV, "Our market research during previews indicated the show is scoring strongly with the ordinary man in the street."
When asked about the reviews, Wallace replied, "I knew this would always be a show that would divide people. They'd either love it or reject it and no one would offer a middle-of-the-road response."
David Mirvish, owner of LOTR's Toronto-presenter and co-producer Mirvish Productions, told DV 180,000 have been sold, which would fill the 2,100-seat theatre to capacity for 11 weeks. Mirvish Productions, however, has not made the exact sales figures available to the press. Prior to opening, the show was said to have drawn an advance of over $15 million.
Touted as one of the most expensive stage productions in history, the show's creative team spent over two years and $27 million Canadian developing the show. The three-and-a half-hour musical adaptation of J.R.R. Tolkien's trilogy is directed by Matthew Warchus, features music by A.R. Rahman, and book and lyrics by Shaun McKenna. The elaborate sets built by Rob Howell include three interconnected turntables with 16 elevators. More than 70 performers from Canada, the U.S., and other countries comprise the cast.
"We are ultimately dependent on 50 actors and musicians to tell the story rather than technology," Wallace previously told Reuters. "We are going to have to break new ground. It is a hybrid of text, music, spectacle and physical theatre."