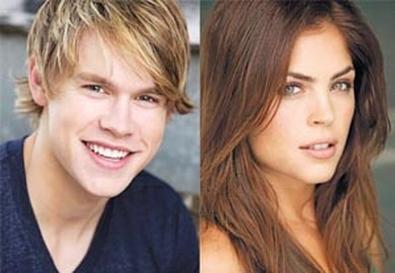 The old adage about a picture being worth a thousand words is especially true when it comes to actors' headshots. This one photo is supposed to convey your personality, your age range, your ability to work well with others, and dozens of other elements that will influence a casting director's decision to bring you in for an audition. How do you and your photographer capture all that information in a single image? What combination of lighting, wardrobe, and spontaneity will produce the best result? To get the answers to these vital questions, we asked photographers in Los Angeles and New York to send us two outstanding examples of their work—one of a man and one of a woman—along with a brief explanation of why they think these particular pictures are successful in "selling" their subjects. Their responses, along with the photos, are on the following pages.
---
(Photos by Brad Buckman)

Brad Buckman
Along with a strong intensity in his dramatic pictures, Terry Savage has a contagious smile in this commercial shot. The close crop features an amazing energy that stands out online and compels a casting director to get him in the room. As a photographer, I do my best to encourage a full range of expression and capture what is unique and authentic about the actor. Technically, I'm able to nail the focus on the eyes even as an actor moves and laughs. I always shoot hand-held, giving actors more freedom to play and be themselves.
As with all actors, my goal was to capture Dijanne Cornell's uniqueness during her session. In this picture, her eyes grab your attention, then you see the rest of her lovely face. The slight profile allows us to feature the color and style of her hair, and the slight angle of the image gives a bit more visual interest. We see just a hint of the environment, enough to add to the picture without distraction.
(Photos by Sara Corwin)

Sara Corwin
I think a headshot is great when the actor is extremely relaxed and open and his or her eyes are truly communicating an emotion to the camera. I try to create a safe and relaxed environment so that actors can show me the many different facets of their personality. I direct with various suggestions to bring out the actor's emotional essence, as well as physical direction so everything flows together. Even if shooting an edgy look, I believe the actor should still look accessible. Each actor is unique, and to quote Oscar Wilde, "Be yourself; everyone else is already taken."
(Photos by Greg Crowder)

Greg Crowder
Colleen Foy is the first shot. The first thing you want a picture to say is "approachable." I know instantly I can cast her as an intern, student, best friend. She's not a glamorous supermodel but a very attractive, confident, approachable actor. You want your picture to sell you as you. The colors make her pop. She is engaged completely with the camera and tells the casting director, "You want to work with me."
Ric Lebron is the second shot. The colors make Ric stand out. He's not trying too hard to sell you anything. He has a very kind, warm, engaging smile. Again, the casting director wants to work with this person. Casting directors know instantly that they will like this person and that their clients will too.
The headshot is about "the sell": Commercially, it's selling the product. Theatrically, it's selling you. It's been said that a picture is worth a thousand words. In the acting world, it's more like an encyclopedia and needs to say it in one second. Give the casting director a headshot that instantly says, "This is me; bring me in."
(Photos by Jeff E Photo)

Jeff Ellingson (Jeff E Photo)
This photo that I did with Michael Urie is more of a publicity shot, but it is my favorite. He was doing "Ugly Betty" at the time and needed some photos for magazine articles about him. Michael is a great guy, with an incredible, quirky, and fun personality. The rolling crate was sitting nearby and I asked him to grab it, and he instantly crawled inside of it. This is a great example of a photographer and an actor willing to play together and think outside the box. Or in this case, inside the box.
Jesse Meriwether is best known as the girl in the Orbit gum "Lint Licker" commercial. I mention that so you think of how much of a character she is. When I do headshots, I really want to capture the person's natural quirkiness without being too over-the-top or fake about it. To do that, we just talk, instead of posing or putting on a silly face. Sometimes I have the actor take on a character so that these quirky looks come out organically. I admit, if I could retake this photo, I wouldn't crop so tight, but, oh well—it still works!
(Photos by Cathryn Farnsworth)

Cathryn Farnsworth
The style of headshots has evolved greatly over the years. Right now, a lot of pre-casting is done online. Casting directors are looking at 20 headshot thumbnails on a computer screen, so it goes without saying that the image of the actor needs to stand out. In my opinion, the most important aspect of a headshot is that it properly represent the actor. I don't just mean aesthetically. I mean that the person's essence really comes through the headshot. These two photos in particular have had great results for the actors. The background is clean, the actor pops off the page, and they are authentic and real.
I really believe that getting headshots can be—and should be—a truly enjoyable experience. Being comfortable with the photographer is a key element. The safer you feel, the easier it is to express yourself in a genuine way. Having a shoot with a photographer who directs you, guides you, and sees you for who you really are is paramount. I also highly recommend getting makeup and hair done by an artist. It's not about changing you; it's about being camera-ready and truly taken care of for your photo shoot.
(Photos by Felle Photography)

Felle Photography
The female shot is a great headshot for sitcoms and commercials because of her real smile, the thought and openness behind her eyes, and the bright, stylish blouse she's wearing. She will stand out in a thumbnail submission because of all of these factors.
The male shot is great because of his genuine smile combined with a hip style that just screams, "Put me on TV!" Both of these shots, and all of the ones on my website, are geared to specific casting.
(Photos by Blake Gardner)

Blake Gardner
I believe these are good examples of what an actor's headshot should be, because the central focus of the photos is the subject instead of a busy background or something gimmicky, like when people wear scrubs or have a stethoscope around their neck. Man, I hate that. Headshots should look exactly like what the actor will look like when he or she walks into a casting session. Actors should have a truthful, honest expression in their photos. I love it when you can almost hear what their voice sounds like just by the expression on their face.
(Photos by David Muller)

David Muller
I try to capture people so that the light is beautifying but still maintaining their actual look and not over-glamming them. My images have a contemporary edge, so that the headshots have a style without the shots speaking more about the photographer than the actor.
(Photos by Vanie Poyey)

Vanie Poyey
Your headshot should not simply be a pretty picture—a trap most novice actors fall into. Instead, your headshots need to market you specifically for the type you're auditioning for. Your type, or what I call "marketing look," is based on your age range. For example, if your age range is 18 to 23, your marketing looks may include "all-American guy next door," or possibly "edgy hipster" or "edgy urban," etc.
The two photos I chose—while full of personality, something I aim to draw from actors by directing them—also display very specific marketing looks. Sarah is clearly "the girl next door," and Eduardo is clearly "the businessman." When the casting community isn't familiar with your work, a headshot that closely resembles the type in the breakdown gives them reason to believe you can act the part and to call you in.
(Photos by Michael Sanville)

Michael Sanville
Headshots are all about what is going on inside the person and allowing that to come out through the eyes.
In the male image, it's clear that he is focused, relaxed, and has something going on in his mind. And when that happens, it shows in your eyes and the viewer is irresistibly drawn in.
The female image shows a great deal of personality and life. Once again, it's all about drawing the viewer in. You have one split second to catch their attention. Where do you want the focus? The face and the eyes!
(Photos by Paul Smith)

Paul Smith
It's up to the actors to come prepared with their internal script, which will make them present. It's up to me to control lighting, angles, and the overall technicalities of a shoot. More importantly, I have to be present to capture the moments that happen when actors are being their true selves, their essence.
What makes these particular shots good is that they are just honest moments in front of the camera. No posing. No overthinking. Chord is a really laid-back kind of a guy who allows himself to be in the moment, and that comes with preparation. Same with Kelly: She knows her market, did her homework, and let the rest go. Prepare, prepare, prepare. That's all there is to it. It ain't rocket science.