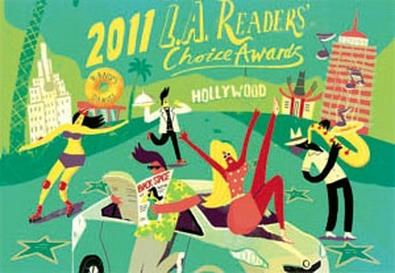 Dear Readers,
At Back Stage we take great pride in the weekly issues we create for you. This week it's time for you to take pride. This is the issue you created.
After all, you're the ones attending classes, shopping for headshots and creating demo reels, and appearing before casting directors. So we rely on you to tell us, as well as your fellow readers, which of those persons and services deserve your accolades.
We gratefully thank those of you who voted. We hope you'll vote again next year, joined by other readers who want to become an active part of the Back Stage experience.
Please flip this issue of Back Stage over and read about our New York Readers' Choice winners too!
Dany Margolies, Executive Editor, Los Angeles
---
Favorite Litho/Reproduction House: Argentum Photo Lab
Readers' comments tended to focus on the consistent quality of Argentum's work. Back Stage sat down with Argentum owner Ajay Jhaveri to get his thoughts on what makes his business stand out.
Favorite Private Acting Coach: Alex Taylor (The Sanford Meisner Studio)
Actors who've worked with Alex Taylor generously praise his coaching skills. "If you allowed it," says Scot Shamblin, "He's really changed my game—what I do and how I feel about the craft."
Favorite Voiceover Teacher: David H. Lawrence XVII
Back Stage readers appreciate David H. Lawrence XVII's acumen and his ability to give students their money's worth.
Favorite Headshot Photographer - Session Under $400: Cathryn Farnsworth
Farnsworth, an 11-year veteran of the headshot business, has worked out of a studio before but now prefers doing shoots at her Toluca Lake home.
Favorite Headshot Photographer - Session Under $400: David Muller
The repeat champ says the exposure in Back Stage significantly raised his profile in the headshot business, and he moved out of his former studio and began working out of a 3,000-square-foot sound stag.
Favorite Headshot Photographer - Session Over $400: Paul Smith
Paul Smith credits his success as a headshot photographer in part to his upbringing. The Los Angeles photographer grew up in Australia, where life tends to be a bit more relaxed, he says.
Television CD You Most Want to Audition For: April Webster
Webster began her career working in a multitude of aspects of New York theater: She served as stage manager, performer, mask maker, carpenter, prop/wardrobe master, and house manager.
Film CD You Most Want to Audition For: Allison Jones
Jones is Judd Apatow's go-to casting director, currently casting his feature "This Is Forty," starring Paul Rudd. Her comedy hits include "Paul," "Scott Pilgrim vs. the World," and "Bridesmaids."
Commercial CD You Most Want to Audition For: Francene Selkirk
Francene Selkirk started as an actor and then worked in commercials in jobs from production assistant to producer before becoming a commercial casting director.
Favorite Scene Study Teacher and Favorite Cold Reading Teacher: Anthony Meindl
Meindl's teaching style has been praised by such noted actors as Olympia Dukakis, who said, "Tony's passionate commitment to the process of acting is insightful and practical."
Favorite Demo Reel Producer: Create Your Reel
Rates start at $300 for an edited 15- to 20-second scene. Clients are welcome to include scenes from previous work for a nominal fee of $20 per scene.
Favorite Comedy Teacher: Gerry Katzman
"Comics aren't known for being tactful or gentle," says actor-comedian-magician Gerry Katzman, who notes that being "kind, warm, gentle, and welcoming" are keystones to his success teaching standup.
Favorite Improv Class/Teacher: Upright Citizens Brigade
The new Los Angeles location quickly established itself as a great place to see improv and sketch every night of the week at extremely reasonable rates—admission is never more than $8.
Favorite On-Camera Teacher and Favorite Commercial Teacher: Carolyne Barry
Carolyne Barry is known for being a tough but nurturing teacher. "Be prepared for some tough love," says actor Tyler McGraw.
Favorite Voice/Dialect Coach: Claudette Roche
Roche, who is also an actor, was born in London (she slips seamlessly into Cockney), moved to Montreal—where she learned French, "which was challenging," she says—then to Toronto, then Los Angeles.
Favorite Audition Technique Teacher: Holly Powell
Holly Powell's "Six Audition Tool Method" is a specific formula designed to help actors have the mental mindset of an athlete when in the audition room.
Favorite Acting Class for Kids: Diane Christiansen
Acting teacher Diana Christiansen, originally from Illinois, moved to L.A. in 1981 and has been coaching actors since 1992.
Favorite CD Workshop: The Actor's Key
Hailing from the East Coast, actors Kristen Caldwell and Katie Shaw noticed something was missing from the workshops they were attending in L.A., so they decided to create their own.
Favorite Hosting Teacher: Maureen Browne
Back Stage asked the Readers' Choice favorite hosting teacher a few questions of its own and learned that she's as skilled at answering questions as she is at conducting interviews.
Most Memorable Stage Acting in the Past 12 Months: Michelle Clunie, 'The Mercy Seat,' VS. Theatre Company at [Inside] the Ford
Michelle Clunie faced a tall order taking on Abby in "The Mercy Seat," a role that proved emotionally exhausting for no less a stage and screen veteran than Sigourney Weaver.

Most Memorable Theater Production in the Past 12 Months: 'The Mercy Seat,' VS. Theatre Company at [Inside] the Ford
Neil LaBute may be among the most polarizing figures in American theater, but Back Stage readers was united in its praise for VS. Theatre Co.'s recent mounting of "The Mercy Seat."
Favorite Veteran Theater Company: Sacred Fools Theater Company
Among L.A.'s most daring companies, Sacred Fools was formed 14 years ago, when current board member John Sylvain gathered a handful of friends in his living room to brainstorm.
Most Promising New Theater Company: Three Feathers Theatre Company
Glen Alexander, Nelson Domingo, and Catherine Love, who met as classmates at the Elizabeth Mestnik Acting Studio, collaborated to form this ambitious company in May 2010.
Written by Jessica Gardner, Cheyanne Gustason, Toby Hill, Pete Keeley, Melinda Loewenstein, Dany Margolies, Jenelle Riley, Les Spindle, Mark Dundas Wood, and Jamie Painter Young